By David Russell
Cal-Maine Foods (NASDAQ:CALM) is ripping higher against heavy short interest, and the option activity is surging.
More than 4,400 contracts traded in the egg producer, about 10 times greater than average. Two trades accounted for most of the activity.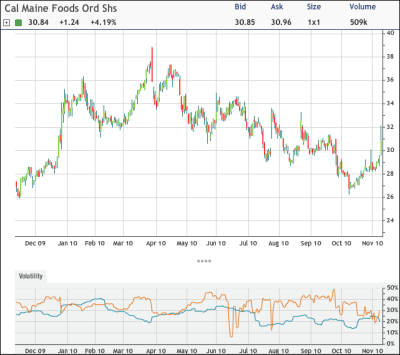 Shortly after the open, investors flooded into the November 30 calls, first paying $0.60 but then up to about $1.25 as the stock pushed higher. Volume totaled 1,286, almost twice the existing open interest when the session began, according to optionMONSTER's Heat Seeker tracking system.
CALM is up 4.19 percent to $30.84 in early afternoon trading and has risen about 18 percent since hitting an 11-month low in early October. The stock spent most of 2010 trending lower, facing negative headlines after a salmonella scare in August.
Short interest represented a significant 36 percent of the float as of Oct. 15, which could trigger violent squeezes in the stock price as bears are forced to cover their downside bets.
The second big trade was a bearish put spread. An investor bought 1,000 February 30 puts for $1.92 and sold the same number of February 25 puts for $0.52. The strategy cost a $1.40 and will yield a maximum profit of about 250 percent if CALM closes at or below $25 on expiration.
Disclosure: No position