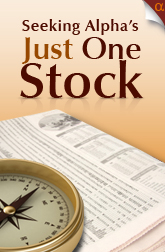 Several times a week, Seeking Alpha's Jason Aycock asks money managers about their single highest-conviction position - what they would own (or short) if they could choose just one stock or ETF.
---
Dan Jacobson is founder of Gabriel Capital, LLC, a fee-only RIA based in Beaverton, Ore., and has more than 14 years of portfolio management experience. Prior to founding the firm, he worked at RBC Dain Rauscher and Prudential Securities.
If you could only hold one stock position in your portfolio, what would it be?
Over the next 12-15 months, I would be long Stillwater Mining Co. (NYSE:SWC).
Tell us more about the company behind the stock.
SWC primarily mines palladium and platinum from a geologic formation in Montana. The company is the only palladium miner based in the United States. Palladium has become a precious metal (valued north of $580/ounce) and is used primarily for industrial products such as catalytic converters, which reduce emissions in cars.
How does your choice reflect your investment approach?
Our approach: Gabriel Capital works top-down from a technical and global macro view. In plain terms, I like to measure the broad markets using point and figure technical analysis. If the outlook is positive, equity weighting may be in excess of normal allocations. Investor sentiment is viewed next. If markets are at an extreme low or high, this will impact allocation and the amount of beta that is acceptable in a new stock purchase.
Next, a world view of expectations for currency trends, interest rates and political policy risks is used to identify opportunity. Finally, only stocks trading at a discount to future expected growth rate may be selected as growth stocks (a slightly different analysis is used for dividend-paying stocks meant to provide portfolio income).
This three-step process significantly narrows the universe of available stocks. Companies which meet the above sifting process are then hand-charted each week. Stocks which provide at least twice the upside target to the downside sell target are then considered for purchase.
SWC has been purchased as it meets a few of the above criteria. Point and figure technical indicators are positive (yet stretched a bit) for the broad markets.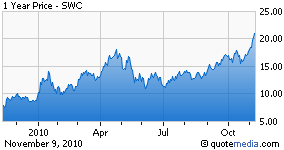 I have believed for months that the only way the U.S. government will deal with large and growing deficits is to print money. Raising taxes is not politically acceptable and growth may be too slow to generate significant tax revenues. Printing becomes the way to go. This benefits the mining sector.
SWC mines a metal which has major industrial applications in auto manufacturing. With second-world countries becoming large buyers of autos over the next decade, demand for improving auto emissions will put a floor under palladium prices. Add to this the belief that stockpiles of palladium in Russia have been significantly drawn down, and you have a metal which could rise at a pace in excess of gold or silver. The use of ETFs to hold metal exposure will only help to drive the white metals higher.
SWC seems to be in a commanding position with respect to providing palladium.
So… how much of your selection is based on Stillwater's industry as opposed to a pure bottom-up pick?
A favorable sector is a major driver of my decisions. If I feel a sector has too much headwind (think banking currently), I will stay away from the entire industry. Do you remember what happened with semiconductors back in the year 2000? You could have done all this great bottom-up work and decided Intel (NASDAQ:INTC) was the best chip company to own. You would have been right! However, you would have lost a bunch of money because you got the market and sectors wrong. Intel went from the $80s to the $20s even though they were, and are, terrific.
SWC is a good company in what I believe to be an advantageous category: mining of the white precious metals.
How does the stock's valuation compare to its competitors?
They have very few publicly traded competitors. If you can trade on foreign markets, you'll find some South African companies. There are large diversified mining companies which end up with some platinum and palladium production, but these aren't significant sources of their revenue base.
What about North American Palladium (NYSEMKT:PAL)? They've got a presence in Canada, including the Lac des Iles mine in the Canadian Great Lakes area - not far from the Marathon mine that Stillwater got in a $118 million acquisition.
PAL is a white metal producer, but a small one. Revenues have been less than $200 million with cash flow in '08 & '09 fairly anemic. Gabriel Capital, LLC, does have some long client exposure to this position as well.
The Russian supply issue can't be understated; is it correct that 80% of world supply comes from companies in South Africa and Russia, including Norilsk Nickel (OTCPK:NILSY)?
The Russian supply issue is murky. If true, it would appear the white metals have much farther to run. It is estimated that Russian and South African mines hold about 83% of the world supply of palladium.
Stillwater might have even been a value play a little earlier in the year; it's up 50% in six months, forward P/E is now a more typical 22 and price/book is over 4. Do you think the company's production expectations are low enough that the stock is still undervalued from that perspective?
SWC is really a proxy on the value of palladium and platinum (the platinum metals group). My expectation is for higher prices for palladium, running up at a quicker pace than gold. SWC becomes a preferred vehicle to add exposure. I've never been a huge fan of applying traditional valuation metrics to precious metals companies as you might with a blue chip such as Procter & Gamble (NYSE:PG) or J&J (NYSE:JNJ).
If platinum runs up to $2,500/ounce, and pulls palladium prices towards $1,000/ounce, a forward P/E of 22 will have looked like a bargain. You bring up a valuable point with respect to the forward P/E. A buyer of SWC must go into the trade with eyes wide open: A sharp reversal lower in commodity prices can easily take this stock down by 40% in a short period. Managing position size and understanding stop limit loss points is crucial to maintaining sanity and portfolio value.
Does your view differ from the consensus sentiment on SWC?
Currently there is a decent amount of bullishness on the entire metals group. With QE2 just announced, anything mined is going up. SWC is the type of stock you want to add a bit to start, and then add to on pullbacks. Sentiment can shift rapidly on SWC based on the outlook for the U.S. dollar or economic activity.
Does Stillwater's management play a role in your selection? If so, how?
I review whether there have been any recent, significant management changes at a company. In addition, I don't like to see multiple family members sitting on the board of directors. My preference is seasoned management who've seen more than one recession. We all get better by going through and surviving adversity. SWC passes all of these tests.
What catalysts, near-term or long-term, could move the stock significantly?
Near Term: The listing and exchange trading of ETFs for platinum and palladium.
Long Term: An acknowledged annual deficit of palladium due to Russian stockpiles having already been sold. If this rumor is true, you could see a serious spike in both platinum and palladium.
What could go wrong with your pick?
Many things can go wrong with a pick. The most likely reason to see SWC move into the low teens would be a large rally of the U.S. dollar. [SWC closed Monday at $20.98; when this interview was conducted, the stock had closed at $19.72.] Outside of that, technical problems at the mining site would be a big crimp on cash flow and could also hit the stock price.
Finally, a large new supply of the metal, or news that Russia still has a large volume in inventory, would push prices of palladium down and hurt the stock price.
Thanks, Dan, for sharing your ideas with us.
Disclosure: Gabriel Capital, LLC, is long SWC in client accounts.
Read more Just One Stock interviews »
If you are a fund manager and interested in doing an interview with us on just one stock or ETF position you'd hold, please email us at Just One Stock.