In my last article on Healthcare Trust of America (NYSE:HTA), I summarized as follows:
All I ask is for management to increase the dividend and spread the love.
Today, HTA's board of directors sent me an early Valentine's Day gift by declaring a cash dividend for the third quarter of $0.145 per share, which equates to an annualized rate of $.58. More importantly, the dividend increase represents a 1% increase over the second quarter rate.
Although I was hoping to see a more substantial boost, the recent dividend news gives me a better feeling that management at HTA is committed to shareholders. This is the first dividend increase announced by HTA since the company listed back in June 2012.

Click to enlarge
Further dissecting HTA's second quarter results, we see that from Q1-14 to Q2-14, rental expenses decreased $2.5 million in total which would logically result in tenant recoveries going down $2.5 million as well. However, as you can see below that revenue only went down $1.5 million due to the fact that HTA's "good revenue" grew by $1 million. It's important that you recognize a point that many analysts miss, that is, HTA is a Medical Office Building REIT so a large majority of the company's income is gross, not triple net.
In other words, HTA bills its tenants for the "3 NNNs - taxes, insurance, and common area costs" - and it's common for the income from the 3 NNN expenses to be lumpy. So when you bifurcate (or separate) the true income and the true expenses you get a better picture as to income growth. As illustrated below, HTA's Revenue declined by $1.5 million while its Rental Expenses dropped by over $2.5 million and the produced Normalized FFO growth of around 2.7%.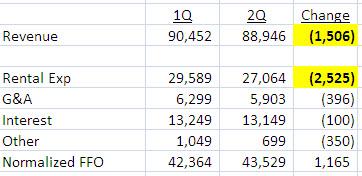 You see the same thing broken down in specific detail in HTA's same-store disclosure where expenses were down $2.2 million and tenant recoveries were down $2.1 million, resulting in positive cash NOI of $700,000.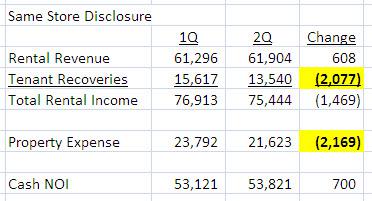 HTA had no secondary offerings in Q2-14 so the $212 million in acquisitions (in Q2) was the primary driver for the positive 3.1% same-store growth. The company also announced that Normalized FFO increased 21.9% to $43.5 million (compared to Q2-13) and Normalized FFO per share was $.18, an increase of 12.5% (compared with Q2-13).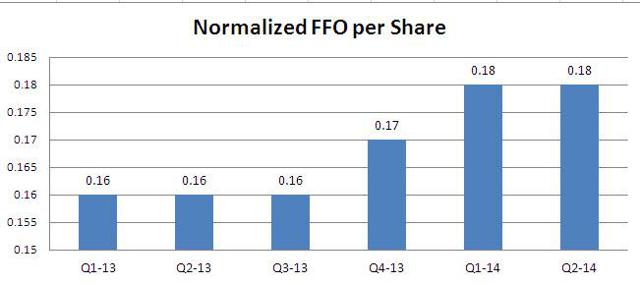 Click to enlargeAlso, at the end of the quarter, HTA's leased rate by GLA was 91.5%, an increase from 91.3% a year ago. The leased rate increased 30 basis points from 91.2% as of March 31, 2014.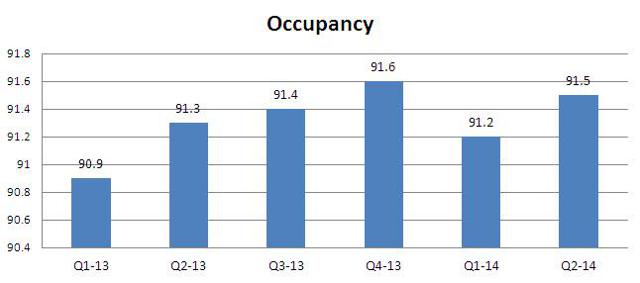 Click to enlargeAlso, HTA reported total liquidity of $777.2 million, including $644.5 million of availability on its unsecured revolving credit facility and $132.7 million of cash and cash equivalents. The leverage ratio of net debt to total net capitalization was a solid 32.3%. In May 2014, Standard & Poor's upgraded HTA's investment grade credit rating to BBB, with a stable outlook.
HTA said previously it intends to expand the portfolio by 10% this year (or $300 million) and so far the company has closed around $212 million. Over the course of the last two years, HTA has expanded its in-house management infrastructure - bringing total in-house GLA to 13.1 million square feet of GLA - and now the company has "full map" coverage enabling cost efficiencies and increased tenant retention.
HTA is trading at $12.23 with a Price to Funds from Operations (P/FFO) multiple of 16.7x (source: SNL). Given the latest Q2 results and more mid-year operating performance, I consider HTA to be trading at fair value. Given the higher quality income of this "pure play" MOB (medical office building) REIT, I believe the higher valuation multiple is justified.
That's not to say that I would go out and buy shares today; however, I do believe that HTA's portfolio should be trading at a higher valuation than Ventas, Inc. (NYSE:VTR). I believe that the MOB sector is one of the most defensive asset classes and the valuations reflect the desirability of the asset class.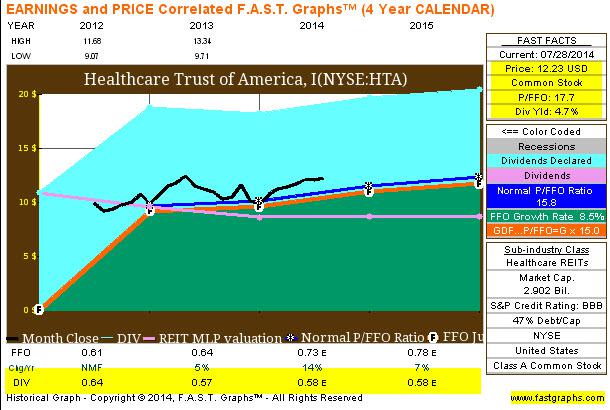 I was fortunate to get "several bites at the apple" with HTA and over three different trades my weighted purchase price is around $10.22. My latest purchase was on December 3, 2013 and my Total Return (since December 3rd) is over 24%.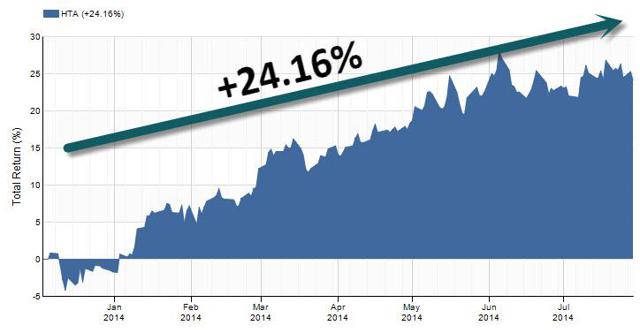 Click to enlarge
In closing, I'm glad that HTA is starting to spread the dividend love and more importantly, I'm happy to see Mr. Market attracted to the Scottsdale-based REIT. In my upcoming newsletter, I plan to include a more detailed analysis of HTA and provide a model for future earnings growth. For more information on my newsletter, click HERE.
Sources: SNL Financial and F.A.S.T. Graphs.
Disclaimer: This article is intended to provide information to interested parties. As I have no knowledge of individual investor circumstances, goals, and/or portfolio concentration or diversification, readers are expected to complete their own due diligence before purchasing any stocks mentioned or recommended.
Disclosure: The author is long O, DLR, VTR, HTA, STAG, UMH, CSG, GPT, ARCP, ROIC, HCN, OHI, LXP, KIM, WPC, DOC, UDF, EXR. The author wrote this article themselves, and it expresses their own opinions. The author is not receiving compensation for it (other than from Seeking Alpha). The author has no business relationship with any company whose stock is mentioned in this article.