Alliance Fiber Optic Products (NASDAQ:AFOP) suffered an intense selloff on Tuesday, July 29. Revenues missed estimates, and the company offered soft guidance for next quarter's revenue expectations. The ensuing selloff saw the stock price trading below $13 for a time and, as of this writing, it is just above that level. In May the stock traded above $22 a share, but a steady decline due to fears about sustaining growth has taken hold. However, we believe that its highs can be revisited after the steady decline and a sharp plunge, which has left the stock at a bargain relative to its valuations and growth potential. We will look to the company's recent growth and valuation metrics such as P/E and PEG to offer possible price targets, 60%-100% above the current price.
Company Overview
Alliance Fiber Optic Products designs and manufactures components, modules, and subsystems that empower dynamic optical network, and facilitate the migration of fiber optics from the long haul through the last mile. Its largest customer is American (rumored to be Google (NASDAQ:GOOG)), its second largest is a European firm, and its third largest is Chinese. This offers a strong base in the three largest markets, establishing a foothold in each in what should lead to future clientele.
Alliance just reported their Q2 results on July 28. The results were less than spectacular as it missed on revenue by $1 million. Even though non-GAAP earnings beat by 4 cents ($.35), shares sold off steeply on Tuesday, down about 20%. Just looking at current valuations, though, suggests that this is a time to take advantage of what is almost certainly an overreaction to the earnings result.
Growth and the Stock Price Don't Match (Yet)
Even though the revenue of $24 million missed by $1 million, year-over-year growth was still a solid 27%. Meanwhile, non-GAAP earnings per share grew nearly 30% from $.27 to $.35 from last year. Guidance offered by CEO Peter Chang is admittedly conservative, but confident:
Regarding forward guidance, based on input from our customers and current orders, we expect revenues in the third quarter to be at a similar level to the second quarter. Despite relatively flat revenues in these three quarters, we continue being encouraged by the prospect of emerging business growth in the coming years, because of increasing data bandwidth demands driving the next growth cycle in the fiber optics industry. In the meantime, we expect to deliver record annual sales and profits in this fiscal year.
AFOP is setting itself up for a great year, but the market does not seem to recognize this opportunity. As of this writing, AFOP is closing in on its 52-week low of $11.16, sitting just above $13. As such, the company's stock price is heading in the opposite direction of its earnings and revenues.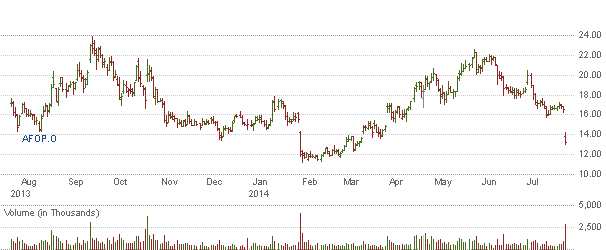 Source: CNBC.com.
Current Key Statistics
Could this be due to poor metrics or financial statement items? (Stats taken from Yahoo Finance.)
Trailing P/E: 11.3
Forward P/E: 10
PEG Ratio (five-year expected): .5
P/S: 3.5
Profit Margin: 24.75%
ROE: 29.75%
Quite frankly, these are not the statistics of a fast-growing technology firm even if they did miss expectations on revenue. Compared to the industry, AFOP is a clear bargain. The industry has an average P/E of 18 and PEG of 1. AFOP is not a typical firm as it is growing and gaining traction in the market. According to the company's recently filing, revenue in the first six months of this year ($49 million) is 58% more than the previous year's first six months of $31 million. Also, basic EPS of .48 the first six months of this year is 37% more than the same time frame last year.
With this clear growth on the income statement, perhaps you are wondering if the balance sheet is to blame for the inexplicably low valuation metrics. Fortunately for the value investor, this is simply not the case. Total assets equate to $110 million as of the most recent report. Meanwhile, total liabilities stand lower than 20% of that, $20.6 million. These liabilities are made up almost entirely of current obligations as long-term liabilities sit at a paltry $622,000. In fact, the company's cash and cash equivalents are nearly three times greater than AFOP's total liabilities.
60%-Plus Upside Potential
Applying more appropriate metrics to AFOP reveals huge potential for the value investor. Taking its current EPS of 1.17 and the industry's average P/E of 18, we find a price target of $21. That is over 60% upside from current levels. Applying a PEG ratio of the industry average (1.0) yields a price target of $26. That is 100% upside from the roughly $13 AFOP is trading as of this writing. These conservative estimates are not far off from the three analysts covering this company who see an average price target of $23.
Investors will soon find that these low valuations just do not make sense relative to the high growth the company is experiencing and expected to have. We find that a conservative price target of $21 based on an industry average trailing P/E would yield 60% upside for an investor purchasing shares at today's prices. As growth continues for the rest of this year and the company reports record earnings, the market price will have to catch up eventually.
Disclosure: The author has no positions in any stocks mentioned, and no plans to initiate any positions within the next 72 hours. The author wrote this article themselves, and it expresses their own opinions. The author is not receiving compensation for it (other than from Seeking Alpha). The author has no business relationship with any company whose stock is mentioned in this article.