As I anticipated in my recent article, "The Markets' Run With The Bulls" (November 7, 2010), this week is turning out to pale in comparison with regard to US market-moving news relative to last week that had the trifecta of US election, the Fed's QE2 and non-farm payroll data. And so far, the feared eruption of the eurozone financial crisis has yet to cause global tremors. More of the media attention so far has been on President Obama's travels in Asia and the upcoming G20 Summit in South Korea in which the global 'currency war' and 'devalue-to-deter-deflation' policies will be discussed.
While this article is not specifically about the G20 meeting and the related topics, it is worthwhile to consider the issues that will occupy the global leaders' summit as it will directly relate to growth prospects here in the US and abroad. One article that resonates with a global view that calls for countries to avoid currency wars and capital controls appeared recently on carnigieendowment.org, entitled "Can the G20 Grow Faster"? The authors urge countries to stimulate growth through a variety of measures, but raise questions about the efficacy of QE2 vs job-creating fiscal programs that can be done simultaneously with cutting budget deficits. In my mind, it is recommended reading for those interested in considering alternative approaches to the Geithner plan which appears to be centered on current account surplus/deficit metrics.
The segue from the G20 agenda to a perhaps more mundane focus on a potential investment in a US stock may be tough to achieve in a smooth editorial way. The link between the two, though seemingly remote, is frankly just how well the results of the G20 meetings augur for US economic growth and global commodity inflation. Specifically, consumer staple companies involved in the food sector are facing the challenges of rising agricultural commodity prices. I pointed this out some time ago in an article entitled "Consumer Staple Stocks Still Taste Good, But There Could Be Pressure Coming" (September 2, 2010).
A company that rekindled attention to this issue is Sysco Corp. (NYSE:SYY). For those who are unfamiliar with the company, MarketGrader.com summarizes their business as follows:
Sysco Corporation, through its subsidiaries, markets and distributes a range of food and related products primarily to the foodservice industry in the United States. It distributes a line of frozen foods, such as meats, fully prepared entrees, fruits, vegetables, and desserts; a line of canned and dry foods; fresh meats; dairy products; beverage products; imported specialties; and fresh produce. The company also supplies various non-food items, including paper products, such as disposable napkins, plates, and cups; tableware comprising china and silverware; cookware consisting of pots, pans, and utensils; restaurant and kitchen equipment and supplies; and cleaning supplies. Sysco Corporation offers its products to restaurants, hospitals and nursing homes, schools and colleges, hotels and motels, lodging establishments, and industrial caterers. As of June 27, 2009, it operated 186 distribution facilities serving approximately 400,000 customers. The company was founded in 1969 and is headquartered in Houston, Texas.
Sysco reported earnings yesterday for their fiscal first quarter ended October 2. As reported on Morningstar.com:
NEW YORK (MarketWatch) -- Sysco Corp. SYY said Monday its first-quarter net income fell by 8% to $299 million, or 51 cents a share, from $326.2 million, or 55 cents a share, in the year-ago period. The latest period included a $39 million increase in tax expenses, and a one-time gain of 2 cents a share. The year-ago period included one-time gains of 9 cents a share. Operating income rose 1.8% to $506 million. Sales rose 7.4% to $9.8 billion. Wall Street analysts expected the Houston firm to earn 57 cents a share, on revenue of $9.8 billion, according to a survey by FactSet Research. "While our overall sales increase and operating expense management were encouraging, we missed our goal for operating income growth, largely due to a decline in gross profit margin and higher pension costs," the company said.
Clearly a mixed report. The stock slipped on the news and remains approximately at the midpoint of the one year price range. (Source: Zignals.com)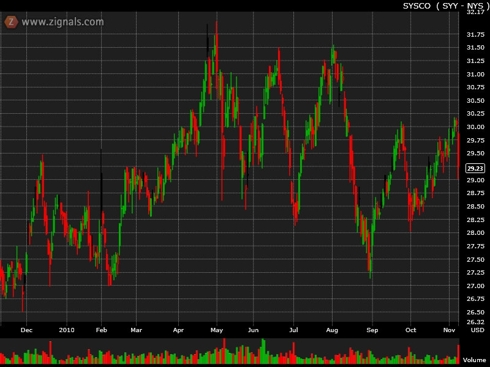 In terms of how it performed over the course of the year relative to the S&P 500 Index, it demonstrated many of the characteristics of a defensive consumer staple, holding its own during the springtime market selloff and starting to lag as the market has been on the rise in the past couple of months. (Source: ChartFacts.com)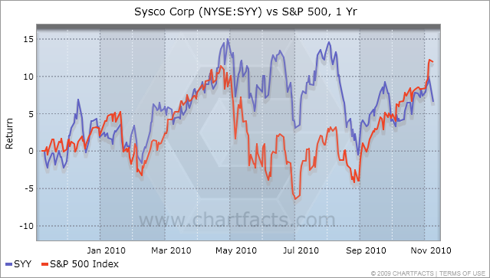 Yesterday's earnings announcement raises questions about where the company's earnings, and in turn, its stock, can go from here.
Morningstar.com analyst, Erin Swanson, states the case well in a balanced review:
Adjusting for foreign exchange movements and recent acquisitions, first-quarter sales increased 6.3%, reflecting significant case volume growth and food cost inflation of 3.3%. While this growth came on top of a weak quarter a year ago (when sales tumbled 8.1%), we were impressed that case volume growth reached the highest level since the second quarter of fiscal 2007. However, we caution that because unemployment levels remain elevated, consumer spending--and ultimately restaurant traffic--could remain lumpy. Although a modest level of food inflation (2%-3%) is ideal for Sysco, as the firm is able to pass this higher cost along to its primary customers (restaurants) without a major impact on volume, a rapid spike in food costs could pressure the firm and its customers. As a result, this level of case volume growth may be difficult to sustain over the next several quarters.
MarketGrader.com also portrays a mixed read:
"Investors betting on a turnaround must be cautious as company's growth record is still very weak…. Sysco's total sales were $37.91 billion, a 5.98% rise from the $35.78 billion in revenue booked in the equivalent period ended three years ago, a poor showing over such a long period of time. As such, any boost to the company's bottom line will have to come from cutting costs, suggesting it will be important for investors to watch closely the company's margins in the next couple of quarters. It reported also that profit fell last quarter from the year earlier period, impacting also long term profit growth, which has been anemic in the last three years…..The stock also trades at 14.76 times forward earnings estimates for the next four quarters, lower than its trailing P/E and the S&P 500 index's forward P/E of 15.20. By placing a lower multiple on the company's future earnings than it does on the market as a whole, investors may see the company as financially strong but with relatively poor growth prospects.
One of the many aspects of SYY that is attractive is its dividend (currently 3.4%). MarketGrader.com comments on the company's profitability and cash flow, both key to the dividends sustainability:
…operationally the company is better run than its peers based on an above-average operating margins and its strong return on shareholder equity. Sysco's cash flow grew considerably in its latest quarter… a marked improvement from the 31.92% decline in cash flow in the last twelve months versus a year before and could represent a turning point for the company's operating profitability and its future earnings growth.
I highlight this stock, and connect it to my thoughts about G20 and overall global growth because Sysco, like other companies in the food business, appears to be one of the few spots on the map where inflation is more of a concern than deflation, which occupies the minds of so many other industries. Agricultural commodity inflation is real, and for a company where food is central to revenues and costs, there's only so much that inflated input costs can be passed along to consumers who are facing deflation of sorts in their outlook on income, job security and other expenses of life.
That said, I have owned SYY for some time (bear in mind, my portfolios are not 'short-term-trading' accounts, but investment portfolios with medium horizon goals). I'm holding on and looking for lower levels to accumulate more. The company is dominant in its space, appears to be well run operationally, is embarking on initiatives to offset higher input costs through more efficiency in their supply chain management and other cost control measures, and their financial strength appears worthy of maintaining the dividend which continues to be in demand by many yield-hungry investors.
I'm also hopeful that the cumulative impact of last week's "trifecta" events will augur well for policies and outcomes that promote job growth in the US, which in turn should help Sysco's business.
But there are risks, and big ones at that. We could end up in a policy paralysis in the US that does nothing to lower unemployment. We could see the G20 fail to agree on measures that would promote a rebalancing of global growth so as to avoid currency wars and further currency devaluation policies. And we could see markets believe that commodity prices have only one direction to go….up….which would strain SYY's margins meaningfully. In my opinion, many of these risks are somewhat, but not completely, priced into the stock and explain why it remains 'mid-range'.
But if the risks are exacerbated in a way that further raises the inflationary outlook stemming from current global policies then SYY's stock should suffer. For investors who are cautiously optimistic, putting Sysco in your shopping cart on pullbakcs might make some sense. For investors who are less so, taking it off of your plate might be best.
As always, investors need to take note of the following: This is NOT personalized financial advice. Each investor is obligated to opine and decide for his/herself as to the relevance of what is stated in this article as to his/her own unique financial profile, risk appetite and portfolio goals. This article is solely meant to be a thought provoking note on issues that investors should throw in the mix of their own investment analysis and decisions.
Disclaimer: Please read and consider important information related to all communication made by Soos Global on SeekingAlpha.com by clicking here
Disclosure: Author is long SYY and many stocks in SPX and QQQQ. Positions could change at any time without notice.