By Brian Sozzi
Liz Claiborne (LIZ) arrived on the Fortune 500 in 1986, the first company founded by a woman to do so. Amid a giant-sized pullback in demand at department stores from late 2008 into 2009, and a house of cards type operation at Liz Claiborne, the retailer has obviously fallen from the Fortune 500 (current rank is 645). I do not think the stock is a buy quite yet, but there are reasons to be optimistic after two years of dreadful performance.
The Liz Claiborne 3Q10 earnings release was long on paper used, and the conference call was long on the attention span required to properly understand where this company stands. All of this is nothing new. However, unlike prior earnings releases and calls led by CEO William McComb since his late 2006 arrival, I sensed the business is turning by its own merits rather than a marked shift in the retail landscape. I think it's vitally important for investors to grasp this notion as it's the first signs of validation of the new approach to doing business at Liz Claiborne (essentially a holder of specialty retail assets that licenses out the Liz Claiborne name globally) as well as the new people behind the scenes at Mexx and Lucky Brand (new Juicy Couture leader yet to show big impact). The following was indeed eye-catching to yours truly:
* Comp trend improvement at Lucky Brand compared to 2Q10. The brand was re-launched in the quarter (better merchandise and window displays).
* Adjusted operating profits in Partnered and Domestic based segments.
* As I expected in 2009, JC Penney (NYSE:JCP) deal greatly enhanced gross margin (Partnered Brands gross margin expanded 935 bps y/y).
* International adjusted gross margin +588 bps through door rationalization and less dire comps.
* Decision made to license the Liz Claiborne brand internationally; traditional model is exited in February 2011.
* Kate Spade operating metrics continue to be on a sharp uptrend, and are defying broader trends in specialty retailing.
* Mexx comped positive in September.
By no means is Liz Claiborne out of the woods. Consistency in operating results is needed to bridge the gap between management's ambitious FY12 EBITDA margin target and current conditions. The tangible indications of progress are duly noted on my end with FY11 estimates that model for a return to profitability for Liz Claiborne. I am modestly ahead of consensus (Wall Street Strategies is included in the consensus). Let's say Liz Claiborne does execute on my wish to see consistent operating results. In turn, I would expect a lean organization to emerge structurally and with specialty retail stores that have the right product globally. This is still a 2012 call. Keep the stock on your watch list as we transition to 2011.
3Q10 At a Glance
* A Little Confusion: Liz Claiborne reported another quarterly revenue miss relative to consensus, though the surprise factor has receded since 2009. 3Q10 revenues amounted to $658.2 million (consensus: $675.8 million). Juicy Couture (square footage +6.2%; comps +1.3%) and Kate Spade were the revenue drivers of the quarter. Lucky Brand and Mexx comped negative, while Partnered Brands was hurt by the new license model with JC Penney. The adjusted LPS was $0.24, which consensus looks to be applying in their models for FY10. Strip out a $0.20 per share hit to earnings from foreign currency changes on its Eurobond, and Liz Claiborne puts up a LPS of $0.04 (still missed consensus by $0.01 instead of $0.21 including Eurobond). Comments by JC Penney management on the early performance of the Liz Claiborne launch (August launch) and the weakening dollar may have created a bit too much enthusiasm within consensus forecasts.
* Guidance sparking downward revisions: Liz Claiborne was fairly cautious on 4Q10, suggesting that increased promos, product costs, and marketing for its retail brands would temper the profit flow through that many anticipated. The stock is not cheap; my $7.00 price target represents a 23.2x P/E multiple on my maintained FY11 EPS forecast. However, should 4Q10 result in figures that outstrip management's cautious guidance, Liz Claiborne will be able to command a higher P/E multiple to forward earnings on the grounds the turnaround is gaining momentum.
It has Been Ugly
Despite some encouraging trends in the business in 3Q10 like we mentioned, the trends have mostly not been the friend of Liz Claiborne. The Great Recession hammered Liz Claiborne's business, causing management to completely overhaul how operations are run.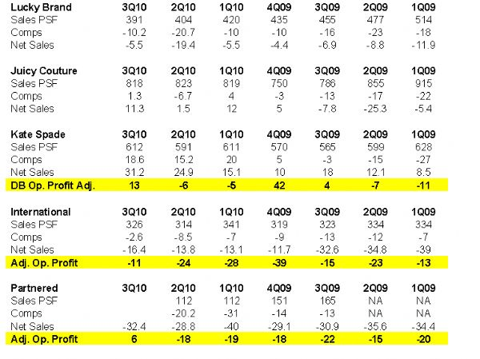 (Click to enlarge)
Disclosure: No positions