Transocean Partners LLC (Pending:RIGP), a limited liability company formed by Transocean (NYSE:RIG) to acquire, own, and operate offshore drilling rigs, plans to raise $350.0 million in its upcoming IPO.
The Aberdeen, U.K.-based firm will offer 17.5 million shares, all of which are insider shares, at an expected price range of $19-$21 per share. If the IPO reaches the midpoint of that range at $20 per share, RIGP will command a market value of $1.4 billion.
Filing, Underwriting
RIGP filed on June 23, 2014.
Lead Underwriters: Barclays Capital Inc.; Morgan Stanley & Co. LLC
Underwriters: BofA Merrill Lynch; Citigroup Global Markets Inc.; Credit Agricole Securities (USA) Inc.; Credit Suisse Securities LLC; DNB Markets, Inc.; Goldman, Sachs & Co.; J.P. Morgan Securities LLC; Mitsubishi UFJ Securities , Inc.; Standard Chartered Securities (Hong Kong) Limited; Wells Fargo Securities, LLC.
Summary of Drilling Operations
RIGP is an LLC recently formed by Transocean to acquire, own, and operate offshore drilling rigs; the firm holds a 51% interest in RigCos that own and operate three ultra-deepwater drilling rigs in the Gulf of Mexico, the remaining interests in the RigCos being held by Transocean.
The firm's revenues are generated through contracts with energy companies for the use of RIGP's fleet, equipment, and personnel to drill wells for fossil fuels.
RIGP holds 51% interests in a pair of drillships and a single semisubmersible rig. Both drillships, the "Discoverer Inspiration" and the "Discoverer Clear Leader," are contracted to Chevron (NYSE:CVX).
The "Discoverer Inspiration's" current contract will expire in March 2015, and the ship is scheduled to begin a new contract with Chevron the following month to last through April 2020. The "Discoverer Clear Leader's" current contract will expire in September 2014, and its new contract is scheduled to begin the same month to last through September 2018.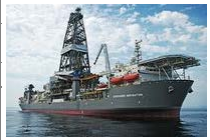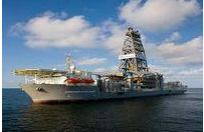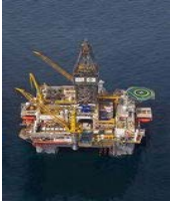 (Source)
RIGP's semisubmersible, the Development Driller III, is contracted to BP through November 2016.
RIGP hopes to leverage its relationship with Transocean to strengthen its own operations. Under an agreement with Transocean, RIGP will have the opportunity to purchase at least a 51% interest in four more of Transocean's drillships within five years of the IPO, and will also have right of first offer on Transocean's ownership interests in the RigCos that RIGP currently holds majority interests in.
RIGP's relationship with Transocean will likely also allow the firm access to customers, personnel, and other assets with which Transocean has existing relationships.
Valuation
RIGP offers the following figures in its S-1 balance sheet for the three months ended March 31, 2014:
Revenue: $148,000,000.00
Net Income: $63,000,000.00
Total Assets: $2,432,000,000.00
Total Liabilities: $112,000,000.00
Stockholders' Equity: $2,320,000,000.00
RIGP intends to make minimum quarterly distributions of $0.3625 per unit, or $1.45 per unit annually, subject to the availability of sufficient cash to make such distributions. If the firm is able to generate sufficient cash to make the distributions, they would be equivalent to an exceptional annual yield of 7.25% at the midpoint of the expected IPO price range.
Business: Competitive and Fragmented
Offshore contract drilling is extremely competitive and fragmented, and no particular organization has a dominant market share within the industry.
Many of RIGP's potential competitors have access to greater financial resources and operate fleets of significantly greater scale than RIGP. Competitors include Rowan Companies (NYSE:RDC), Vantage Drilling, Pacific Drilling (NYSE:PACD), and many others.
Management
Kathleen S. McAllister recently joined RIGP, taking on the roles of president and CEO in June 2014 and becoming a director in July 2014.
Ms. McAllister previously served in various roles with Transocean, including as vice president and treasurer, assistant treasurer, director of Tax Reporting, and Finance director for the Americas Business Unit and the North America Division.
Before joining Transocean, she worked in various tax, treasury and finance positions with Helix Energy Solutions Group (NYSE:HLX), Veritas DGC Inc., Baker Hughes Inc. (NYSE:BHI), and Deloitte & Touche. Ms. McAllister holds a B.S. in Accounting from the University of Houston.
Conclusion: Full Steam Ahead
We are highly optimistic on this IPO within the expected price range.
RIGP stands to benefit strongly from its ongoing relationship with Transocean, especially as Transocean's continued ownership in the firm's RigCos gives Transocean quite a bit of incentive to see RIGP off to a strong start.
RIGP is also offering exceptional quarterly distributions if it is able to pay them; even if it does not always manage to make the payments, the firm has every opportunity to continue to grow and increase its value to shareholders through further acquisitions from Transocean and other parties.
RIGP's established contracts with heavyweight energy companies are also encouraging.
Unfortunately, none of the proceeds from this offering will go to RIGP, as Transocean holds all of the shares being sold. Nonetheless, we feel that the strengths of the firm will likely make the IPO a worthwhile buy-particularly with a strong lineup of underwriters.
We invite readers wishing to join the discussion on IPOs to click the +FOLLOW button above the title of this article -- and those looking for the latest developments to click +Get real-time alerts.
Note: As a large sample of information sources does not yet exist for RIGP, we have taken much of the information for this article directly from RIGP's S-1 filing.
Disclosure: The author has no positions in any stocks mentioned, but may initiate a long position in RIGP over the next 72 hours. The author wrote this article themselves, and it expresses their own opinions. The author is not receiving compensation for it (other than from Seeking Alpha). The author has no business relationship with any company whose stock is mentioned in this article.