I've profiled over the past couple years many stocks that are breaking out despite the poor overall economic climate. Some of these have been obvious recession type plays as well as companies that can benefit from growth outside of the USA; Lorillard (NYSE:LO) and McDonald's (NYSE:MCD) come to mind. Another "sin" stock is on the all-time new high list today after a big earnings report propelled the stock mightily. Boston Beer Co. (NYSE:SAM), the maker of Sam Adams beer, was up huge after its latest earnings report.

Taking a quick look at the fundamentals, the company has about 20 kinds of beers and also has Twisted Tea malt cider and HardCore Cider. Its forward P/E is about 25, which is a bit higher than I prefer, but the company does have healthy profit margins and strong return on assets/equity. No dividend currently which is a bit of a drawback, but no debt either which is a strength. The float of the stock is a miniscule 8 million shares -- if I remember correctly, back in the day, IPO shares of SAM were available with a coupon given with purchase of Sam Adams beer 6-packs.

Those IPO shares have definitely made some gains, although the big run has really been since the significant market panic bottom of March 2009. Take a look at the long-term chart of the stock: (Click to enlarge)

SAM Monthly Chart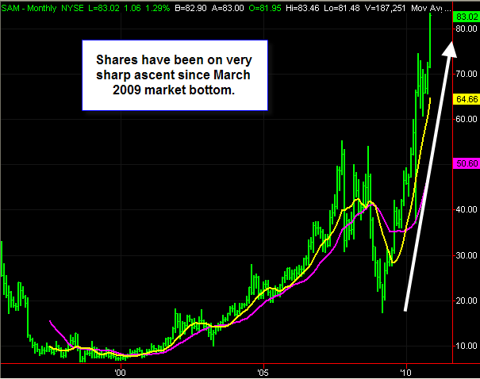 Click to enlarge

As a more premium crafted beer, Sam Adams is not necessarily a down-sizing recession play. But they've been growing revenues and profits nonethless -- perhaps some consumers are downgrading from more expensive Wines and Premium Spirits. Considering the massive consolidation in the beer industry in recent years (such as Anheuser-Busch InBev SA (NYSE:BUD)), there also remains the open possibility of a takeover of the company by a larger company, in my view.

You can see below that the stock had been trading between $64 and $74 for several months until the recent big breakout after the earnings report. This is such a big explosion that it actually makes me a bit cautious about the shares short-term, they may pull back a bit on profit taking.
Click to enlarge:

SAM Daily Chart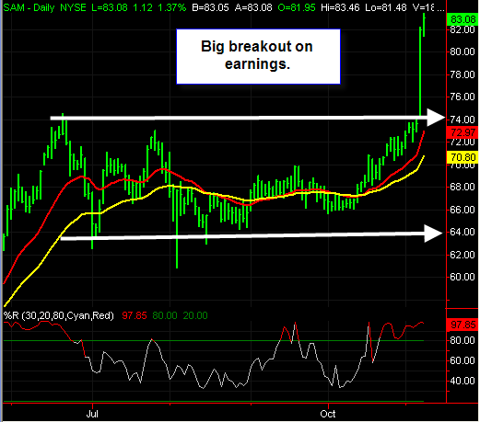 Click to enlarge

Bottom line: Many stocks in many different sectors are making new highs despite the poor overall economic climate. Keep an eye peeled, good stock picking can really give you good outperformance in this environment. As far as SAM, I would be looking at a pullback to the $75 or $80 area as an attractive point for entering long positions.

Disclosure: No current holding in the stock or its options.