As the days have been passing since Celsion's (NASDAQ:CLSN) implosion in January of 2013, I've thought about the company less and less. That was, until the company started trying to piece things back together of recent.
After all, the company is down near 95% in the last year and a half and has only salvaged its stock price as the result of a reverse merger that was necessary to sustain the company's listing.
Here's the 2 year, split adjusted chart: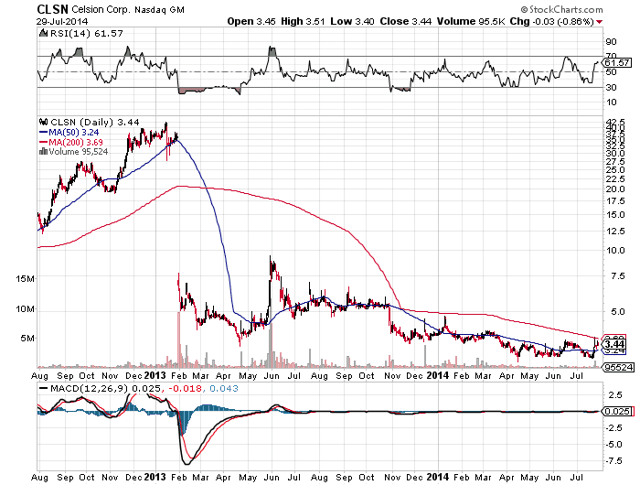 It's been a sad state of affairs for Celsion investors since their last HEAT trial failed (with flying colors) to meet its primary endpoint. The company has spent the time looking into M&A, suring up its cash position, entering some partnerships in Asia, and preparing for another go at tackling HCC.
Celsion uses a proprietary, heat activated, liposomal transport system to take doxorubicin (a common cancer drug) to the site of tumors in an attempt to deliver the drug en masse.
A couple of new things have taken place of recent. First, the company has acquired EGEN, Inc., in a move that was said to have been in the works for over a year for the company. Celsion had first started discussing M&A immediately after their HEAT study miss - they took the better part of 2013 with Cantor Fitzgerald, it would seem, to seek out companies and do their due diligence.
Celsion closed on their acquisition of EGEN recently:
Celsion Corporation (Celsion) (CLSN), an oncology drug development company, and EGEN, Inc. (EGEN), a privately-held biopharmaceutical company focused on the development of nucleic acid-based therapeutics for the treatment of cancer and other difficult to treat diseases, today announced the signing of a definitive asset purchase agreement in which Celsion will acquire substantially all of the assets of EGEN, including its Phase Ib DNA-based immunotherapy product candidate EGEN-001 and its therapeutic platform technologies, TheraPlas™ for delivery of DNA and mRNA, TheraSilence™ for delivery of RNA, and RAST™ for Cell Enabled Expression and Secretion of RNA.

Under the terms of the agreement, a wholly-owned subsidiary of Celsion will acquire the assets of EGEN and assume certain liabilities in exchange for cash and shares of Celsion totaling $14 million. The upfront payment consists of $10.6 million in Celsion common stock representing approximately 16.4% of Celsion's outstanding shares, of which $2.1 million in Celsion common stock is subject to a twenty-four month holdback by Celsion for expense adjustment and certain indemnification claims of Celsion, and $3.4 million in cash.

In addition to the upfront payment, a total of $30.4 million in future milestone obligations are payable to EGEN based on the successful completion of certain clinical development and licensing milestones. The acquisition is expected to close in June 2014, subject to customary closing conditions. The boards of directors of both Celsion and EGEN have unanimously approved the transaction. The transaction is not subject to Celsion shareholder approval.

The combination of Celsion and EGEN will create a fully-integrated, oncology-focused research and development company with a multi-phase clinical pipeline, platform technologies for the discovery of novel, nucleic acid-based immunotherapies and other anti-cancer DNA/RNA therapies, and expertise from bench to bedside. The transaction brings to Celsion EGEN's lead, Phase Ib clinical candidate, EGEN-001, an IL-12 plasmid immunotherapy encased in a nanoparticle delivery system, as well as three technology platforms, TheraPlas™, TheraSilence™, and RAST™ for Cell Enabled Expression and Secretion of RNA.
The company's previous statements of trying to find a company that could compliment their own technology look to have been the driver in picking up EGEN, who will help contribute to Celsion's approach of "it's the delivery, not the drug".
Secondly the company just reported more positive data on its RCW cancer Phase II DIGNITY study that has been underway for some time. Seeking Alpha reported:
Stoked by investors' ravenous response to Puma Biotechnology's successwith neratinib, shares of Celsion are up 15% premarket on good volume in response to its announcement of positive interim data from its Phase 2 clinical trial evaluating Thermodox in recurrent chest wall breast cancer. Of the 13 patients enrolled to date, 10 were eligible for evaluating efficacy. Six of the 10 patients experienced a stabilization of their highly refractory disease with a local response rate of 50% observed in all 10 patients. Three subjects had complete responses, two had partial responses and one had stable disease.
And so, as it would appear, Celsion is starting to put the pieces back together.
Risk does exist here, still. Remember, no matter how much a stock is off, there's still a chance of a 100% loss.
Many of the preliminary trials going into the company's failed HEAT trial looked to be promising, especially with the recurrent chest wall cancer results. They were good enough to get investors and the company alike juiced and ready for the HEAT trial so much so that when the HEAT trial missed by a ton, you could tell execs were as speechless as the investors who had hoped for success.
The company's coming new HEAT trial is going to focus on modifying the amount of time that RFA is applied to ThermoDox when it reaches the tumor site. The company seems to believe, based on post-hoc HEAT data, that the RFA time when optimized can make a substantial difference. Seasoned biotech writers like Adam Feuerstein over at the Street have been extremely skeptical that the RFA times will make a material difference going forward.
Although I'm not advocating any type of position in Celsion currently, I'll continue to watch developments occur leading up to the company's OPTIMA trial.
Best of luck to all investors.
Disclosure: The author has no positions in any stocks mentioned, and no plans to initiate any positions within the next 72 hours. The author wrote this article themselves, and it expresses their own opinions. The author is not receiving compensation for it (other than from Seeking Alpha). The author has no business relationship with any company whose stock is mentioned in this article.
Editor's Note: This article covers one or more stocks trading at less than $1 per share and/or with less than a $100 million market cap. Please be aware of the risks associated with these stocks.