Potash Corporation of Saskatchewan, Inc. (NYSE:POT) reported net earnings of $472 million (EPS: 56 cents) compared to $643 million (EPS: 75 cents) last year. This highly disappointed shareholders. The company's earnings in this quarter were mainly hit by lower year-over-year revenues and deteriorating gross and operating margins.
Top-Line Growth
The lower average realized prices of potash, nitrogen and phosphate hurt Potash's revenues in the second quarter. The revenues fell considerably by 11.75% reaching $1.892 billion compared to the reported figure of $2.144 billion in the second quarter of 2014.The revenues mainly fell due to the weaker contributions of the potash and phosphate segments. Net revenues in these two segments were the lowest in this quarter compared to the figures reported in second quarters of 2011, 2012 and 2013.
Continued strength in the North American market boosted the year-over-year sales volume in the company's potash segment but the offshore sales were adversely impacted by backlogs leaving the segment's net sales volume relatively flat compared to figures reported in 2Q13. The average realized prices in the segment fell to $263 per tonne from $356 per tonne in 2Q14.
In the phosphate segment, the production levels were negatively affected by short-term issues related to weather, mining conditions and mechanical challenges which created hurdles in sustaining the supply of ore feed. The segment's sales volumes in 2Q14 were 0.8 million tones, down by 9% compared to same quarter last year. The segment's revenues were also affected by lower average realized prices in the quarter which fell from $517 per tonne in 2Q13 to $509 in this quarter.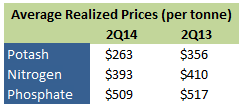 Source: Company's Quarterly Earnings
Potash's only segment that reported a little strength in this quarter was the nitrogen segment. Sales volumes in this segment jumped to 1.7 million tonnes compared to 1.5 million tonnes sold during the same period last year, reflecting growth of 13.33%. The increased sales volumes were the result of improved production levels across all of the facilities. However, the nitrogen segment also experienced lower prices similar to the company's two other segments. The average realized prices in this quarter were $393 per tonne compared to $410 per tonne in 2Q13.
Margins and Bottom Line
The lower average realized prices not only affected Potash's net revenues but also had an adverse impact on its gross margins. The phosphate segment's gross margins were also affected by increased costs weighed and lower prices. Resultantly, the gross margin in this quarter substantially deteriorated by more than 600 basis points and fell to 39.48%.

Lower gross margins along with higher general, administrative and selling expenses caused the operating margins to fall by approximately 700 basis points.
Potash's adjusted EBITDA margin, which is considered an important performance measure by its management, dropped around 600 basis points. The adjusted EBITDA in this quarter was 45.88% compared to 51.91% in the second quarter of 2013.
Together these factors highly impacted Potash's bottom line as its diluted per share earnings significantly declined by 23.29%, falling from 73 cents per share in the second quarter of 2013 to 56 cents per share in this quarter.
Leverage Status
Potash's retained earnings declined 10.52% in the first half of 2014 as a result of lower net earnings in the first two quarters, consequently impacting the company's equity position. The lower equity along with a higher level of long-term debt raised Potash's debt-to equity ratio in the first half of this year. The ratio jumped to 0.463 compared to 0.406 at the end of December 2013.
The debt-to-EBITDA ratio also increased in this period reflecting the company's reduced ability to service its debt and to meet other payment obligations.
Cash Flows
The lower net earnings also declined as the company's operating cash flows. The net earnings are another factor that contributed toward Potash's lowered ability to meet its payment obligations. The operating cash flows declined 34.44% in this quarter compared to the figure reported in the second quarter of 2013.
Potash reduced its capital expenditures in this period and this slightly offset its free cash flow. The company had a free cash flow of $558 million compared to $748 million at the end of second quarter 2013.
Shareholders' Returns
Dividends offered to investors in this quarter were 35 cents per share which is the same offered in the second quarter of 2013. However, the company's dividend yield of 3.9% is much higher than the overall industry average and compared to the average yield offered by S&P 500 index companies.
Outlook
Potash's management expects a strong order book in the second half of 2014. The demand for potash in North America, Latin America, China and India and in other Asian countries is expected to become stronger in the third quarter of 2014. The markets for nitrogen and phosphate are anticipated to remain relatively firm in the second half of the year.
Final Thoughts
Potash Corporation could not make its investors happy due to considerably declining growth in its top and bottom lines and deteriorating margins. The other factors making the company even more unattractive are the higher leverage status and lower operating and free cash flows. Potash's management expects a better second half but in my opinion there will be a slight change as currently the prices are not projected to rise. So in these conditions even a better than industry average dividend yield cannot satisfy investors.
Disclosure: The author has no positions in any stocks mentioned, and no plans to initiate any positions within the next 72 hours.
Business relationship disclosure: The article has been written by APEX Financial Consultants. This article was written by one of our research analysts. APEX Financial Consultants is not receiving compensation for this article (other than from Seeking Alpha). APEX Financial Consultants has no business relationship with any company whose stock is mentioned in this article.