High-momentum name LinkedIn (NYSE:LNKD) is set to report earnings this Thursday after the bell. Despite being up nearly 21% in the last three months, the stock is still off -14.5% since the beginning of 2014.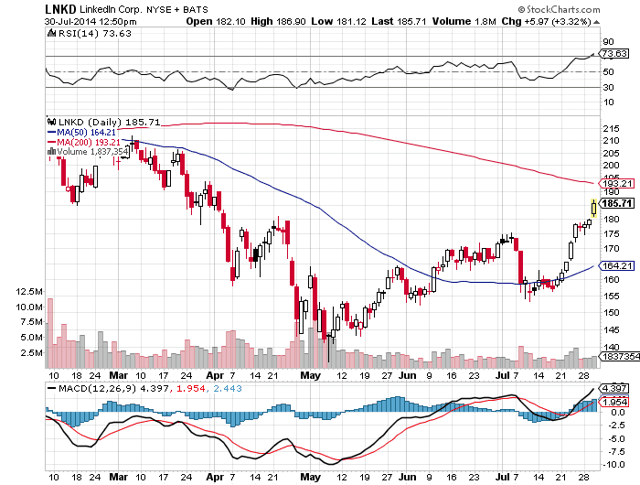 LinkedIn is part of a constituency of stocks that has a record of moving quickly after it reports earnings. This week's options chain is pricing the company for just about a 10% move on the back-end of its report. The August 8th options, which allocate for roughly 8 hours of trading after earnings, are showing more volume in the calls today than the puts.
So much of the question about LinkedIn is the rate at which the company can continue to grow. Membership numbers will be in the spotlight right alongside of top line growth. Analyst estimates are calling for a growth of 16 MM members in the previous quarter. This would put the site's total membership near 312 million.
According to Yahoo Finance, analyst consensus for LinkedIn is $0.39 EPS on revenues of $511.07 million. These figures compare to year-ago EPS of $0.38 and year-ago revenue of $363.66 million. Revenue growth will be the more important figure of the two as investors and analysts look to see if LinkedIn can continue with its lofty multiple based on aggressive YOY revenue growth.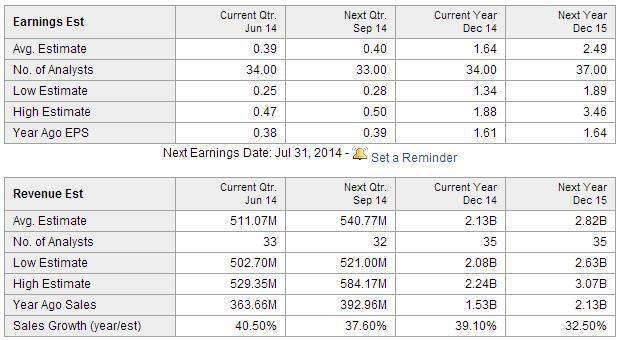 Of the revenue, Talent Solution revenue will be in focus. Analysts are expecting a 43% YOY and 6% QOQ increase in the line item, according to a write-up by ValueWalk. The VW piece also asserts that in Marketing Solutions, the company will be looking for 26% YOY growth.
According to Nasdaq.com, analyst consensus heading into earnings is mostly favorable, with a consensus price target of $240/share.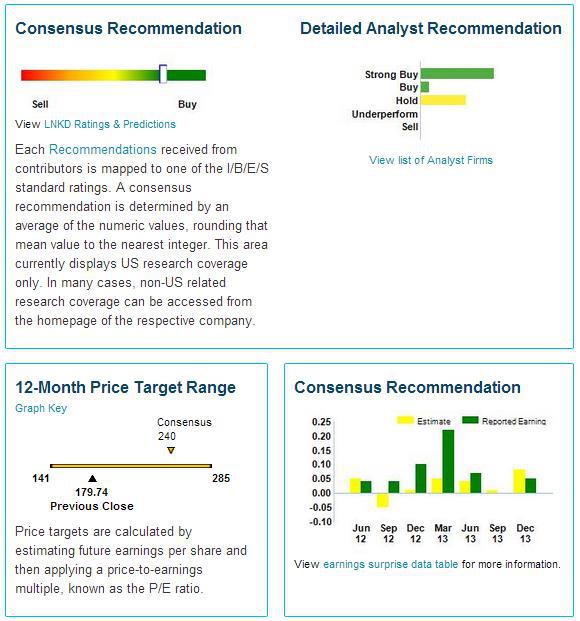 Barron's reported, just today, on a couple of analysts taking bullish bets on LinkedIn prior to earnings:
LinkedIn's options are priced with a big fear premium, indicating that options traders have little conviction ahead of earnings. The company is expected to post earnings of 39 cents a share on revenue of $511 million.

But Douglas Anmuth, a JPMorgan analyst, is telling clients to get bullish on the stock head of what he thinks will be a good earnings report. He expects the company, which has recently made several acquisitions, will report solid financials, and show investors it is making progress growing its user base. He thinks the bad first half of the year is a prelude to a better second half.

Aggressive investors can wager on LinkedIn's quarter with a trade devised by JPMorgan's equity derivatives strategists: The trade essentially monetizes fear about LinkedIn's earnings. The strategy note, written by Arjun Mehra and Marko Kolanovic, recommends selling LinkedIn's August $165 puts and buying the August $190 calls.

The risk-reversal strategy positions investors to buy LinkedIn stock, recently trading around $179, at $165, and to profit from advances above $190. The trade costs 45 cents a share.
LinkedIn has been knocked well off its highs near $260 that it reached in the middle of 2013. The 2-year chart shows that the move post-earnings could likely be the beginning of a new downtrend or perhaps a start at trying to continue the equity's multi-year uptrend. The moving averages are once again converging on one another as LNKD walks higher.
On the street, and according to options trading observed by QTR today, the sentiment seems to be overwhelmingly bullish heading into this report.
I'm neutral on LNKD here, but am expecting significant volatility after the report.
Best of luck to LNKD investors.
Disclosure: The author has no positions in any stocks mentioned, and no plans to initiate any positions within the next 72 hours. The author wrote this article themselves, and it expresses their own opinions. The author is not receiving compensation for it (other than from Seeking Alpha). The author has no business relationship with any company whose stock is mentioned in this article.