On D-Day For Twitter, I braced readers for a sanguine Q2 earnings report by Twitter, Inc (NYSE:TWTR), expecting flat to lower revenue growth sequentially, and a continued deterioration of its operating metrics. However, the company delivered a blow out earnings report after the market closed yesterday. Q2 revenue of $312 million exceeded analysts' expectations of $283 million. Twitter also reported non-GAAP earnings of $0.02 per share; the Street was expecting a loss of $0.01 per share. It also outperformed on operating metrics, exceeding high water marks on most of its key drivers. On D-Day Delayed Another Quarter, I had to eat my words as I scrolled down Twitter's impressive report card:
[i] Monthly active users were $271 million, up 24% annually and 6% sequentially during the quarter; [ii] Timeline views during the quarter were 173 billion, up 15% annually and 10% sequentially ... [iii] User engagement as measured by timeline views per MAU ticked up 4% sequentially ... [iv] Ad revenue per 1,000 timeline views was $1.60, a 100% annual increase and an 11% increase sequentially. It was also 7% above the previous peak of $1.49 set in Q4 2013.
The following chart illustrates the growth in revenue and operating metrics annually and sequentially: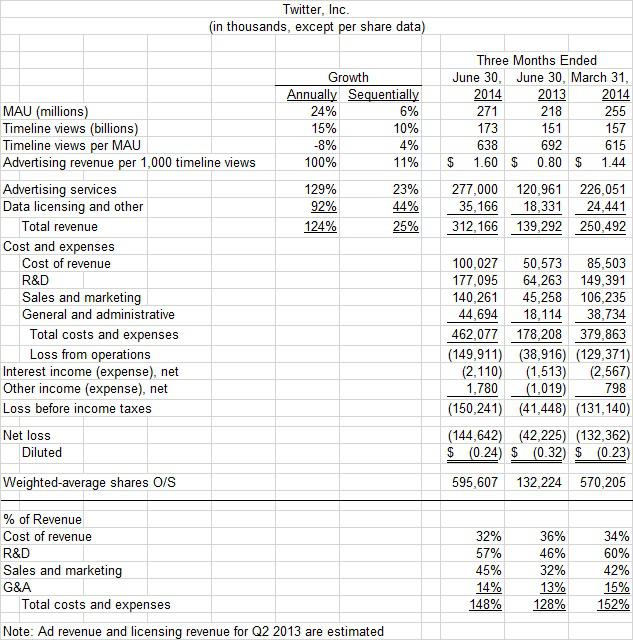 Analysts Rush To Upgrade Twitter
Longs drove Twitter's stock up 29% after-hours. Based on revenue of $250 million and $312 million for Q1 2014 and Q2 2014, respectively, the company's "run-rate" revenue is about $1.12 billion. Based on after-hours trading, Twitter had a market capitalization of $29 billion, or 22x run-rate revenue. According to MarketWatch, Wall Street analysts were just as giddy:
What's key for Twitter is that drivers for that expansion seem sustainable, "implying faster-than-expected growth and margin over time," said Cantor Fitzgerald analyst Youssef Squali. They lifted their price target to $58 from $40, and stuck to a buy rating. "Stronger results amidst a negative sentiment should propel the stock higher," added Squali ... Another $18 price-target lift came from Pacific Crest analysts Evan Wilson and Bryan Liang, who lifted their Twitter price target to $63 from $45 after those results. "We still think Twitter sets up nicely as built-up negativity unwinds, the potential for new monetization is more fully appreciated and near-term engagement returns to growth," they said in a note.
According to Wallst24.com, analysts from Cowen ($45), UBS (to "neutral" from "sell"), Goldman Sachs ($65), and RBC Capital ($65) also raised their estimates. Prior to earnings, Twitter was trading at about 23x run-rate revenue. Based upon Twitter's upward trajectory, analysts now value the company at a median of 27x run-rate revenue. The following chart highlights Twitter's run-rate revenue and analysts' valuation of the company: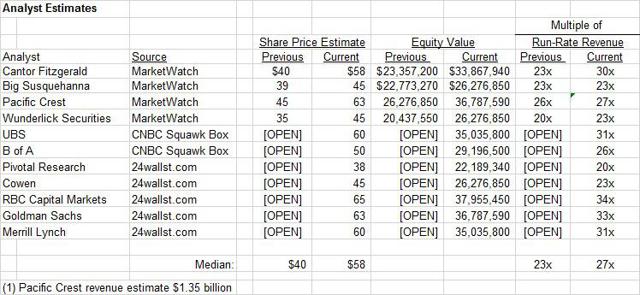 As you can see from the chart, the company's blow out Q2 revenue caused its run-rate to increase over $120 million to $1.125 billion. The most bullish analysts are RBC Capital Markets, Pacific Crest and Goldman with price targets of $65, $63 and $63 per share, respectively.
Can Twitter Repeat Q2 Performance In Q3?
On the earnings call Twitter's CEO was adamant that the increase in MAUs and ad rates were driven by new products and not the World Cup. However, I find it more than a coincidence that the company exceeded the high water marks on most of its operating metrics in the same quarter. One other analyst was also suspicious of Twitter's sudden good fortune:
Eric Bleeker, analyst at the Motley Fool, told CNBC he wasn't quite buying the World Cup down-play from Chief Executive Dick Costolo, who stressed on the analyst call and in media interviews later that growth in monthly active users came from product changes, not the soccer event. Bleeker advised investors watch the next quarter to see if growth can keep going without such a huge event.
I closed out my straddles and have taken a modest short position in the stock. I believe that in a few weeks the euphoria of yesterday's news will have worn off and investors will take some profits off the table. If Twitter can expand on Q2 results excluding any one-in-four year events like the World Cup then more power to them.
Disclosure: The author is short TWTR. The author wrote this article themselves, and it expresses their own opinions. The author is not receiving compensation for it (other than from Seeking Alpha). The author has no business relationship with any company whose stock is mentioned in this article.