Note: All the charts, figures and numbers used in this article were taken from Swift Transportation's investor relations web page.
Towards the end of last week, Swift Transportation (NYSE:SWFT) saw its shares fall by nearly 20% when the company announced that it was having trouble attracting and retaining drivers in this current employment environment. The shareholders of the company saw the red flat and they felt that the company is going to be leaving some money on table in the near future. As a result, the sell-off happened. In this article, I will examine some challenges and opportunities ahead of the company to determine whether the price after the sell-off warrants buying this company.
Driver challenge is real
First, I must admit that Swift Transportation's challenge of finding and retaining drivers is real. In fact, this problem persists in the entire trucking industry and this has led many truck companies to offer extra incentives to keep their highly-skilled employees. For example, Schneider offers $5,000 sign-on bonus for new truck drivers and this practice is not very uncommon in the industry. As the economy improves and unemployment level starts falling, high-skill jobs become increasingly difficult to fill and cost of turnover can be very high for companies.
A study estimates that on average it will cost trucking companies $8,234 to replace each truck driver that either leaves the job or gets their job terminated by the company. For some companies, the cost of replacement was as high as $20,000. Once a company wants to hire a new truck driver, it has to spend capital on advertisement, HR staff to run the background checks and interviews, management hours that could have been allocated to something else, training, orientation, sign-on bonus, referral costs and lost productivity. Many times, it is not uncommon for trucking companies to leave cash on the table and back out from commitments because they do not have the sufficient number of drivers to undertake the job. As a result, when a trucking company has trouble with attracting and retaining talent, this is a big deal and this should be addressed by the company as soon as possible. This explains the reason behind the sell-off we saw last Friday.
Swift Transportation runs a careers website under joinswift.com and this website lists the terms and conditions under which drivers can join the company. There are three classes of job applicants, 1) those with no experience, 2) those with some experience, and 3) those who own and operate their own trucks. The drivers with no experience have to take a commercial driving school and Swift offers to reimburse the school tuitions of the incumbents commit to stay with the company for at least 2 years. Those in the second and third classes get paid in much better terms than the newly-starting drivers. In the trucking industry, the pay structure is a little different than other industries. In most industries, incumbents are either paid by hour, by commission or a fixed annual salary. In the trucking industry, incumbents are mostly paid by the mile they travel, and many truck drivers will go to the trucking company that offers them the most miles, because sitting and waiting for a task is same as leaving money on the table for truck drivers.
Knowing the importance of miles covered by truck driver, Swift decided to take advantage of its scale. The company currently possesses more than 18,000 tractors, 58,000 trailers, 8,700, and more than 40 major terminals. The company is working on finding ways for truck drivers to be able to pick-up and drop-off their loads faster, and minimize the wait-times between tasks. This would definitely increase the revenues for the company as well as the amount of pay each truck driver is getting without increasing the costs by much. This can be accomplished by redesigning some of the terminals to allow faster loading, putting more trucks to use (i.e., a truck driver could jump from one truck to another while his previous truck is being unloaded and next truck is being loaded simultaneously) and re-drawing some routes to maximize efficiency. This would reduce the wait-times, which happens to be one of the biggest sources of complaint from drivers who lose on income while waiting.
During the last quarter, Swift had to reduce its operation truck count by 7% because it was unable to fill all the trucks with drivers. As a result, the company actually decided to sell some of its trucks in order to make some extra cash.
Refinancing of debt will be boon for the company
Many investors have been staying away from this company due to its high debt levels and the leverage ratio. As recently as 4 years ago, Swift had a debt totaling $1.92 billion, and the company's leverage ratio was as high as 3.86. Over the last few years, the company worked on reducing its total debt as well as leverage ratio. In 2011, the total debt fell to $1.71 billion and the leverage ratio fell to 3.17 and in the following year, the total debt fell further to $1.53 billion and the leverage ratio fell effectively to 2.78. As of last quarter, Swift's leverage ratio came down to a more reasonable 2.51 while the company's debt is now around $1.45 billion. As the debt-level and leverage ratio continue going down, more investors will be attracted to this company. Furthermore, the company's recently-restructured debt dictates that certain interest rates will be falling by as much as 0.25% once the company's leverage ratio comes below 2.00. This will eventually translate into a much stronger balance sheet in the future.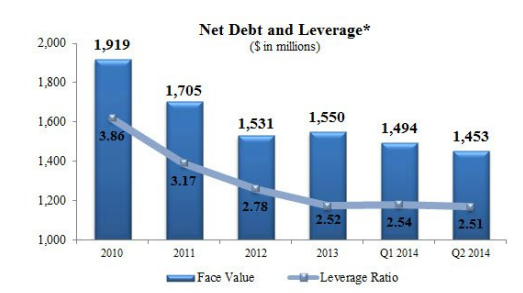 A lot of growth opportunities ahead
The company is currently at crossroads, and if it can make the right moves, it can grow immensely. I will mention each segment of the company's operations in order to offer a better understanding of its growth opportunities. The first segment is the Truckload Segment. Although the revenues have been flat year-to-date for this segment, there are several opportunities that can be turned into growth for Swift. In trucking, there are two different types of routes: regular and irregular. Regular routes involve delivering certain goods from a certain city to another certain city on schedule. For example, one such route may involve carrying steel from Phoenix, Arizona to Houston, Texas every Tuesday. These routes usually have long-term contracts and customers have to commit for a certain number of deliveries per year. There are also irregular routes, which involve one-time deliveries. A driver might have to deliver steel from Detroit, Michigan to Minneapolis, Minnesota one time and then move on to another route. Currently, one-way irregular routes happen to be where trucking companies see most growth these days. These types of routes usually require trucking companies to have a large fleet and many terminals, because the company in question has to be very flexible. Swift is in a great position to pick up as many irregular route contracts as it can, as long as the company can find enough truck drivers, which brings us to the first issue.
The truckload segment is also seeing some growth opportunities outside of the US as it continues its expansion in Canada and Mexico. Here, we are talking about two types of contacts. The first type of contract that comes to mind involves routes within a country. For example, one such route might be between Toronto to Winnipeg. The second type of contract involves routes across countries. There is huge demand for routes that go between Mexico and the US since many American manufacturers moved their production capacity to Mexico and they need their goods to be transported in the US. In fact, the routes across the two countries might be one of the biggest drivers of growth for trucking companies in the next 5 years. This case is becoming stronger as the US economy continues to grow at a healthy rate and there is demand for all sorts of goods.
There are also some opportunities for rate increases in the truckload segment. In fact, some of this has been already happening. When we look at weekly revenues per truck, we see a steady increase between 2011 and 2013. As long as the company is able to utilize more trucks, it will be able to reap the benefits.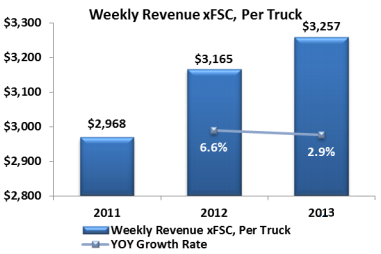 The company's second segment is Central Refrigerated Segment. As the name implies, this segment is responsible with carrying and delivering perishable goods, such as food. This used to be a very tiny segment of Swift until the company acquired Central Refrigerated last summer. This acquisition turned out to be good for the company. Currently, this segment generates $3,474 in weekly revenues per truck and this number is only trending upwards as rate increases are taken well by clients so far. This segment is seeing a very strong demand and Swift is expecting to increase the number of trucks in the second half of the year, as long as it can get enough truck drivers to fill those trucks.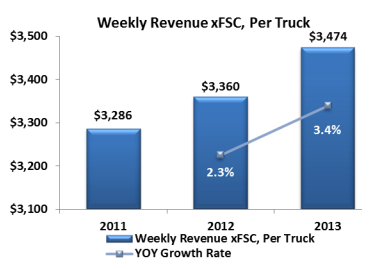 Swift's Intermodal Segment moves freight in containers with the use of trailing equipment and railroads. This business segment is currently seeing a growth rate of 10-12%, as it continues to sign new contracts with either new or existing clients. This business segment also sees a lot of cross-border activity between Canada, the US and Mexico with so many contracts and business opportunities being up for grabs. Intermodal Segment now operates nearly 9,000 containers, sharply up from 5,500 containers in 2011 and if the company is able to meet its employment goals, it is on track to operate more than 10,000 containers by next year.
Swift's strong client relationships
Swift Transportation is a well-known company in the transportation industry, and it currently has the right to brag about its high rate of customer satisfaction. Last year, more than 99% of all deliveries made by the company arrived right on time. Most of Swift's business contracts are long-term in nature and the strong demand in the overall industry makes it difficult for any clients to back out of contracts, because if they back out of a contract, they might not be able to find a carrier for their goods with the ongoing shortage of truck drivers. In fact, if anything, most of Swift's top 25 customers increase their contract size in the recent years. Swift's strong relationship with its long-term customers allows both parties to work together in order to increase efficiencies.
There is a lot of growth in the energy industry
Actually, one of the main culprits for Swift's driver shortage is the oil industry. In the last few years, the American oil production entered a new booming period and oil companies pay truck drivers for miles-driven as well as hours because transporting materials for this particular industry is very lucrative. Here, we are not only talking about transporting oil, but we are also talking about transporting other materials such as water and sand to fracking sites. Currently, Swift has limited exposure to the oil production scene, and the company could see its revenues rise substantially by serving the oil industry in a more meaningful way. This could happen in many different ways. For example, Swift could buy a small trucking company that has strong footing in the oil industry just like it purchased Central Refrigerated last year to establish dominance in this segment.
Let's look at some numbers
They say that the best predictor of future behavior is the past behavior. If we look at Swift's history, one thing that becomes clear is that the company did a great job of growing its revenues and operating income tremendously over the years. In 1990, Swift generated $156 million in revenues and $16 million in operating income. Fast-forward 10 years and now we have a company that generates $1.26 billion in revenues and $100 million in operating income. Fast-forward another 13 years and we are looking at $4.12 billion in revenues and 373 million in operating income. This translates into 12.5% compounded annual growth rate for revenues and 23.4% compounded annual growth rate for operating income in the last 5 years.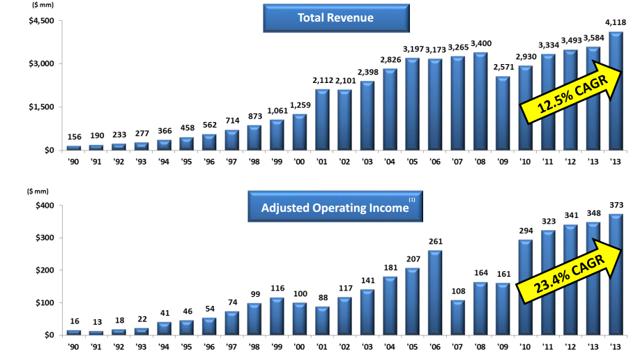 Click to enlarge
In 2011, Swift's management provided long-term earnings targets for the next 6 years. In 2012, the target was 95 cents per share and the company topped that with $1.00 per share. The target of $1.09 per share in 2013 was also surpassed with $1.23 per share in net income. This year's guidance of $1.31 to $1.41 per share also makes it very likely that the company will beat its previous target of $1.25. From here, even if all the goals get barely met, we are looking at $1.91 by 2017 and this gives us a forward P/E ratio in low teens.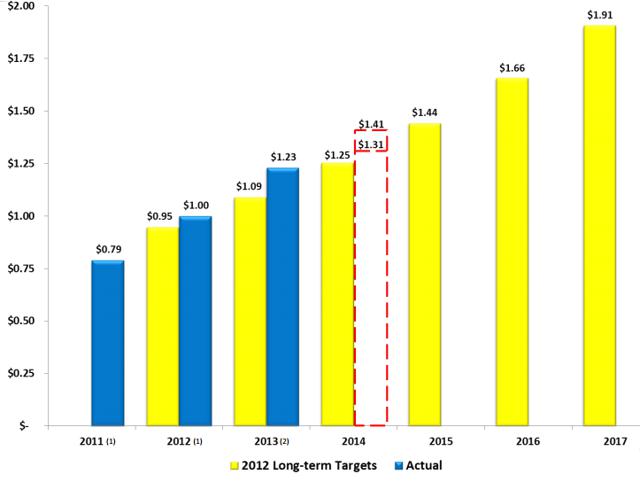 Click to enlarge
As the company's earnings keep growing, its leverage keeps falling. By 2017, Swift is expected to have a leverage ratio of 1.50 compared to 2011's 3.20 and today's 2.50. This is another metric where Swift has been beating its earlier targets every single year. More importantly, by 2017, Swift will earn nearly $2 per share and it will have a solid balance sheet, making it a good investment.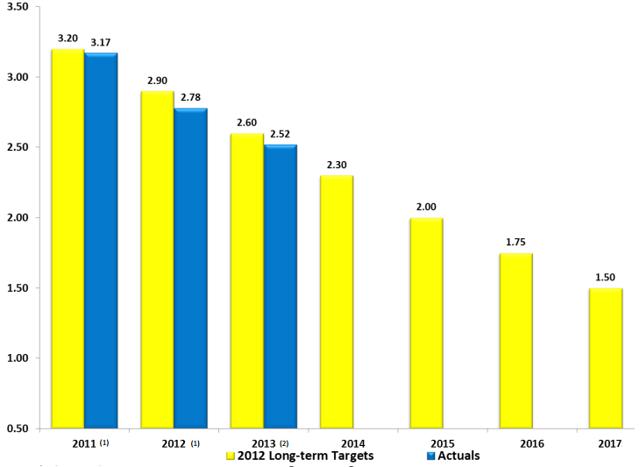 Click to enlarge
Almost all of Swift's peers enjoy a premium valuation on top of this company. For example, Knight Transportation (NYSE:KNX) gets a forward P/E of 20, J.B Hunt (NASDAQ:JBHT) gets a forward P/E of 22, Echo Logistics (NASDAQ:ECHO) gets a forward P/E of 30, and the industry average is at 22. Meanwhile, Swift gets a forward P/E of 15, which means that this company gets punished by at least 40% even though all of its peers suffer from the same problem of driver shortage. In price-to-cash flow ratios, most transportation companies enjoy as much as 50% premium over Swift for no apparent reason.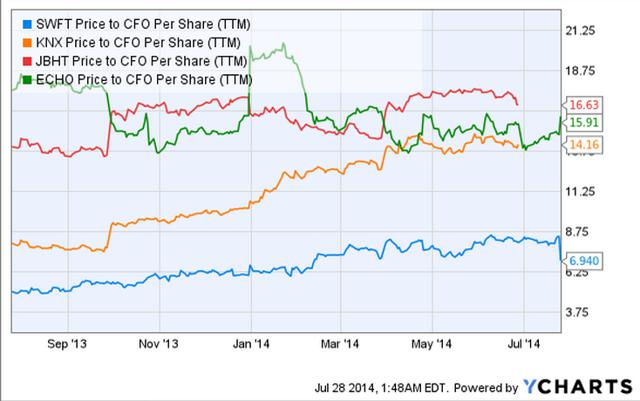 Click to enlarge
Swift calculates that if it can increase its rate per mile by 1 cent, it will be able to see its operating income rise by $15.6 million. If the company can increase its rate per mile by 5 cents, its operating income growth will be as much as $78.2 million. Furthermore, if the company can cut its deadhead miles (the covered by a truck without a load, for example in parking in between two tasks) by 2.5%, its operating income will rise by $55.4 million. Even the slightest efficiency gains in this company can result in tens of millions in savings.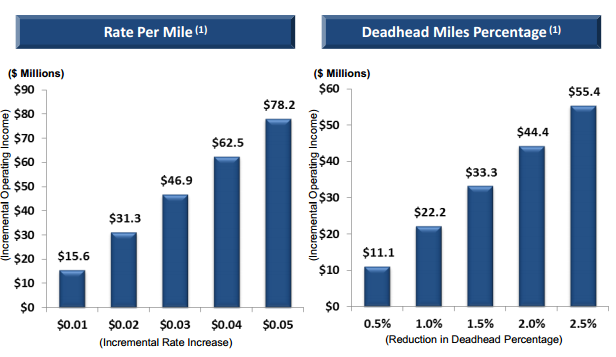 Conclusion
Swift is currently experiencing a shortage of drivers and this problem is real; however, the company has so many opportunities in front of it that once the temporary problem of driver shortage is solved, if the company's past performance tells us anything, it will have so much upside in the future. Currently we are seeing a transportation boom in the US, Canada and Mexico fueled by the energy industry, higher overall demand for goods and improving economy, and Swift is well-positioned to take advantage of this boom. After a nearly 20% fall, the stock finally looks attractive for those that would like to get some exposure to the transportation industry. Even if the company reaches a valuation its peers enjoy, it still has huge upside potential.
Disclosure: The author has no positions in any stocks mentioned, but may initiate a long position in SWFT over the next 72 hours. The author wrote this article themselves, and it expresses their own opinions. The author is not receiving compensation for it (other than from Seeking Alpha). The author has no business relationship with any company whose stock is mentioned in this article.