Estimates have been soaring for Hanesbrands (NYSE:HBI) after the company delivered strong Q2 results and management raised its EPS guidance on July 23 thanks in large part to expanding profit margins. It is a Zacks Rank #1 (Strong Buy) stock.
Hanesbrands markets everyday basic apparel under brands like Hanes, Champion, Playtex, Bali, Maidenform, Flexees, JMS/Just My Size, barely there, Wonderbra and Gear for Sports.
Second Quarter Results
Hanesbrands delivered better-than-expected second quarter results on July 23. Adjusted earnings per share came in at $1.71, beating the Zacks Consensus Estimate by 21 cents. It was a 44% increase over the same quarter last year.
Net sales rose 12% to $1.342 billion. Excluding the Maidenform acquisition, however, net sales were up approximately 1% on a constant currency basis.
Adjusted gross profit increased 160 basis points to 37.9% of net sales as the company continued its "Innovate-to-Elevate" strategy of harnessing "synergies from combining the company's brand power, supply chain leverage, and product innovation platforms."
Meanwhile, adjusted selling, general and administrative expenses declined from 21.2% to 20.6% of net sales as the company leveraged its fixed expenses. This led to 27% growth in adjusted operating income as the operating margin expanded from 15.1% to 17.2% of net sales.
Estimates Soaring
Following strong Q2 results, management raised its guidance for the remainder of the year. The company now expects full-year adjusted EPS between $5.20 and $5.40, which is up from its previous guidance of $4.80 to $5.00.
The new guidance was also well above consensus, which prompted analysts to unanimously raise their estimates for both 2014 and 2015. This sent the stock to a Zacks Rank #1 (Strong Buy).
The 2014 Zacks Consensus Estimate is now $5.39, up from $5.01 before the Q2 report. The 2015 consensus is currently $6.05, up from $5.71 over the same period.
As you can see in Hanesbrands' "Price & Consensus" chart, consensus estimates have been steadily rising over the last several quarters: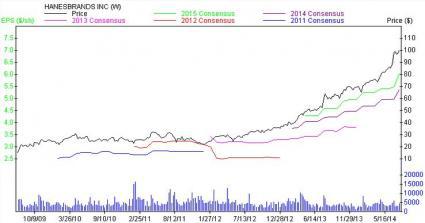 Valuation
Shares of Hanesbrands are up more than +45% year-to-date. But the valuation picture still looks reasonable. The stock trades at less than 18x 12-month forward earnings, which is a slight discount to the industry median of 19x. Its price to sales ratio of 2.1 is also below the industry multiple of 2.5.
The Bottom Line
With expanding profit margins, excellent earnings momentum, and reasonable valuation, Hanesbrands offers investors attractive upside potential.
Disclosure: None