Until the recent failed acquisition of Time Warner (NYSE:TWX) by 21st Century Fox (NASDAQ:FOXA), media content stocks weren't given much attention on Wall Street. However, now that Rupert Murdoch put a 15-20% premium on Time Warner in his latest buyout attempt, investors are beginning to recognize the value in media stocks. Content providers have been moderately priced compared to the market as a whole and generate tremendous free cash flow, which many companies have used to help fund large share buyback programs. This article will compare the 5 largest media/content companies and identify where hidden value remains.
Market Comparison
| | | | | | | | | |
| --- | --- | --- | --- | --- | --- | --- | --- | --- |
|   | Share Price (7/28/14) | Market Cap ($ billion) | EV/EBITDA | P/E | Fwd. P/E | FY '15 P/E | Debt/Equity | Dividend Yield |
| Disney (NYSE:DIS) | $ 86.65 | $ 149.9 | 12.2 | 22.2 | 20.3 | 18.7 | 0.32 | 1.0% |
| Time Warner | $ 85.30 | $ 75.2 | 11.4 | 19.3 | 20.5 | 18.6 | 0.67 | 1.4% |
| Viacom (NASDAQ:VIAB) | $ 85.70 | $ 32.4 | 10.9 | 16 | 14.4 | 13.5 | 2.8 | 1.5% |
| CBS (NYSE:CBS) | $ 57.62 | $ 30.4 | 10.8 | 18.8 | 16.5 | 15.1 | 0.94 | 0.8% |
| 21st Century Fox | $ 32.59 | $ 72.6 | 14.7 | 19.7 | 19.6 | 19.1 | 0.88 | 0.7% |
Source: Yahoo Finance & CNBC
There aren't any eye popping valuation differences among these 5 mature media companies. Time Warner had been the among the most undervalued over the past 5 years, but the 15% bump, brought on by the attempted takeover, raised their valuation in-line with the others. Currently, Viacom has the lowest P/E and forward P/E ratio, but also the highest debt burden. Comparing these values to the S&P 500 P/E of 19.51 and forward P/E of 16.55, these companies are moderately priced.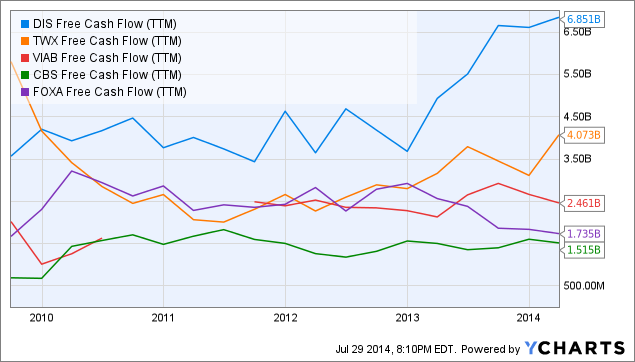 Over the past several years, these media stocks have separated themselves from the market by showing they are capable of generating massive free cash flow. Free cash flow is calculated as operating cash flow minus capital expenditures. High free cash flow gives a company flexibility to enhance shareholder value through stock buybacks, dividends and debt management. Many analysts argue that free cash flow is a better indicator than P/E when valuing a company.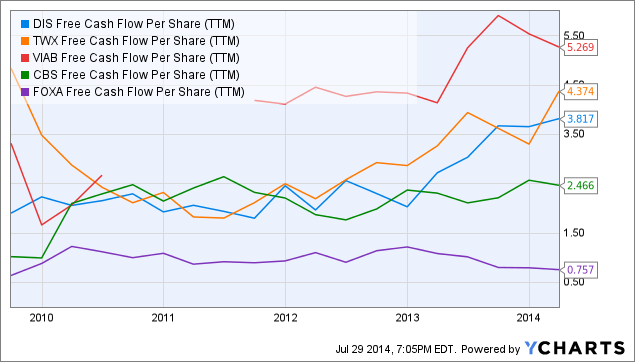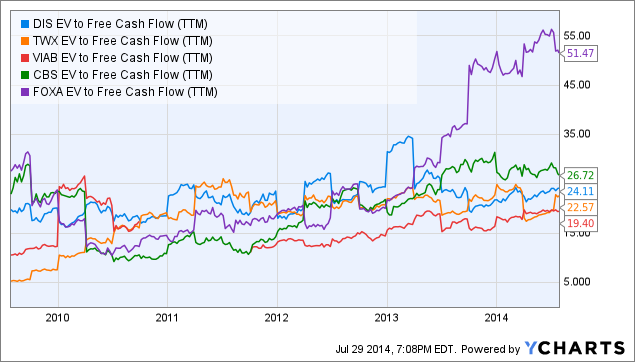 When using the free cash flow metrics to compare these companies, Viacom again comes out as the winner. Viacom has the highest free cash flow per share and the lowest EV to free cash flow. However, one of the main reasons Viacom has achieved this is through leveraging debt to finance it share buyback program. All 5 companies have aggressive stock repurchase programs, but Viacom has the most aggressive with $8 billion of its $20 billion repurchase authorization still active. Since 2011, Viacom has bought back over 207 million shares for roughly $12 billion, effectively removing over 30% of outstanding shares. With $8 billion left in its repurchase authorization, the company can remove an additional 20-25% of shares.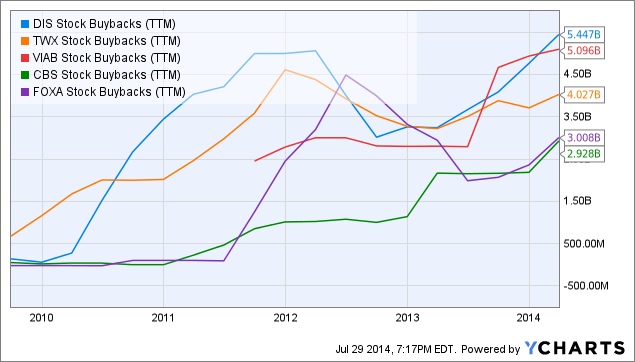 Media Content Assets
Owned TV channels

Disney

Time Warner

Viacom

CBS

21st Century Fox

ABC

HBO

MTV

CBS

Fox

ESPN

Cinemax

VH1

The CW

Fox News

SOAPNet

TruTV

CMT

Showtime

FX

A&E

TBS

Nickelodeon

Smithsonian Channel

Nat. Geo.

 

TNT

Comedy Central

TV Guide

 
 

Cartoon Network

Spike

 
 
 

Adult Swim

BET

 
 
 

CNN

 
 
 
 

HLN

 
 
 
Between these 5 media companies, they own a large share of all available television channels. These are often overlooked assets that generate tremendous operating income. The back half of 2014 is expected to benefit from increased political ad spending, which should lead to strong second half comparisons versus 2013.
 

Domestic Box Office: January 1 - July 27, 2014

($ millions)

Total Gross

Market Share

Disney (Buena Vista)

$ 861.8

14.1%

Time Warner (Warner Bros.)

$ 992.8

16.2%

Viacom (Paramount)

$ 588.4

9.6%

21st Century Fox (20th Cent. Fox)

$ 1,135.4

18.6%
Source: BoxOfficeMojo
While CBS doesn't have a movie studio, the 4 other companies are leaders in the industry with a combined 58% domestic market share. 21st Century Fox was the first studio to break $1 billion in domestic box office sales in 2014 and is on pace to break the company record of $1.48 billion set back in 2010. I wrote an article on 21st Century Fox's movie studio breaking out and setting itself up to smash 2Q2014 revenue estimates which could drive the stock higher. Disney's movie studio, Buena Vista, has lagged 2013 results, so far, and its future movie releases in 2014 are unlikely to match 2013 results. However, Disney has an unbelievably strong 2015 line-up, which includes Cinderella, The Jungle Book, Avengers: Age of Ultron and Star Wars: Episode VII. Both Avengers and Star Wars are likely to gross more than $1 billion each in total world-wide box office sales. Time Warner, which led all movie studios in 2013 with $1.86 billion in domestic box office sales, should battle 21st Century Fox for the top studio in 2014. Both studios have strong line-ups remaining in 2014. Viacom's studio, Paramount, has failed to break the top 5 grossing studios for the past 2 years, but has a strong chance in 2014 with blockbusters Teenage Mutant Ninja Turtles and Interstellar being released later in 2014. Teenage Mutant Ninja Turtles has the chance to be the biggest summer blockbuster and its earlier release of Transformers: Age of Extinction has world-wide box office sales of nearly $1 billion, the biggest grossing movie in 2014.
Upcoming Major 2014 Movie Releases

Disney

Time Warner

Viacom

21st Century Fox

Guardians of the Galaxy

Into the Storm

Teenage Mutant Ninja Turtles

The Maze Runner

Alexander and the Terrible, Horrible..

Dolphin Tale 2

Paranormal Activity 5

Gone Girl

Into the Woods

This is Where I Leave You

Interstellar

Book of Life

Big Hero 6

The Judge

Hot Tub Time Machine 2

Kingsman: The Secret Service

 

Horrible Bosses 2

 

The Penguins of Madagascar

 

Inherent Vice

 
 
 

The Hobbit: The Battle of the 5 Armies

 
 
Conclusion
Viacom is my choice for best media content stock going forward. On valuations ranging from P/E to Free Cash Flow per share, Viacom comes out as the most undervalued company. Time Warner was at similar valuations compared to Viacom before the attempted acquisition from 21st Century Fox sent shares up 15%. It's unclear if Rupert Murdoch would be willing to attempt to acquire Viacom if he can't wrap up the Time Warner deal, but Viacom offers the same value as Time Warner did a couple weeks ago. Viacom has strong assets, attractive valuations, an aggressive stock repurchase program and an industry best dividend yield. Along with the best downside protection, Viacom has the most upside potential in this group.
Disclosure: The author has no positions in any stocks mentioned, and no plans to initiate any positions within the next 72 hours. The author wrote this article themselves, and it expresses their own opinions. The author is not receiving compensation for it (other than from Seeking Alpha). The author has no business relationship with any company whose stock is mentioned in this article.