This article is part of a regular series in which we interview our App Providers - the folks that develop the amazing stock-market Apps on Seeking Alpha's new App Platform.
Please use the comment stream below to share your own experiences with the featured App. And feel free to suggest to the developers any improvements or changes you'd like to see (or write a review!).
This week's interview is with Stephen Reitmeister of Zacks Research - whose "Ratings, Research and Recommendations help you make the best Buy, Hold, and Sell decisions on your stocks."
And now, the interview:
The Zacks App is the epitome of Google-like simplicity. You start with just a search box, and instructions to, "Insert a stock ticker to get the latest Ratings, Research, and Recommendations from Zacks.com." So naturally, I type in AAPL. The first thing I see is that Zacks Ranks AAPL "3" – or Hold – for the short term (1-3 months). How do you arrive at that rating?
Our founder, Len Zacks Ph.D., discovered over 30 years ago that earnings estimate revisions are the most powerful force impacting stock prices. From that discovery he created the Zacks Rank as a quantitative stock rating model that harnesses the power of earnings estimate revisions. So every night our computers review the freshest estimates from the universe of brokerage research reports. The stocks with the greatest positive movements in estimates will be rated the highest (Zacks #1 Rank). And those with the poorest estimate revision picture will have a Zacks Rank of 5 (Strong Sell). The rest of the ratings are on a bell curve with 60% of stocks having a #3 Hold rating. This is not a bad thing; it simply means that other stocks have stronger estimate revisions and thus a greater probability to rise in the near term.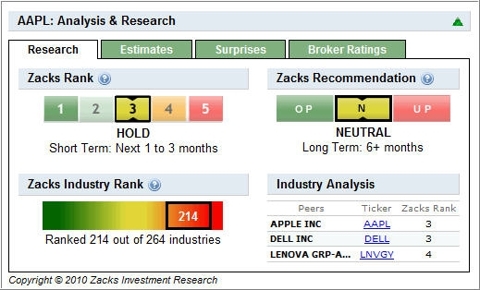 Zacks long-term (6+ months) Recommendation for AAPL is Neutral. What factors into a stock's long-term grade?
Most firms only have one rating system. That is nice if there were only one kind of investor. Yet some people are more interested in trading for the short term - for which the Zacks Rank is the best timeliness rating, while others want to own stocks for a longer period - and our Zacks Recommendation is the better tool for them. Note that each rating is based on a quantitative model that harnesses the power of estimate revisions. It's just that the short-term Zacks Rank has a more sensitive read of that information, and the Zacks long-term Recommendation loosens up the standard to have less turnover. The good news is that each rating system has dramatically outperformed the S&P 500 since inception. The one that is right for you simply depends on your intended holding period.
An obvious question: What about the mid-term (3-6 months)?
The Zacks Rank works best in a 1 to 3 month time frame and the Zacks Recommendation as 6+ months. So that does leave a gap in between. I would prefer investors use the Zacks Rank for up to 6 months, as the rating is more likely to give them the best performance.
Apple's industry rank is 218 out of a total 264 industries. To which industry does this refer? Why is the rank so low?
For the Zacks Industry Rank, we have broken down all stocks to fit into one of 264 different groups. Then we look at the average Zacks Rank of the stocks in that group to create an industry score. The #1 ranked group will have the best average Zacks Rank and the #264 ranked group will have the worst average Zacks Rank. Our research clearly shows that over 50% of a stock's move is related to its industry. And that groups in the top half of the Zacks Industry Rank provide a return 4X better than those in the lower groups. Meaning it is a very potent indicator. To make a long story short, look for groups in the top half of all industries. And then find the stocks in those groups with the best ratings (Zacks Rank or Recommendation depending on your time frame).
Ok, so what are the top five and bottom five Zacks industries?
Top five:
Hand-held tools
Electrical Construction
Electronic Parts Distribution
Semiconductor - Radio Frequency
Foreign Auto
Bottom five:
Textile Products
Glass Products
Computer Graphics
Semiconductor - Photomask
Rubber & Plastics
How do you come up with the Zacks Consensus Estimate?
We have direct relationships with just about every brokerage firm that covers U.S.-based stocks. Every day they send us thousands of research reports that our data team quickly gets into the systems. One of the key data points is the earnings estimates. So for example, the earnings estimate for a large company may encompass about 30 estimates. We add up all the individual estimates, then divide by 30 to come up with the consensus estimate.
Zacks has been around for some time. What aspect of your service receives the most enthusiastic feedback? Do you have a sense of how users are using your rankings – are they trading directly off high-rated Zacks stocks, or is it generally just one piece of the puzzle?
We are best known for the Zacks Rank, given that it is one of the few rating systems that has truly stood the test of time. Going back to 1988, it has produced an average annual return of 27%. And yes, it's at 27% even after factoring in bear markets like 2000-2002 and the most recent, Great Recession decline that started in the fall of 2008. Given the strength of the ratings, some investors just create a portfolio of top ranked stocks and enjoy great success. Others consider it just one ingredient to consider. From there they may also look at growth, value, or technical considerations to make their choices. Test after test shows that virtually every stock picking strategy that starts with #1 Ranked stocks beats the market. In fact, we haven't found one combination of factors along with #1 Rank that produces sub-par returns.
Thanks Stephen!
Have any thoughts, suggestions, or comments for Stephen and his team? Tell them, and other SA readers, what you think in the comment stream.