Earnings estimates have been falling for Inter Parfums (NASDAQ:IPAR) after the company released preliminary Q2 results on July 23. While sales were in-line with estimates, management lowered the upper-end of its full year EPS guidance. This caused analysts to revise their estimates meaningfully lower for both this year and next year, sending the stock to a Zacks Rank #5 (Strong Sell).
While shares of Inter Parfums have sold off a bit since the preliminary Q2 results, the stock does not look like a value at more than 23x forward earnings.
Inter Parfums manufactures, markets and distributes fragrances through two segments: European-based operations and United States-based operations. The company produces and distributes its European-based prestige products primarily under license agreements with brand owners like Montblanc, Jimmy Choo and Karl Lagerfeld. The company recently sold its Burberry line of fragrances to Burberry itself.
The company's United States operations markets prestige brands as well as specialty retail fragrances, which are sold under trademarks owned by the company or pursuant to license or other agreements with the owners of the Anna Sui, Alfred Dunhill, Oscar de la Renta, Shanghai Tang, Agent Provocateur, Gap, Banana Republic, Brooks Brothers, bebe and Betsey Johnson brands.
Preliminary Second Quarter Results
Inter Parfums reported preliminary second quarter results on July 23. The company plans to issue detailed results on or about August 11.
Net sales of ongoing brands (excluding Burberry brand sales) increased 22% to $118.2 million, which was in-line with consensus. European-based product sales rose 31%, driven by new product launches, while U.S.-based sales declined 5%. According to the company, U.S.-based sales declined "due to a challenging comparison with the prior year."
Revised Guidance
In the Q2 press release, management stated that it continues to expect 2014 net sales of approximately $495 million. However, the company lowered the upper-end of its EPS guidance range from $0.93-$0.98 to $0.93-$0.95. This prompted analysts to revise their estimates meaningfully lower for both 2014 and 2015, sending the stock to a Zacks Rank #5 (Strong Sell).
The 2014 Zacks Consensus Estimate is now $0.95, down from $1.04 before the report. The 2015 consensus has fallen from $1.28 to $1.22 over the same period. The consensus estimate for Q2 also declined. It is currently $0.21, down from $0.23.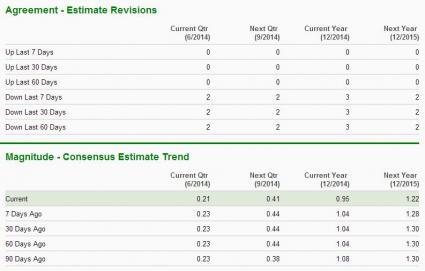 Premium Valuation
Shares of IPAR are down more than 5% since the preliminary Q2 report, but the valuation picture does not look very attractive here. The stock trades at more than 23x 12-month forward earnings, above its 10-year median of 19x. Its price to sales ratio of 1.7 is also above its historical median of 1.2.
The Bottom Line
With declining earnings estimates and premium valuation, shares of Inter Parfums could remain under pressure for a while. Investors should consider avoiding the stock at least until its earnings momentum improves.
Disclosure: None