Bank of America Corporation (NYSE:BAC) is a household name in the United States and for good reason. By assets alone, it is the nation's second biggest bank. By Forbes' 2010 definition, it is the third largest company in the world. In 2008, it acquired Merrill Lynch Wealth Management, the world's largest brokerage. Merrill Lynch itself represented an add-on of over $2.2 trillion client assets and over 15,000 financial advisors. In finalizing this merger, BAC became a leading provider of global corporate and investment banking services. Where numbers are concerned, BAC seems sufficient: it services 50 million customers, possesses 5151 banking centers, holds 16259 ATMs, operates within all 50 US states, and maintains a presence in more than 40 other countries.
Despite these solid statistics, BAC has faced continued controversies and lawsuits since 2008. The financial consequences and ethical implications of these events - particularly when taken alongside the United States housing crisis - make BAC a problematic investment, as I Know First Research confirms with its 1-month, 3-month, and 1-year forecasts.
The Past: Controversies & Lawsuits
As I have mentioned above, BAC did indeed have its strengths in the pre-2011 era, but a series of controversies and lawsuits have significantly hindered its success.
The first of these was the American International Group (NYSE:AIG) lawsuit against BAC in summer 2011, in which AIG found BAC and, its acquisitions (namely, Merrill Lynch and Countrywide), guilty of "massive fraud". After AIG refused to accept Bank of America Corp.'s $8.5 billion settlement, BAC responded immediately, with spokesman Lawrence DeRita labeling his corporation free of culpability. However, negotiations continued until 2013 and 2014, when judges ruled against AIG. While BAC may have won that battle, its stock tumbled nearly 45% in 2011 as a result of ongoing legal issues.
Further lawsuits accompanied this one, including one filed just one month later by Fannie Mae (OTCQB:FNMA) and Freddie Mac (OTCQB:FMCC), two government-sponsored enterprises (GSEs). They claimed that BAC had falsely represented the mortgage-backed securities it sold to these federal housing giants. Yet another suit in 2012 forced BAC to pay $2.4 billion to its shareholders, who felt they had been misled concerning BAC's acquisition of Merrill Lynch. The US government also followed suit, filing a $1 billion civil lawsuit against the corporation for Countrywide's alleged abuse of taxpayers, FNMA, and FHLMC. BAC also suffered slightly from its acquisition of Countrywide Financial: the latter group did not just have problematic mortgage portfolios, but was also accused of racial discrimination, and BAC incurred a bias suit as a result in 2011.
Even former employees turned against BAC. In 2014,ex-CFO Joe Price sued BAC, alleging that the bank had withheld important information concerning its merger with Merrill Lynch.
In 2009, Parmalat SpA sued BAC for $10 billion, claiming the bank had exploited its financially troubled position. Later, Ann Minch - a Bank of America customer - created a video criticizing BAC's interest rate policy that went viral. WikiLeaks - the international online journalistic organization that is known throughout the US for anonymously publishing secret information - threatened BAC, dropping BAC's stock by 3.2% when it claimed that it possessed - and would publish - information that could turn the bank's world upside-down. Finally, from 2011 to 2014, BAC experienced additional disputes with Anonymous, the state of Arizona, and American-Iranian citizens: respectively, it was accused of improper foreclosures, misleading statements, and account closures on the basis of sanctions against Iran.
The Present: Litigation Costs & Loss of Trust
BAC is trying its best to recover from plague of legal issues. After having paid out several billion in settlements, BAC decided to sell half of its China construction Bank stake (as well as its Balboa insurance business) to elevate capital. It is also noteworthy to mention that BAC still holds a large market share: with the right maneuvering, its large customer base can assist it in making a rebound. The bank is constantly trying to expand this base even further, creating low-fee banking for financially troubled customers in the hopes of repairing its suspicion-ridden reputation and attracting clients who, while not particularly profitable now, may be so in the long run.
These efforts have seen results in the last few months: BAC has experienced modest gains, as predicted by the I Know First algorithm (Figures 1 and 2):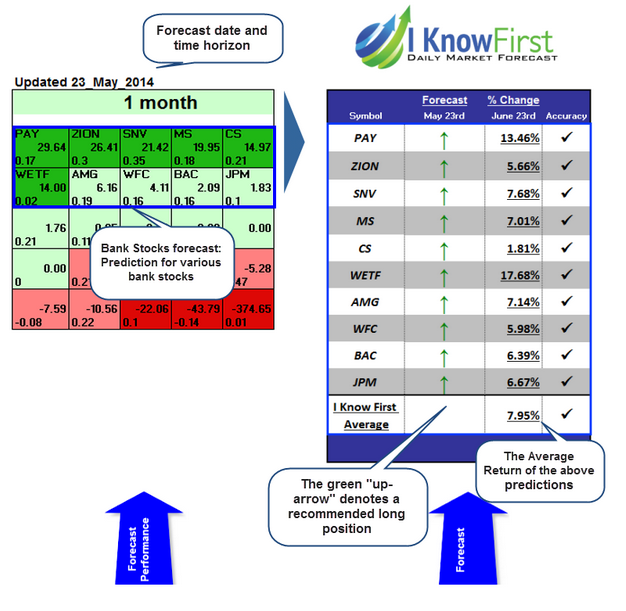 Figure 1. I Know First Research's 1-month forecast for May 23rd, 2014, showing a bullish BAC forecast for the month; this prediction was later found to coincide precisely with buy and sell signals of the time.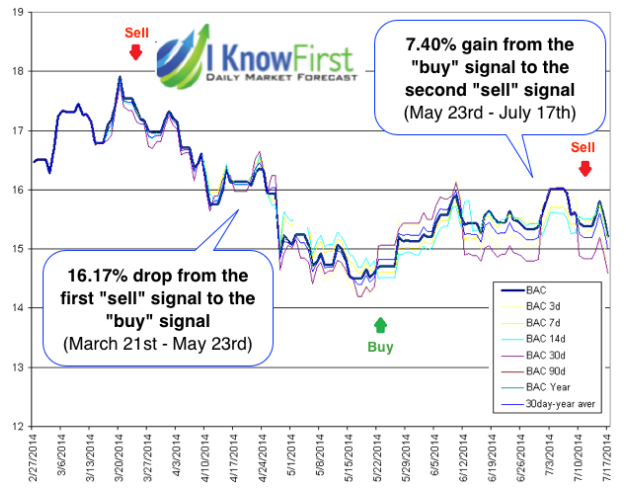 Figure 2. As demonstrated in the chart above, the I Know First Algorithm is currently giving the security a "sell" signal.
The thick blue line shows the actual historical prices versus the signal forecasted in each of the six time horizons from three days to one year ahead, as thin broken color lines. The positive or negative (up or down) signals of the forecast were added to the actual last known price at the time of the forecast. Thus, when the signal line is above the actual line, it indicates a "buy" signal, and if below, then a "sell" signal. Each point on this chart was taken from the actual daily forecast published in the morning before the next market open.
Yahoo! Finance analysts' opinion seems to reflect this view as well. This week's mean recommendation for BAC is a 2.5 out of 5: (Figure 3).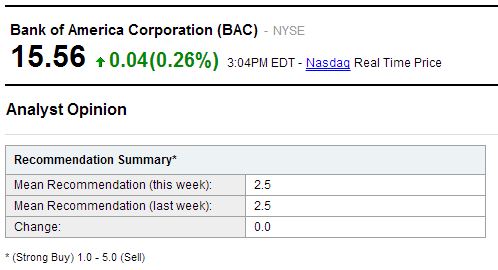 Figure 3. Yahoo! Finance analysts' opinions on BAC this week, placing it at a consistent 2.5 (a mediocre outlook).
Reuters analysts exhibit similar recommendations, most frequently placing BAC as a hold (Figure 4).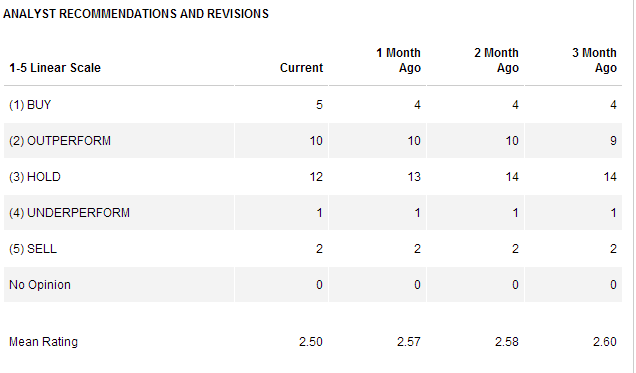 Figure 4. Reuters analysts seem to second Yahoo! Finance's predictions, rating BAC predominantly as a hold.
The Future: An Algorithmic Perspective
I Know First uses an advanced self-learning algorithm based on artificial intelligence, machine learning, and artificial neural networks to predict the flow of money in almost 2000 markets from 3-days to a year. This algorithm provides traders with a trend they can use to identify when to enter and exit the market; though it may be used for intra-day trading, the predictability of this trend becomes stronger in 1-month, 3-month, and 1-year forecasts; as such, it can - when coupled with traditional analysis and careful reasoning - effectively be used to analyze the value of such stocks as BAC.
The updated July 30th forecasts generated by the I Know First algorithm are shown below (Figure 5). Bright green signifies a highly bullish signal; light green also indicates that the forecast is bullish, but not as strongly so. Bright red, in turn, signifies a bearish forecast; correspondingly, light red indicates a bearish forecast as well, but not as negative a forecast. Each compartment contains two numbers: the strength of the signal itself (represented by the number in the middle of each box, to the right), and its predictability (found in the bottom left corner, this is the approximate level of confidence the algorithm has in the forecast). Taking all this into consideration, the ticker symbol for Bank of America - "BAC" - may be seen as bearish in the 3 to 7 to 14-day frame, and remains strongly bearish across both the 3-month and 1-year frames; this and predictability should be taken into consideration when this algorithmic perspective is used to inform traditional analytic tools. Further explanations are available here.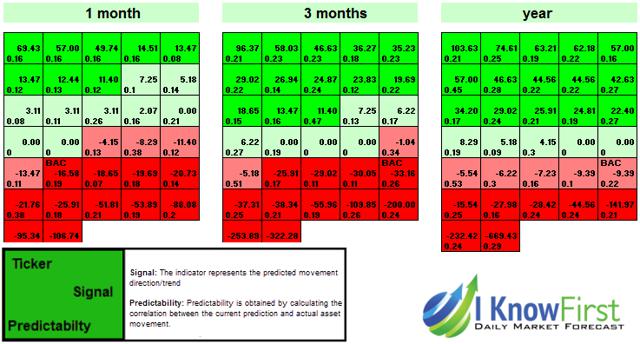 Click to enlarge
Figure 5. Algorithmic forecast for BAC. BAC appears bearish in the 1-month, 3-month, and 12-month horizons.
Conclusion
While BAC is a geographically diverse business with an assortment of financial products with several prominent advantages (e.g., large customer base, recent attempts at raising capital, and Merrill Lynch, the latter of which adds brand value and has tremendous selling potential), it presently exists in a climate of increased pressure from customers. Furthermore, the recent lawsuits and controversies have taken a toll on the bank. Taking this overview, analysts' opinion, and I Know First Research's algorithmic predictions into considerations, I would recommend not adding to a BAC position anytime in the near future. At the same time, BAC is far from a sure-fire sell: its litigation costs are alarming, but analysts consistently favor the corporation in their forecasts. For those of you with large BAC positions, it may be best to hold until any further evidence regarding the stock's future becomes clear.
Business relationship disclosure: I Know First Research is the analytic branch of I Know First, a financial start-up company that specializes in quantitatively predicting the stock market. This article was written by Sophia Glisch, an I Know First intern, and edited by Daniel Barankin. We did not receive compensation for this article (other than from Seeking Alpha), and we have no business relationship with any company whose stock is mentioned in this article.
Disclosure: The author has no positions in any stocks mentioned, and no plans to initiate any positions within the next 72 hours. The author wrote this article themselves, and it expresses their own opinions. The author is not receiving compensation for it (other than from Seeking Alpha). The author has no business relationship with any company whose stock is mentioned in this article.