Why bet on PEP?
Over the past few years, Coca-Cola (NYSE:KO) has traded at a P/E premium to PepsiCo (NYSE:PEP). However, as the difference in P/E ratio continues to shrink (20.5 for PEP and 21.87 for KO), we can bet that PEP will creep up on KO and possibly surpass it on a multiple basis. However, I do not think that PEP can sustain trading at a significantly higher P/E than KO, but I do believe that PEP will outperform KO on a price basis. There are two specific reasons why PEP is poised to outperform:
1) PEP is Set to Experience Greater Sales Growth than KO
Looking historically, Coke has outperformed Pepsi over the last few years from a long-term sales growth perspective. However, as investors know, the past does not predict the future, and the future is changing. I see Pepsi growing sustainably higher sales than KO. Specifically, PEP has significantly more exposure to the snacks category, which will help drive organic sales growth. As well, PEP has outperformed KO on a 2-yr. sales growth basis, and this trend looks to be continuing.
The reason that PEP's exposure to the snacks category is important here is that the typical Carbonated Soft Drinks (CSDs) segment has taken a turn for the worst as younger generations face pressures to consider health. More and more consumers are becoming concerned with artificial additives in such drinks, and are turning to healthier alternatives. In years past, consumer demand for such beverages was strong, and Coke capitalized on this by centering its business model on soft drinks. As you can see from the below graphs, PEP's product mix is poised to take advantage of the current market trends. Specifically, the snacks segment has been the fastest growing category over the past few years, as consumers' preferences change. As such, Pepsi is poised well to capitalize on this trend.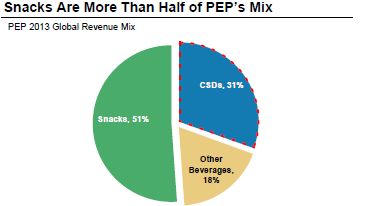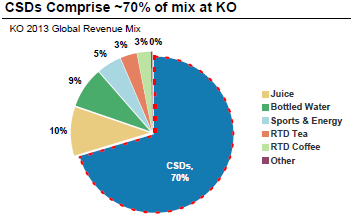 Data taken from PEP and KO 10-K
2) Pepsi is Poised Strategically to Outperform
Pepsi announced that it would wait 12-18 months for its beverage unit to turn around or it would consider strategic options. Not only has the company been pressured to seek strategic alternatives to combat week sales in the beverage segment, but activist investors are increasingly pressuring PEP to act. Specifically, PEP is considering separating its business into two segments: a snacks business and a beverages company. I believe this will be a strong move for Pepsi as it creates a win-win for shareholders. Of course, there are those that say a split might limit stock upside, but I only see additional upside from a strategic standpoint for the individual segments.
Additionally, Pepsi has changed its priorities with what to do with its cash flow. PEP has increased cash returns to shareholders by 35% through both share buybacks and increases in dividend payouts. Not only is this good for shareholders, but it makes sense to attract shareholders that may be discouraged by slowing topline growth. Not only has PEP marketed itself by offering more income to shareholders, but it has also undergone significant cost cutting operations to drive long-term growth. Compare this to KO, which has taken a more conservative approach to cost cutting.
Looking Forward
I expect that Pepsi will continue to see positive EPS growth, which will be a strong driver in performance. As sales growth momentum in snacks accelerates YoY on a global basis, Pepsi will continue to see the benefits of this new trend. Not only will PEP's 51% of revenue tied to snacks be boosted, but with only 31% in the dying product group of CSDs (compared to KO's alarming 70%), this company has nowhere to go but up. If the product mix was not enough, the strategic positioning of PEP in terms of their plans to aggressively cut costs and make their model more efficient, will continue to drive a stronger organic sales growth.
What Do You Need to Know?
In my opinion, PEP is trading at a P/E discount to KO. Although KO has traded at a higher multiple in past years, the trend is coming to a close. The P/E of both companies are virtually the same, and soon with all the growth tactics and strategies that PEP has in the pipeline, PEP should soon take the lead as the dominant player in relation to its peers. To be clear, I do not expect PEP to trade at a significantly higher multiple than KO. However, it is very clear to me that PEP is poised to outperform.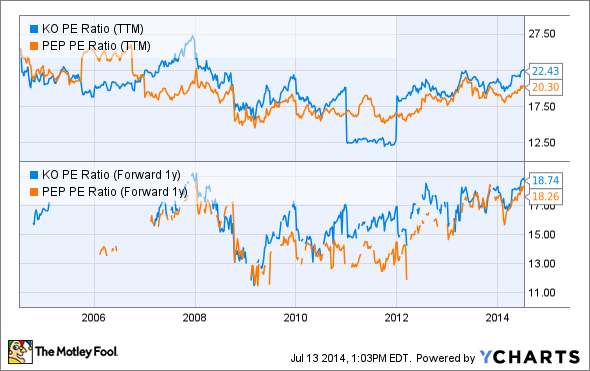 Additional Note: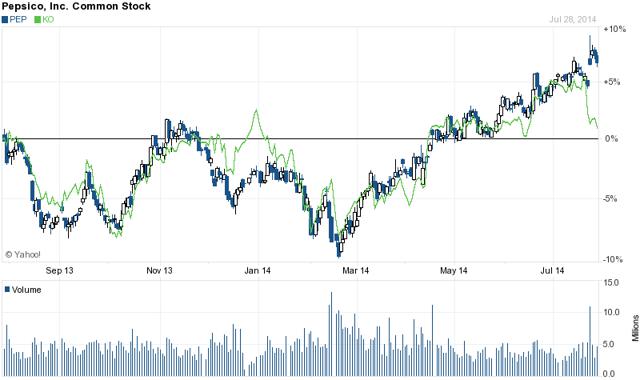 Click to enlarge
I feel it is important to add that if you are a contrarian to the above facts, and are rather considered with price movements over fundamental analysis, then you may do well to initiate a pairs trade with PEP and KO. As you can see from the above graph, historically, the two prices have conformed well to each other. However, recently KO has taken a negative dip and strayed far from PEP. As such, a pairs trader might do well to short PEP and go long KO in hopes the prices will converge once again. This might be a long-term pairs trade as PEP undoubtedly has the strategic advantage currently. Whether KO will soon correct its business model and exposure to CSDs is for you to bet on.
Disclosure: The author is long PEP. The author wrote this article themselves, and it expresses their own opinions. The author is not receiving compensation for it (other than from Seeking Alpha). The author has no business relationship with any company whose stock is mentioned in this article.