Oil-Dri Corporation (NYSE:ODC) recently reported net sales of $219 million for the fiscal year ended July 21, 2010 and net income of $9.46 million or $1.30 per share. This was lower than the previous fiscal year by 7% and 2%, respectively.
What's so impressive about the above result? Despite the lower sales and net income, which were primarily due to fewer tons sold and a decision by ODC's largest customer, Wal-Mart (NYSE:WMT) to carry a reduced number of cat litter brands, the company improved all its operating margins. In fact, this small company has delivered consistent, if not spectacular operating results for several years.
Click to enlarge: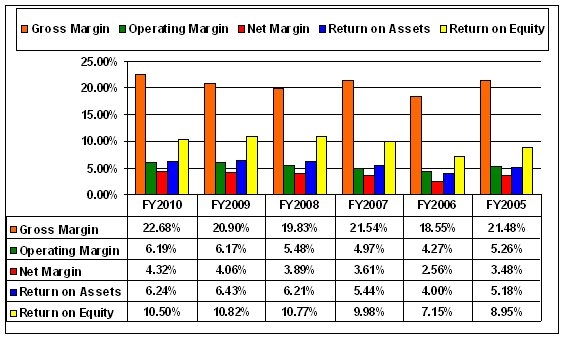 Source: The Mays Report
Oil-Dri Corporation develops, manufactures and markets sorbent products or products that absorb moisture. The company's products are mostly made from clay minerals. The types of products Oil-Dri manufactures include both branded and private label cat litter products, absorbent products serving industrial industries including automotive, bleaching clay and clarification aid products used by edible oil and jet fuel processors as well as in petroleum-based products. Oil-Dri also manufacturers products which serve the agricultural and animal health industries.
One of the key reasons why Oil-Dri is able to deliver such consistent results are the limited number of variable costs in its business. Oil-Dri does not have to buy its primary manufacturing input, "clay" in the open market. It mines it's sorbent materials, or "clay", on land which it leases or owns, all of which are near their manufacturing facilities. The company estimates its proven and probable reserves at 305 million tons, which, based on its 2010 rate of consumption, is adequate to supply its needs for over 40 years. In the most recent fiscal year, Oil-Dri used those reserves to produce substantially all the products that it sold.
Natural gas is also a key cost which can impact Oil-Dri's gross margins.
Despite the consistently predictable input costs, there are risks. Oil-Dri depends on a limited number of customers for a large share of sales. In the Retail & Wholesale Products Group, Wal-Mart accounted for about 20%, 26%, and 25% of net sales in the fiscal years ended July 31, 2010, 2009 and 2008, respectively. In the Business to Business Products Group, The Clorox Company (NYSE:CLX) accounted for about 9%, 8% and 8% of their net sales in the fiscal years ended July 31, 2010, 2009 and 2008, respectively.
Click to enlarge: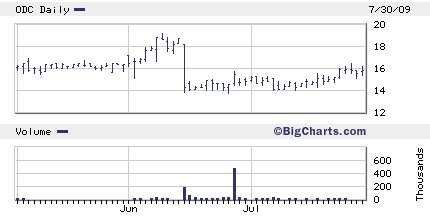 Source: Bigcharts.com
In June 2009 Wal-Mart announced that its stores would carry a reduced number of cat litter brands beginning in August 2009 but would be continuing its private label relationship. The stock price fell 23.8% to $14.28 a share on the news.
By February 2010, Wal-Mart had already begun to reverse its course, doubling the store count to 25 from 12. Before the announced reduction in store count, the Cat's Pride branded products were in about 100 stores with 6,900 about points of distribution. The brand is now back up to 2800 points of distribution from under 1000. Oil-Dri President and CEO Dan Jaffee said on the year-end conference call that he expects to regain stores every six months.
At a recent price of $21.98, the stock is priced at about 15 times the FY 2011 consensus earnings estimate of 1.46 per share. This would imply that the stock is fairly valued relative to its peer groups average P/E of 15.6. However, Specialty Chemicals stocks have the smallest variation in pricing when priced on a Price to Sales basis. Oil-Dri now trades at about .69 times sales with the peer group valued at .98 times sales. Pricing the shares this way yields a value of about $26 per share, a potential return of 18%.
Oil-Dri's decision to expand the number of retailers offering Cat's Pride branded products combined with continued improvement in the Wal-Mart store count should allow the Retail & Wholesale products group to see a rebound in sales. Continued improvement in auto sales and manufacturing should add volume to those higher margin sales in the Business to Business Products Group. Sales of the groups animal feed and agricultural products should improve due to higher overall commodity, beef, pork, and poultry prices. Lastly, natural gas prices are expected to stay low for the foreseeable future and this should help keep those gross margins at the high-end of the range.
Add in a dividend yield which is now around 2.9%, dividends which have over the last five years grown at a rate of about 9.85%, and you have a great small company which delivers consistent execution in a variety of economic conditions. This should help Oil-Dri Corporation continue to sop up profits far into the future.
Disclosure: No positions owned
Disclaimer: Neither the Author of this article or any family members own shares in Oil-Dri Corporation as of this writing. For a complete disclosure of my policy about ownership of stocks written about or recommended, please see my about page.