Dean Foods Company (NYSE:DF), the largest producer of milk in the United States, released earnings on Tuesday and the struggles we have been seeing from DF continue (see earnings report here and earnings call transcript here). EPS in Q3 2010 came in at $0.13, compared to diluted EPS of $0.33 a year ago. Analysts were expecting $0.27, and the big miss has pulled an already beaten down stock even further; the stock closed down nearly 18% lower at the close. As noted by CEO Gregg Engles, "These results are clearly disappointing for us and reflect continued significant challenges in our largest business [more than 75% of net sales in FY 2009], Fresh Dairy Direct-Morningstar".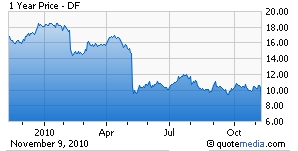 Balance sheet issues are still a huge concern as well. The company, which has $4 billion in debt, had a goal of deleveraging the balance sheet to approximately 3.5x funded debt-to-EBITDA by mid-2011, a target that CFO John Callahan (who resigned Tuesday) said on the previous call is "not on pace" to achieve. At the end of the third quarter, the company's funded debt-to-EBITDA stands at 4.9x, compared to current covenants in their credit agreements of 5.5x. On top of all this, dairy commodity prices are expected to trend higher throughout the balance of the year (Q3 sales were up 11% due to the pass through of higher dairy commodity costs, but that doesn't do much good for the bottom line). Dean Foods manages a wide variety of both national and regional brands that, in the past, have drawn consumers away from store brand dairy products. The difficulties that Dean Foods is currently facing are quite formidable, and present a lesson for investors about the push by private labels throughout the grocery store, especially in commodity type businesses.
Milk is a near necessity for millions of consumers; many people feel the need to drink milk for the nutritional benefits, plus the fact that your morning bowl of Cheerios doesn't taste nearly as good with water. As a result, a large majority of consumers in the United States walk into grocery stores and buy the same goods week after week: milk, eggs, bread, etc. When they economy turned south, grocery retailers started fighting for foot traffic in their stores to drive sales. As a logical move, they began to cut prices on the items that frequently draw in the largest number of consumers. At Publix Supermarkets, for example, a gallon of milk has cost around three dollars for the past few months. Compare this to September 2007, when the average price for a gallon of milk in the United States peaked at $3.87 a gallon; the price has steadily declined roughly 20% over the last three years.
This change is also seen in dairy market data, where the average price fell from a high in 2007 of $19.13/cwt all the way to $12.84/cwt in 2008; while this has recovered to around $16/cwt in 2010, Dean Foods has still had a tough time competing with its higher margin products. As highlighted on the both the Q2 and Q3 calls by Mr. Engles, "To attract customers in a tough climate, retailers have priced gallons of private label milk at deep discounts". This reduction has increased the gap between generic and regional brands, and companies like DF have lost market share to private label. Mr. Engles noted this, saying "our core dairy business' performance has suffered material margin pressure from the fundamental adverse shifts in the market pricing of private label milk and its related fallout." As a result, Dean Food's most profitable brands, which generally carry the largest price premiums over private label brands, have suffered tremendously.
The push by private labels has picked up steam over the past few years, and has been helped by the struggling consumer. Overall, private label market share has jumped to 18.8% in 2009, compared to 16.1% in 2003. This change is complemented by another development that has occurred in the past couple of years; from 2008 through October 2010, roughly 40% of all branded dollar sales were completed through some sort of promotion (BOGO type activity). So, while some consumers have shifted towards private labels, it seems like a good amount of the remaining consumers are sticking with their favorite brands, but only when the time is right.
Unfortunately for someone like Dean Foods, both retailers and consumers are presented a strong case to move to private labels; according to Dennis Riordan, CFO of Treehouse Foods (NYSE:THS), consumers save an average of 30% on private label, while retailers generate an average of 20% higher gross profits. This problem isn't specific to milk; we have seen a similar struggle with cereal companies (GIS and K, mostly due to heavy promotional activity), as well as on other aisles in the store.
Regardless, these companies need to start finding ways to draw consumers back to their brands, and quick. A McKinsey survey completed in 2010 found that 75% of consumers who traded down to private labels in 2010 say they won't switch back. Mr. Engles has announced cost reductions and a realignment of the management and organization of the business to adjust to these market conditions. For Dean Foods, now is the time for serious change through innovation, marketing, and cost control to win back consumers before it is too late.
Disclosure: No position in any of the companies mentioned.