Nationwide Health Properties Inc. (NYSE:NHP), a real estate investment trust (REIT) that invests in healthcare facilities, reported a 17.5% increase in total revenue in the third quarter of 2010 to $114 million from $97 million in the year-earlier quarter. Total revenues for the reported quarter exceeded the Zacks Consensus estimate of $107 million.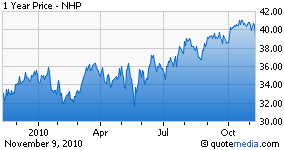 During third-quarter 2010, FFO (funds from operations) was $74.2 million or 59 cents per share compared with $63.3 million or 56 cents in the year-ago period. Funds from operations, a widely used metric to gauge the performance of REITs, is obtained after adding depreciation and amortization and other non-cash expenses to net income. The reported FFO during the quarter surpassed the Zacks Consensus Estimate by 2 cents.

Nationwide Health made total investments of $98 million during the quarter bringing the year to date tally to $676 million. The company invested $47 million in skilled nursing facilities at an initial yield of 9.6%, and $46 million in assisted living facilities at an initial yield of 8.2%. At the same time, Nationwide Health invested $5 million in revenue producing capital expenditures at a blended yield of 8.4%.
The company also entered into a joint venture with Pacific Medical Buildings (PMB) to develop a medical office building in Mission Hills, California. Nationwide Health funded $14.7 million during the quarter for the development costs of the project.

During the reported quarter, Nationwide Health issued 2.8 million common shares at an average price of $37.90, raising net proceeds of $104.8 million. Subsequent to the end of the quarter, the company also issued 1.3 million common shares at $40.59 each, raising net proceeds of $51.8 million.
Nationwide Health repaid $64.3 million of mortgage debt during the quarter and prepaid $12.4 million of mortgage debt. Subsequent to the quarter-end, the company repaid $70.8 million of mortgage debt scheduled to mature within the next 12 months.

At quarter-end, the company had $116.2 million of cash and cash equivalents and full availability under its $700 million revolving credit facility to fuel its growth engine. The diluted FAD payout ratio and FAD coverage of Nationwide Health are among the strongest in the sector at 79% and 1.26x, respectively. With strong third quarter results, the company increased its quarterly dividend by a penny to 47 cents per share.
For full-year 2010, Nationwide Health revised the adjusted FFO guidance to the range of $2.27 to $2.28 from the earlier range of $2.23 to $2.25 per share. We maintain our Neutral recommendation on the stock, which presently has a Zacks #3 Rank translating into a short-term "Hold" rating.