Tianyin (Amex: TPI) reported its FY10 earnings on September 29 with some good results and reiterated its FY11 net income guidance of $18 million (see FY11 report here). The market cheered this number, sending the stock up 31% in just a little over one month, despite the fact TPI cut guidance $2 million from their originally issued $19 million net income back in Feb 2010 (see this press release here), including $1 million stock compensation expense that is not part of the net income guidance. Investors might not have reacted so positively to the results had management disclosed a recent acquisition orchestrated by TPI's Chairman and CEO, Mr. Guoqing Jiang. This acquisition is the subject of my report today and should be carefully examined by investors tuning into TPI's fiscal 1st quarter conference call on November 11.
Background: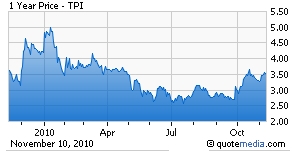 TPI has publicly stated in both its SEC filings and on conference calls that it intends to put its $27 million cash, accumulated through both operating cash flow and secondary offerings, to acquire other pharmaceutical companies in China. Such use of cash seems to be of quite high priority, especially considering that TPI suspended its cash dividend (see explanation on page 23 of TPI's 10Q here) to maximize cash available for growth and acquisitions.
Discovery and details of the acquisition:
Back in September, I found this press release (link here and also here), by Googling and Baiduing with Tianyin's Chinese name, from a local government in a Chinese county named Lianshui (涟水) mentioning an interesting event attended by TPI. A translation of the news story can be obtained using Google Translate. Here's a summary of it:
The Lianshui county government website reported, on April 23 2010, Tianyin Chairman/CEO Guoqing Jiang, VP of Accounting Hongcai Li and another person named Jin Zhou attended a signing ceremony of an agreement for Sichuan Haicheng Investment Ltd (四川海诚投资有限公司 or Haicheng) to acquire the Lianshui Pharmaceuticals Co (江苏涟水制药有限公司 or Lianshui Pharma). According to the agreement, Lianshui Pharma is targeting revenues of 600-800 million RMB within three years. The article identified Haicheng as a subsidiary of TPI. Jin Zhou was identified by the story as the General Manager of Haicheng.
At first, I thought this acquisition could be a positive development for TPI as the company is finally keeping its promises and putting its $27 million cash hoard to work. But why has TPI never announced this acquisition made over six months ago to the public? Perhaps the transaction hasn't been completed pending some conditions? My curiosity led me to call the local State Administration of Industry and Commerce offices (SAIC) in both Lianshui County and the larger nearby Huai'an City (淮安市). The staff from both SAIC offices told me that the legal ownership title of Lianshui Pharma had been transferred to Haicheng.
So, if Haicheng is indeed a subsidiary of TPI as claimed by the government website story, its existence and the Lianshui Pharma acquisition should be disclosed. Haicheng's SAIC record (available for download here) shows it is 98% owned by Jin Zhou and 2% owned by Hongmei Li. On the surface then, there seems to be no ownership link to TPI. But, surprisingly, Haicheng's SAIC record shows its business address as the same as TPI at 23F, UNIONSUN YANGKUO PLAZA, NO. 2, SECTION 3 OF RENMIN SOUTH ROAD, CHENGDU. Plus, if this acquisition really had nothing to do with TPI, why did the Chairman and VP of Accounting attend the ceremony and allow Haicheng to be represented as a subsidiary of TPI in the article? Does Jin Zhou own Haicheng's shares on Mr. Jiang's behalf, just as Stewart Lor (a former director of TPI) did when Jiang took TPI public (see p.56 Item 7 of the DEF 14C here)?
Some disturbing possibilities about the Lianshui Pharma acquisition:
1) Did Chairman/CEO Jiang orchestrate the acquisition of Lianshui by Haicheng to later sell Lianshui to TPI? For investors with good memories of the recent blow-ups, two similar events appear to have happened at Orient Paper (NYSEMKT:ONP) and China Natural Gas (OTC:CHNG). ONP acquired some assets from a seemingly unrelated company, in which the assets were allegedly first purchased by the Chairman at some undisclosed prices and then subsequently sold to ONP using the public company shareholders' cash. The end effect was allegedly that $13 million cash was transferred from ONP to the Chairman, undisclosed to investors. In case of CHNG, bloggers alleged that CHNG spent $20 million acquiring a seemingly unrelated company. The shareholder of that acquisition target subsequently allegedly turned out to be the Chairman himself. $20 million was allegedly wired directly into an account of the Chairman, undisclosed to investors. CHNG and ONP are now both facing potential shareholder lawsuits following substantial declines in their share prices.
2) What if the Chairman simply acquired Lianshui pharma for himself? This is quite possible. According to TPI's historical SEC filings (10-K, 10-Q, S-1 and proxies), for the past three years the Chairman/CEO had no employment agreement with TPI, something unthinkable for a publicly traded company. As everyone knows, one of the most significant elements of an employment contract for a public company CEO is the non-compete clause, preventing the CEO from acquiring or working for other companies in the same industry. Clearly, TPI shareholders could now be damaged by the absence of a non-compete from Jiang. Additionally, TPI failed to disclose in its 10-K and 10-Q that there are significant risks related to conflicts of interest, diversion of duties and competition concerns stemming from Jiang investing in another pharmaceutical company.
Hopefully, Chairman Jiang will answer these questions on tomorrow's 2011 fiscal first quarter earnings conference call. That would be a step in the right direction toward full disclosure.
Disclosure: Short TPI