Nutshell
Care.com (NYSE:CRCM) could be a great investment opportunity BUT so far the company is acting more like Angie's List (NASDAQ:ANGI), which is a failed model, rather than taking an approach more along the lines of successful "online marketplaces." Investors saw the potential when they bid the shares up to $28 post their early-2014 IPO. After two quarters of mediocre execution the shares have settled in the $10 range.
The crux of the challenge for CRCM is that while spending a large amount of money to acquire customers, they subsequently treat them poorly which prevents the company from ever achieving the kind of growth that powers more community-focused online markets. Management is great at marketing, including to investors, but strategy and execution are what matters now. It boils down this: does management "get" the internet like the teams at OpenTable (NASDAQ:OPEN), HomeAway (NASDAQ:AWAY), Airbnb (private), Etsy (private) and Uber (private)? Our intrinsic value estimate suggests that the shares could reach $20 if the company could change their stripes.
The Problem
Angie's List provides an excellent case study in how *not* to try and build an internet business. Back in March of this year we commented: "ANGI has created a walled garden, and a kind of unhappy one at that. You can see by the metrics that people have to be drawn into it, they don't want to go and they don't want to stay once they are in it."
No doubt many will protest here that "CRCM is not ANGI", but there's plenty of evidence online that many users are very dissatisfied, especially when it comes to how the company treats users and the style and substance of their "support." But the approach as well may be less sustainable than even the company management realizes. ANGI management probably didn't intentionally adopt a strategy that would lose hundreds of millions of dollars and sink the company, but they still went on with their "internet business death march."
Instead of debating user behavior and the argument that "it's the unhappy users that take the time to complain", bromide and look at the numbers. The fact that top-line growth has decelerated to 40% in the last two quarters from 68% in 2013 is plain enough. (Our model does have a continued decelerating growth rate but steady growth in absolute revenue.) If you take the time to read through the transcripts of management conference calls, their numbers focus is more on ARPU, the percentage of customers using their hated payments solution and percentage of visitors coming from mobile.
The numbers are getting a bit more blurry as management invests more time, energy, and money in international markets like Germany and their B2B "Workplace Solutions" offering, which is more in the Bright Horizons (NYSE:BFAM) space. (BFAM stands in stark contrast to CRCM in terms of success, with their shares performing extremely well since their IPO - the stock charts look like mirror images of each other.)
We'd agree with other analysts who have openly questioned these initiatives during the most recent quarterly conference call. To paraphrase, they wondered "if your core market has such amazing potential and high ROI, why are you splitting up your investments to go after these other areas?" In case you're curious about the management response, they only said that they were "investing more heavily" and that they are "only 2% penetrated" with "real synergies" to take advantage of.
To be fair, management has made it clear that increasing the usage of their payments platform is a critical part of the strategy. Investors seemed not to believe them in terms of how important it would be since they are understandably focused on how rapidly the company is adding members. Between payments, international and B2B, the company will be harder to analyze and follow for their analysts.
User Perspective
While some input is anecdotal, this slide from the CRCM IPO roadshow demonstrates that the foundation that membership is built upon is a bit shaky. While re-use is increasing, it also says that half of the users don't come back. There can be different reasons for that, but it's not comforting.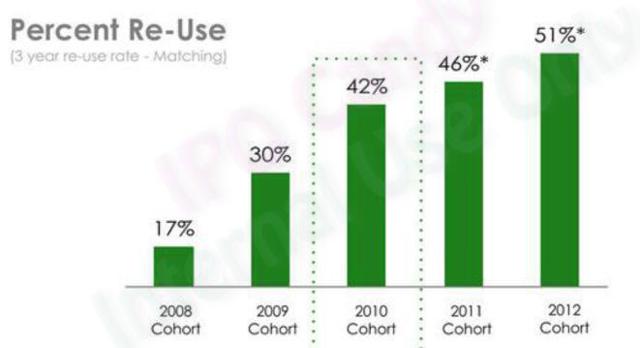 Most of the complaints about Care.com fall into two buckets - 1) they are expensive and a little underhanded in how they force a conversion a paid membership, kind of like how dating sites work and 2) service and support is brusque and opaque when dealing with customers.
Taking the first point, a user is invited to "join free" as the first step - so far so good. But as soon as you want to actually do anything you'll be presented with subscription options. The monthly is high at $35, but the annual is a bit more reasonable. This tends to discourage "casual" users in favor of people that will use the service regularly and pay for an annual. Still, many want to try it and opt for the higher monthly at first. Care.com doesn't make it easy to cancel and annoys some who have some trouble stopping the recurring payments.
There's nothing wrong with the value proposition Care.com is offering, but they are not going about it the right way. For example, there is no "pricing" tab on the website so the sign up free landing page is setting consumers up to be disappointed at first, and then irate if they have trouble canceling. This is astonishing for a consumer-focused online business.
The second point, customer service, could be easy to solve but hasn't even been acknowledged as of yet. One other company, famous for kind of being a "roach motel", is GoDaddy. They figured out this part of the puzzle and tasked customer service to "make things right" when clients called in with issues, even in some cases refunding fees going back over 12 months. We'll see how Care.com does with growing members and increasing their re-use rate. We'd just point out that spending heavily on marketing, and not customer service, isn't a modern strategy. Zappos demonstrated that flipping that model upside down is a winning strategy. So far Care.com is all about marketing.
Competition
At first glance it almost seems that Care.com stands alone in going after this market. Again, this is similar to how Angie's List is positioned. Competition comes not from a head-on competitor, but is more akin to the "death by a thousand cuts" brought on by the profound unbundling power of the internet.
Care.com has positioned itself as the leader in a "Winner Take All Business" and views the market opportunity from babysitting to after school care and tutoring to elder care to pet sitting and dog walking. The combined market opportunity is of course enormous, and in fact each segment is large enough to attract focused competition that has a good chance of winning based on the current membership model Care.com is pursuing.
For example, we have Sittercity (private), which is very effective for babysitters but is branching out into pets and elder care because they have happy babysitting customers. We expect to see this in multiple markets. In the B2B space there are established players like Bright Horizons , which Care.com is basically trying to undercut with a more virtual offering. It should work for the lower end of that market.
And guess what? Even payments are getting attacked. Consumers don't want to use a captive payment service and service providers hate it. Enter established companies, like Paychex (NASDAQ:PAYX), that offer special programs for care workers, like nannys, to make it easy and legal for parents to pay anyone they are using as a care provider.
Management is most certainly planning to continue to acquire companies that help them in these different segments, but their weak stock price may not give them enough value to be an effective consolidator. Partnering would be a better approach.
Conclusion
First of all, we do not have an "axe to grind" with respect to CRCM. We didn't lose business there, we don't have a short position, and we are not long some other company in the space. We have used the service to satisfy some acute pet care needs and it was satisfactory. No issues there.
But Care.com has both a big opportunity and a big problem, in that management seems to be on the wrong wavelength in terms of going after it. It's not about ARPU, it's about users. Care.com seems to want to surround a small user base with a suite of services to increase monetization. That's not really a growth story, at least in the online world.
The shares are probably undervalued here, even if management doesn't change tack. For example, our IV (attached) suggests a stock price of $19 or so in 2015, which is also consistent with current Street price targets of $19.50. The current stock price suggests investors may even doubt the company can meet expectations, which call for a continuation of their revenue growth deceleration.
If management could come clean on company issues and reaccelerate revenue growth, the stock would be off to the races and possibly eclipse prior highs of $28/share.
There's an argument that the shares are undervalued whether Care.com management "gets it" or not. But with more shares coming off lock-up post earnings on July 31st the near-term is still very unclear.
Price

CRCM IV

29-Jul-14 Delta

20-Apr 2011

$9.84

$19.86

102%

2012

2013

2014

2015

2016

2017

2018

2019

Target

Change in Revenue

$23

$33

$31

$38

$40

$50

$50

$50

Consensus Revenue

$111

$147

$188

$38

$38

$38

Revenue

$26

$49

$82

$112

$150

$190

$240

$290

$340

CRCM

Ticker

YoY Growth

86.5%

68.0%

37.4%

33.9%

26.7%

26.3%

20.8%

17.2%

Nasdaq

Exchange

Gross Margin%

76.2%

79.0%

76.8%

77.0%

78.0%

79.0%

80.0%

81.0%

81.0%

80-82%

33%

Growth

Gross Profits

$19.8

$38.3

$62.6

$86.2

$117.0

$150.1

$192.0

$234.9

$275.4

$9.84

Current Price

R&D%

17.7%

15.9%

14.5%

15.0%

15.0%

15.0%

15.0%

15.0%

15.0%

14-16%

31

Shares Out

R&D $

$4.6

$7.7

$11.8

$16.8

$22.5

$28.5

$36.0

$43.5

$51.0

1%

Avg. Dilution

S&M %

86.5%

74.0%

67.8%

62.0%

55.0%

50.0%

45.0%

40.0%

35.0%

34-36%

$305

Cap (NYSE:M)

S&M $

$22.5

$35.9

$55.3

$69.4

$82.5

$95.0

$108.0

$116.0

$119.0

$118

Cash

G&A %

17.7%

28.2%

23.1%

19.0%

17.0%

15.0%

14.0%

13.0%

12.0%

10-12%

G&A $

$4.6

$13.7

$18.8

$21.3

$25.5

$28.5

$33.6

$37.7

$40.8

Net Operating Margin

-45.7%

-39.2%

-28.5%

-19.0%

-9.0%

-1.0%

6.0%

13.0%

19.0%

18-20%

$0

Debt

Operating Income

-$12

-$19

-$23

-$21

-$14

-$2

$14

$38

$65

35%

Tax Rate

Taxed Operating Income

-$8

-$12

-$15

-$14

-$9

-$1

$9

$25

$42

22

P/E Multiple

Market Value Using P/E

-$170

-$272

-$332

-$304

-$193

-$27

$206

$539

$924

15%

Discount Rate

Cash Position

$118

$118

$95

$73

$60

$58

$72

$110

$175

Shares

31

31

31

31

32

32

32

33

33

Period Share Price

-$5

-$9

-$11

-$10

-$6

-$1

$6

$17

$28

$19.50

Street PT

PV of MV 4 Years Out

-$110

-$16

$118

$308

$528

$19.86

Intrinsic Value

PV of Cash 4 Years Out

$34

$33

$41

$63

$100

102%

Up/Downside

PV MV + Cash

-$76

$18

$159

$371

$628

PV Value Per Share

-$2.45

$0.57

$5.13

$11.86

$19.86
Disclosure: The author has no positions in any stocks mentioned, and no plans to initiate any positions within the next 72 hours. The author wrote this article themselves, and it expresses their own opinions. The author is not receiving compensation for it (other than from Seeking Alpha). The author has no business relationship with any company whose stock is mentioned in this article.