By David Russell
China Yuchai International (NYSE:CYD) attempted to climb after reporting earnings today, but options traders are calling the top.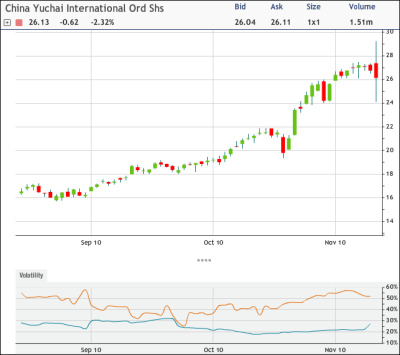 optionMONSTER's tracking systems detected the sale of about 3,900 November 20 calls against open interest of 2,684. Some of the large trades priced for $6.90, but premiums edged lower and ended up below $4 as the Chinese maker of diesel engines surrendered early gains.
CYD fell 2.32 percent to $26.13 in morning trading and reversed after touching a six-year high of $29.23 shortly after the open. The shares entered the session with a 65 percent rally since the beginning of September.
The call sellers apparently think the stock has run too far, too fast, and unloaded the contracts to take profits.
CYD's earnings report showed an improvement in profitability as a shift to heavy-truck engines and a new foundry caused its gross margin to expand to 23.1 percent from 19.9 percent. Revenue, however, fell 5 percent. The company isn't followed by analysts.
Longer term, investors may consider the stock attractive because its enterprise value is less than 4 times EBITDA, compared with ratios over 10 times for similar U.S. companies such as Navistar and Cummins.
Overall options volume in CYD is 8 times greater than average so far today.
Disclosure: No position