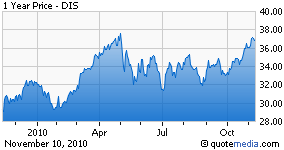 Disney (NYSE:DIS) is expected to report Q4 earnings on Thursday, November 11 with a conference call scheduled for 4:30 pm ET.
Guidance
Analysts are looking for EPS of 46c on revenue of $9.97B. The consensus range is 39c-53c for EPS, and $9.36B-$10.53B for revenue, according to First Call. The company reported positive Q2 results, beating EPS estimates and meeting revenue expectations. Disney saw a critical and commercial success in Pixar's "Toy Story 3," with big box office sales. The film had its DVD release last week, and should see high DVD sales as holiday shopping heats up. On the TV side this past quarter, Disney reached long-term agreements with cable providers, Verizon (NYSE:VZ) and Time Warner Cable (TWC). But with declining TV ratings, Citigroup believes Disney may look to acquisitions to drive top-line growth. One possible reason for the ratings decline is the increased popularity of Hulu, the online media company that is partially owned by Disney.
On the bright side, ESPN remains the strongest cable channel in the business. Meanwhile, the entertainment company also signed an agreement to build a theme park in Shanghai, the latest addition to its international resort and theme park expansion. In this past quarter, Disney named John Pleasants and James Pitaro as co-presidents of Disney Interactive Media Group following Steve Wadsworth resignation in September. Disney CEO Robert Iger said if the recovery slows, there are levers Disney can pull to "reduce operating costs that are tied to demand, not to reduce quality of service."