Uranium reactors are coming to a town near you. Okay…maybe they're not going to be moving in down the street. Unless you live in China. That's because China is planning on building AT LEAST one new nuclear reactor every year for the foreseeable future. Upper estimates from the World Nuclear Association have them building four to five new reactors a year.
India isn't far behind. They'll build an average of at least one new reactor every year until 2060. Dozens of countries in Europe and Asia are following suit…
I've talked before about supply constraints for new reactors coming on line. Here's a chart I've used before to illustrate the problem: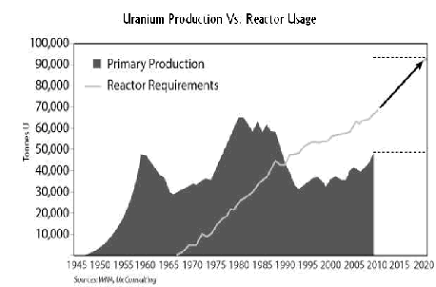 Right now, we're using more uranium than we produce. The result? Prices have already started to rise: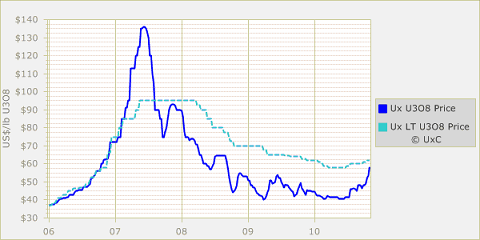 Just a few months ago, uranium sold for $40 a pound. Today, prices are homing in at $60 a pound.
Of course, if you look at the chart above, you'll see that prices were much, much higher in 2007.
I think we'll see higher uranium prices for years to come. And there's no more obvious way to profit from higher uranium prices than to buy the world's largest uranium producer.
As I wrote on August 31st:
My recommendation is simple. One company currently produces the lion's share of uranium: Cameco Corp. (NYSE: CCJ). They own the world's largest uranium mine which provides about 17% of the world's uranium every year. No other mine even comes close.

I fully expect this company to multiply gains made in the price of uranium. I'd suggest buying this company now, today, and holding it for at least ten years. I firmly believe that there isn't a safer way to get rich from commodities today than to buy this company.
As of my recommendation, the stock is up nearly 50%: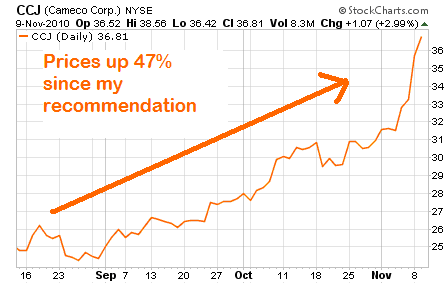 Like many commodity based stocks (and stocks in general) CCJ went on a hell of a run the past few months.
To that end, reader Matt I. wrote in and asked a very good question.
Hi Kevin. Do you think CCJ is still a buy? Thanks – Matt
When I recommended buying CCJ, it was selling for about 10 times earnings. Right now, it's closer to 15 times earnings, so it's still not extremely expensive.
I still believe this company is a great buy-and-hold for the next 10 years, and while I'm sure we'll see some sort of correction in the coming months – I still think this company is a great buy.
Despite a weaker third quarter (earnings fell 16% year-over-year) the rising price of uranium has moved this company's stock higher.
There are two easy to understand factors that influence CCJ's profitability:
volume of sales

price of uranium
So, I'd consider this company a buy as long as the above two trends are expected to rise (they are) AND the company sells for less than 20 times earnings.
Disclosure: No position