I just had a déjà vu experience. Earlier today, Campbell Soup (CPB) announced a more downbeat outlook on full-year sales and earnings. The news shook the stock loose from the magnetic pull that the roughly $36-ish price had on the shares in the past 2+ months (see chart below of 3-month price history, source ChartFacts.com).
click to enlarge images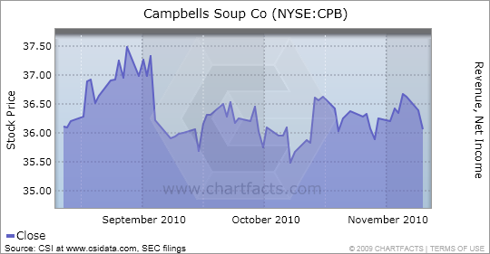 Click to enlarge
The stock, at time of this writing, is down over 3.5% to 34.78.
Now, why déjà vu?
Followers of the stock (and of my articles) will recall that when CPB last announced earnings back at the start of September they reported lighter than expected top-line results, heavy competition on the advertising front, and headwinds to profitability due to rising commodity input prices. The stock price responded in kind by slipping over 3% that day (see chart above, early September).
Today's announcement was not much different….lower sales and earnings outlook, higher commodity prices and continued fierce competition in product marketing. In fact, on re-reading my own article, written on September 4, 2010, entitled "Campbell Soup: A Solid Consumer Staple in Both Senses of the Word", I had the feeling that I could simply change the date and keep all else the same and the article would still fit today's situation with the company!
That said, while I'd recommend a read of that article, this piece will indeed be different and will hopefully provide updated insight on the stock. To begin, today's announcement is well summarized by Erin Swanson of Morningstar.com:
Campbell Soup CPB announced that intense competitive pressures in the soup aisle took a toll on its first-quarter results. While management lowered its full-year sales growth forecast to 1%-3% (from 2%-3%) and its earnings outlook to 2%-4% growth (down from 5%-7%), we had already taken a more conservative stance on the firm's prospects. As a result, our fair value estimate remains in place.

Increased promotional spending has been a theme across Campbell's categories, and we expect it to play an important role in coming quarters. As consumers remain under pressure, packaged goods manufacturers have been more than willing to support their brands at the shelf. Despite the fact that Campbell operates as the dominant player in the domestic soup category, the firm is not immune to aggressive competition. Its inability to effectively manage these issues is troubling to us. We will update our analysis following the release of first-quarter results Nov. 23
The theme of higher commodity prices impairing margins is one that is becoming endemic especially among companies involved in the food business. Witness my article from yesterday entitled: "How G20 Impacts Sysco Stock". In that piece, I focused on the importance of the G20 meetings this weekend in South Korea as being a major step, hopefully, towards putting the world economies on a path heading far away from currency wars and from 'devalue-to-deter-deflation' policies. While it's extremely unlikely that this one meeting can result in a specific blueprint that would be a panacea for the massive current account imbalances that exist around the world, it is being watched closely for results in heading us in the right direction towards prudent financial policies that avoid protectionism and other mechanisms that could distort asset prices to dangerous levels.
From the perspective of companies in the food business, I noted:
…companies in the food business, appears to be one of the few spots on the map where inflation is more of a concern than deflation, which occupies the minds of so many other industries. Agricultural commodity inflation is real, and for a company where food is central to revenues and costs, there's only so much that inflated input costs can be passed along to consumers who are facing deflation of sorts in their outlook on income, job security and other expenses of life.
I still own CPB and plan on holding on at least until we get more detail when the company reports on November 23. For now, absent surprises, the picture is relatively clear. CPB looks like, acts like, and quite literally, tastes like a "consumer staple" stock. Its price action this year is indicative of a staple that holds up well when the broader market is getting hit, and lags when the market launches into a euphoric bull run. (see chart below).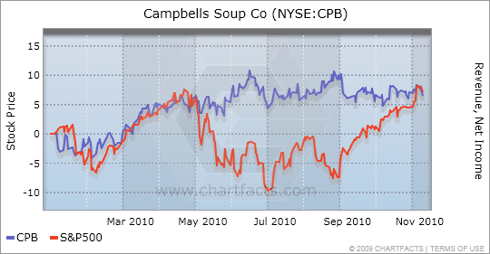 Click to enlarge
Its challenges, as noted above and in the company's announcement, represent meaningful headwinds to growth and profitability. Last quarter's earnings announcement had already highlighted the struggles the company is having with growing revenues and keep margins firm in the face of higher input prices. As MarketGrader.com noted at that time:
CPB has been struggling with anemic sales growth for some time…..Sales have started to decline as evidenced by the 0.65% year-over-year decline recently reported…..these results underscore a very worrisome trend marked not only by a recent downturn in CPB's business but also an inability to show sustainable long term growth that could lead to higher profits.
MarketGrader.com did go on to note that with regard to CPB's valuation as of early September:
Assuming the company's fundamentals don't deteriorate in coming quarters, the stock's valuation is acceptable at this level.
To me, the operative word in that statement is "assuming"….we all know what happens when we "assume"! Today, management provided us with more information that mitigates the need to do that. And on November 23 we'll get even more. While CPB has iconic brands and room for significant overseas growth, not to mention an attractive dividend of 3+%, how management faces off against their challenging headwinds will be key to deciding if there's a continued place on the portfolio menu for the stock.
(Please note: This is NOT personalized financial advice. Each investor is obligated to opine and decide for his/herself as to the relevance of what is stated in this article as to his/her own unique financial profile, risk appetite and portfolio goals. This article is solely meant to be a thought provoking note on issues that investors should throw in the mix of their own investment analysis and decisions).
Disclaimer: Please read and consider important information related to all communication made by Soos Global on SeekingAlpha.com by clicking hereClick to enlarge
Disclosure: Author holds long positions in CPB, SYY, and many stocks within SPX, QQQQ. Positions could change at any time without notice.