It's hard to imagine a data center as fortress that is surrounded by a wide moat but that's the picture that comes to my mind when I think about Digital Realty (NYSE:DLR). It's not just my imagination however; it's also the same picture that my good friend Mr. Market sees when he paints his continuous "dot-to-dot" renderings or what we call the "real time" price chart. Although Mr. Market oftentimes ignores the true long-term profits that are the basis for a wide moat, he eventually becomes more rational in nature and provides a more accurate representation of value.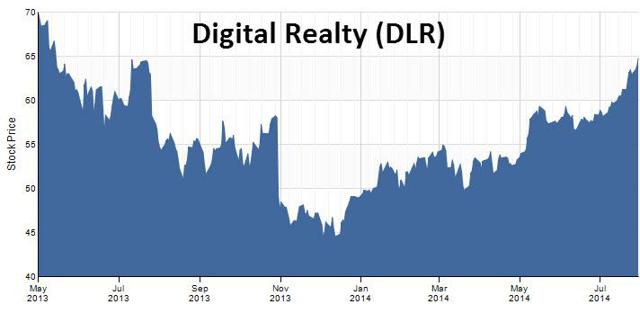 Click to enlarge
Remember that the term "economic moat" was coined by Warren Buffett and he popularized the use of the word "moat" as a means to describe how a castle (or fortress) can be protected against enemy threats. To Buffett, the castle is the business and the moat is the competitive advantage that the company enjoys.
So how is it that Mr. Market perceives Digital Realty as a castle with a wide moat today when just over a year ago, it was considered the opposite? As the above chart illustrates, the shares of this dominating Data Center REIT have soared, indicating the superiority of the company so it's obvious that the moat for Digital Realty has parlayed into high returns for a reason.
But that was not the case back in May of 2013 when Highfields Capital launched a short attack against Digital. What was once considered a fortress REIT was suddenly under attack by a hedge fund that was asserting that Digital has no moat and that the shares should be trading at around $20. Jonathon Jacobson of Highfields stated (at the 18th Ira Sohn Investment Conference last week) that:
Pricing is going lower, competition is increasing, and the company is tapping into capital markets as aggressively as they can.
I can picture the enemy attack and the troops surrounding the fortress shouting:
Digital has no long-term profit potential and the market share is eroding. There is no competitive advantage and forget about fundamentals. This fortress is built out of straw.
Digital Realty is a Force to Recognized
In technology, moats may be narrower but Digital Realty is not Facebook (NASDAQ:FB), it's a Data Center landlord with a 10-year track record. The business model has evolved into a more recognizable asset class where there is increased demand and much less risk of uncertainty. A wide moat business, purchased at the right price, is the ultimate "sleep well at night" investment and I recognized that opportunity in December 2013.
My first purchase in Digital was in September 2013 when shares were trading at $54.81 and after watching shares slide to $44.15 (in December) I opted to dollar cost average my position and I took full advantage of Mr. Market's ignorance. It's not every day that you find a "blue chip" on sale but the stars were lined up and I took full advantage of the mis-pricing. I knew that Digital's moat was strong and that eventually Mr. Market would recognize Digital as market leader with a sustainable competitive advantage well equipped to preserve long-term pricing power and profitability.
Now we can see the true story of this fortress and moat. Since my last purchase (December 3rd), Digital has returned over 50%: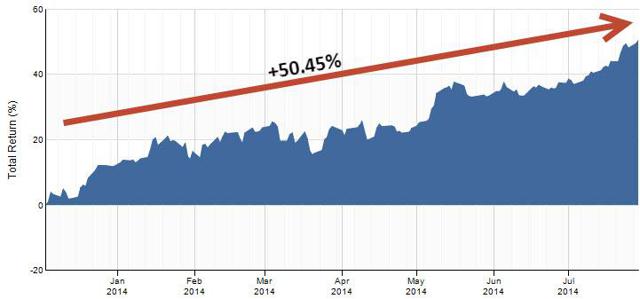 Click to enlarge
During the same period (since December 3rd) shares have increased by over 43%: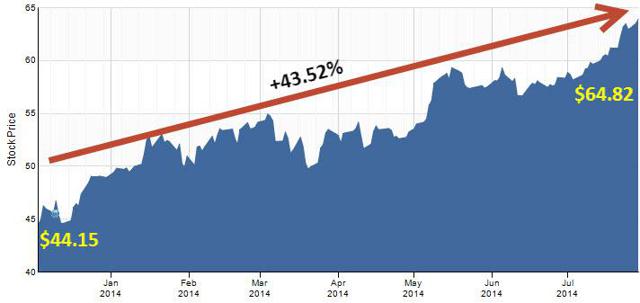 Click to enlarge
My going-in dividend yield (on December 3rd) was 7.0% and the yield has declined by over 25% (the current yield is 5.12%):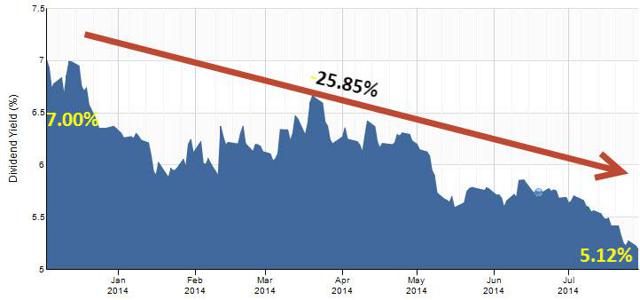 Click to enlarge
Whenever Mr. Market fails to fully incorporate fundamental values into securities prices, an investor's margin of safety is high. As I contemplated my last purchase in Digital (back in December) it became clear to me that Mr. Market knew nothing, he was simply the product of the collective action of thousands of buyers and sellers who themselves are not always motivated by investment fundamentals.
I knew, in fact, that Digital had a strong moat and contrary to the claims being made, I had to stay focused and disciplined while maintaining my deep-rooted convictions that I was buying with a "margin of safety."
Patience Paid Off
It's now mid-year (actually just over 6 months) since my last purchase in Digital and I have been extremely pleased. Not to sound arrogant, but I feel somewhat vindicated that I stood my ground in the face of considerable adversity.
As I read over the latest second-quarter earnings results, I was extremely satisfied with the direction of the company and more importantly, the now bullish sentiment. Let's take a look at the latest:
Digital reported Funds from Operations (or FFO) per share of $1.20, compared to $1.22 in Q2-14. Reported core FFO per share was $1.21, compared to $1.19. Adjusted Funds from Operations per share was $.93 per share. In reporting its second-quarter results Digital increased its full-year core FFO-per-share guidance to a range of $4.85 to $4.95 from a prior range of $4.80 to $4.90.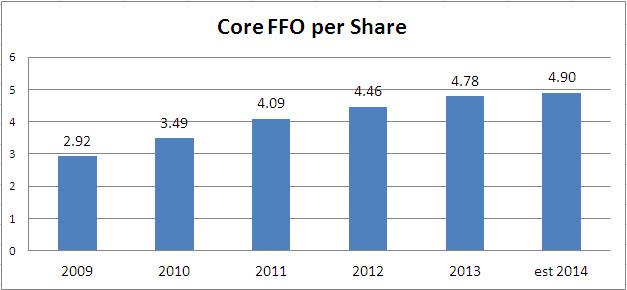 Digital's signed leases (in Q2-14) expect to generate $35 million in annualized GAAP rental revenue. Here is a snapshot that illustrates the incremental revenue that Digital expects to generate from the 283,304 square feet in new leases:

Click to enlarge
This organic growth is fundamental to Digital's sustainable platform and as evidenced by the snapshot below, the company has maintained a consistent strategy of absorbing inventory:

Click to enlarge
In addition, Digital signed renewal leases representing $6.9 million of annualized GAAP rental revenue. Rental rates on renewals increased by 6% on a cash basis and almost 10% on a GAAP basis for total data center space. Here is a snapshot illustrating Digital's healthy positive cash re-leasing spreads: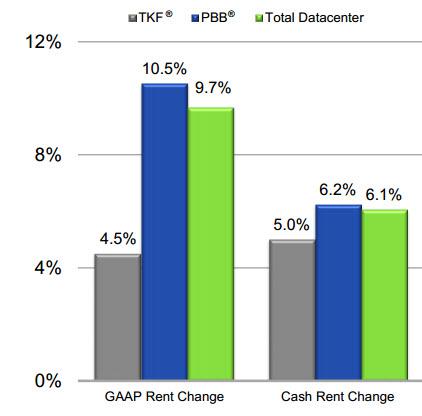 As evidenced by the next snapshot, Digital has maintained steady leasing volume.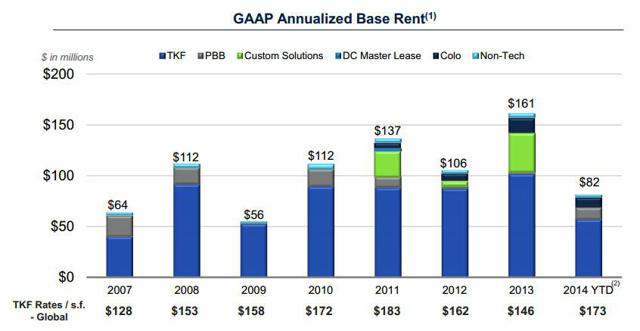 Click to enlarge
Digital has improved portfolio occupancy 70 basis points to 92.8%, compared to 92.1% in Q1-14. Here's a snapshot of historical occupancy: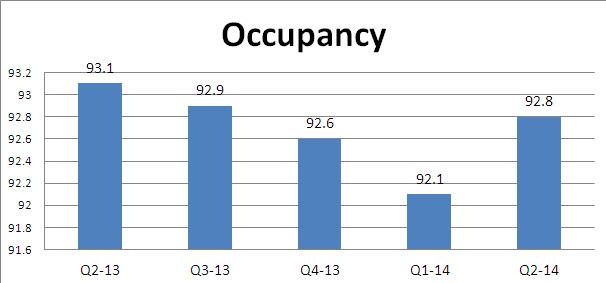 Digital is the largest Data Center REIT based on the number of properties: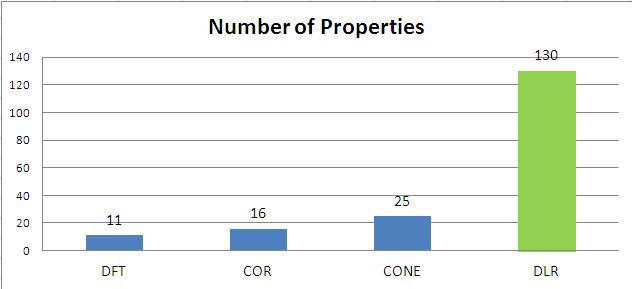 Here's a snapshot based on Total Assets: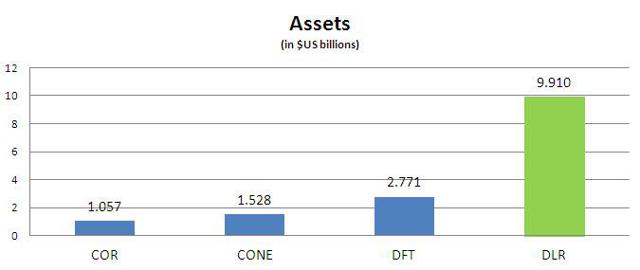 Click to enlarge
Digital has a well-balanced portfolio of tenants: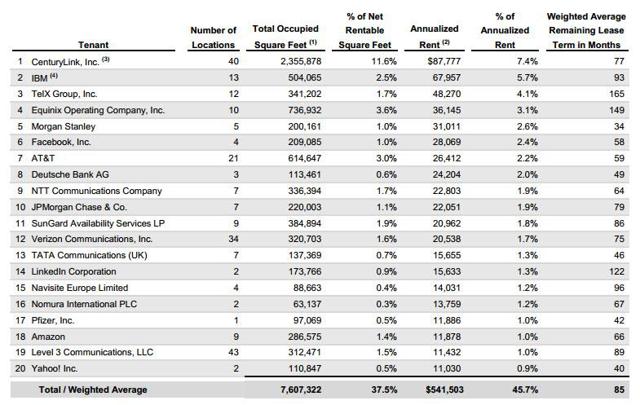 Click to enlarge
The company maintains a diverse portfolio that includes well-laddered leases: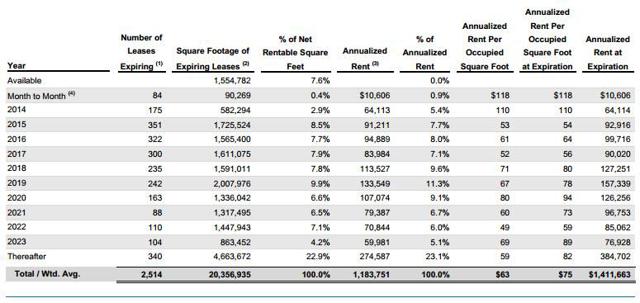 Click to enlarge
One of the primary attributes related to Digital's wide most investment strategy are the very healthy lease terms - 2.5% to 3% contractual annual rent bumps with a seven-year average lease term. Less than 10% of the leases expire in any given year.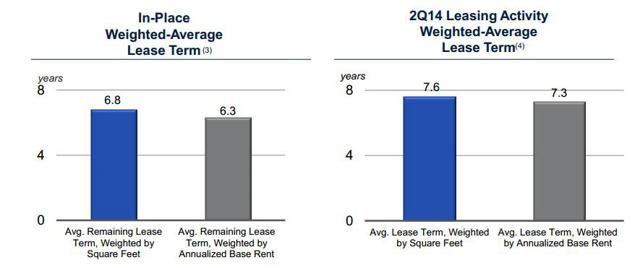 Click to enlarge
As you can see below, Digital has maintained a very steady rent delivery schedule and it appears that the company has a considerable lag due to future deliveries commencing -- it takes around 7 months from lease signing to rent commencement.

Click to enlarge
As illustrated below, Digital has absorbed a considerable amount of inventory: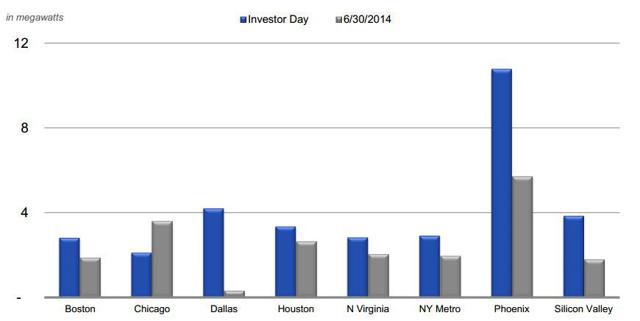 Click to enlarge
The duration of Digital's average lease term supports the stability of the company's cash flow stream and strengthens its cost of capital advantage. In addition, Digital also enjoys a respectable balance sheet.
The Fortress Balance Sheet
It takes more than just a strong business model for a company to maintain a durable competitive advantage; it also takes a fortress balance sheet.
Subsequent to the end of the quarter, S&P revised its outlook from negative to stable, reflecting Digital's improved operating performance. Accordingly, the bond market has taken note and Digital's credit spreads have tightened considerably over the past several months.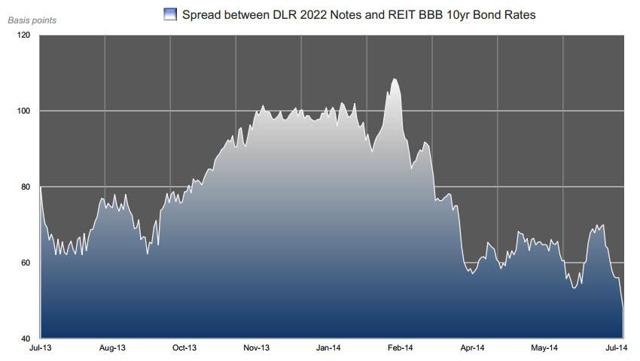 Click to enlarge
Digital's credit metrics compare favorably to other REIT peers -- leverage is conservative at 5.1x.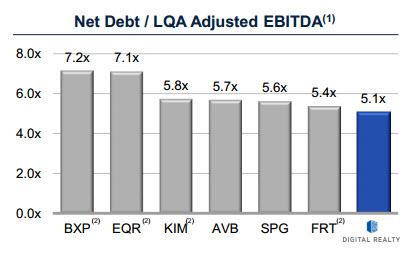 Digital's Net Debt + Preferred/LQA Adjusted EBITDA also compares favorably.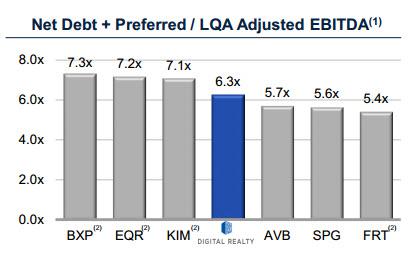 The company's interest coverage is a solid 4.3x.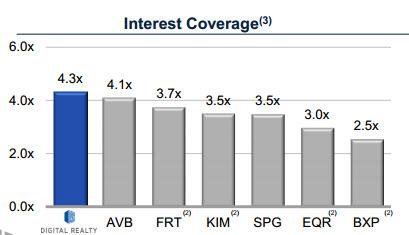 Fixed charge coverage is also healthy at 3.1x.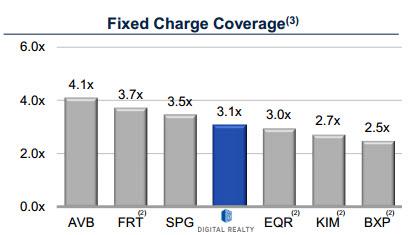 All of the Data Center REITs enjoy low secured debt. Digital has just 11.37%.

Click to enlarge
Digital has higher Total Debt to Total Capitalization that the peer group; however, the percentage of leverage is still considered modest.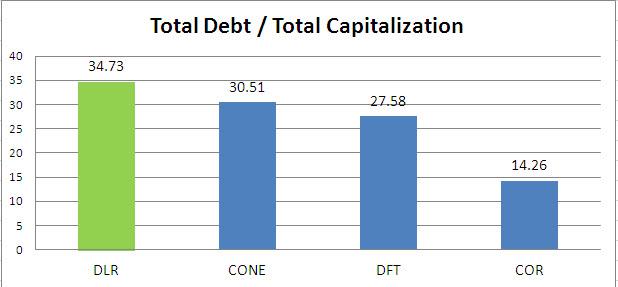 During the second quarter, Digital sold a single-tenant building and booked a $16 million gain. The company intends to prune certain non-core assets generating around $600 million over the course of the next 8 to 9 months. The recycling strategy should improve ROIC and allow the company to improve the quality of its core operating revenue.
Click to enlarge
Part of Digital's "moat" has been the international efforts that the "best in class" REIT has taken on to increase the footprint globally. Here's what the company's CFO (and interim CEO), Bill Stein, said during the recent earnings call:
So London is very strong for us, in fact we're in the process of running out of inventory there. We're bringing a project online in Dublin and we would expect the demand there to come mostly from this side of the pond. We have very little inventory in Paris I think less than half a plot and we're considering Amsterdam, but we're not going to - we have a site in Amsterdam, a land site but we won't be building there unless we have a pre-lease situation.

Asia-Pac is also a very strong; Singapore, we could be out of inventory in Singapore by the end of next quarter. And I think in Hong Kong it's a good possibility we'll be out at the end of this year. So we're looking for additional sites both in Singapore and Hong Kong and leasing in Australia has been steady both in Melbourne and Sydney.
Also, speaking of the "interim CEO" and the replacement, here's what he said on the call:
…as I said on the last call, our board is comfortable with the leadership that's in place. I think that comfort has been validated by what I would say is improved employee, customer and investor confidence, both on the equity side and the fixed income side. I think it's interesting to note that since the change in leadership, we've recovered almost $2 billion of market cap for our shareholders.

So the board continues to be focused on sourcing the right candidate for the job, but nevertheless the timing is still expected to be this year, and meanwhile this team is focused on executing the strategic vision which we've laid out to be optimizing the return on portfolio, recycling capital and unleashing the intellectual capital of the firm.
Building a Wide Moat of Dividend Income
In addition to certain hedge funds that have abandoned Digital Realty, many sell-side analysts have also stayed bearish. There are around 20 companies/analysts covering Digital and only 5 have Buy ratings (3 have Sell ratings and 12 are Holds). That's okay because that is what creates the pent up demand for this valuable stock in my portfolio.
As a value investor, I pay special attention to the dividend that I receive and several signals have prompted me to stay Long. First off, let's remember that Digital has a strong track record of paying and increasing dividends. Here's the history: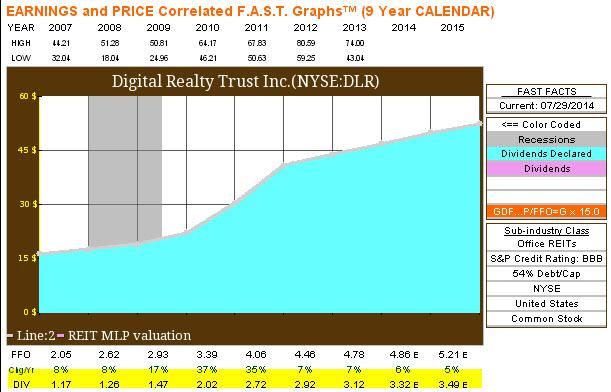 Here is the more recent dividend history: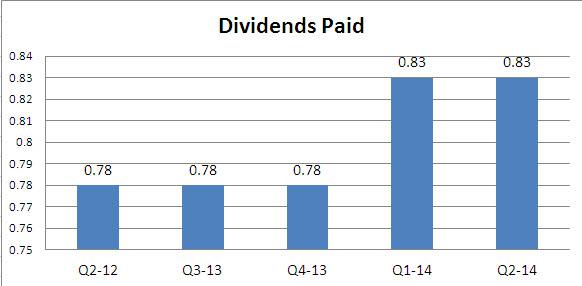 Here's a snapshot of the AFFO payout ratio history: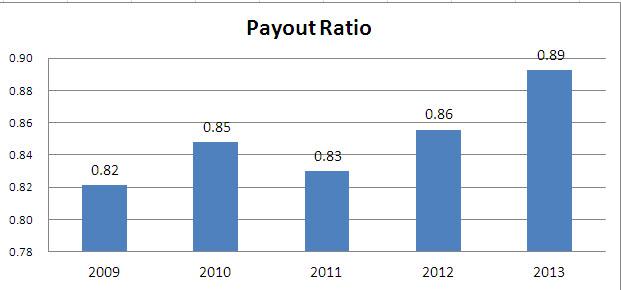 Digital's increased guidance (2014 Core FFO/share midpoint of $4.90) and respectable rental growth provide me with higher confidence that management is executing well. I am especially pleased that Digital is focusing more on qualitative fundamentals than on mere growth (that's the old Digital) alone.
It doesn't take growth for the sake of size (assets under management) to be a "wide moat" business and it's nice to see the current management team become less focused on being the "biggest dog" but instead being the "smartest one." As illustrated below, Digital has strong potential with its growing NOI embedded in lease signings: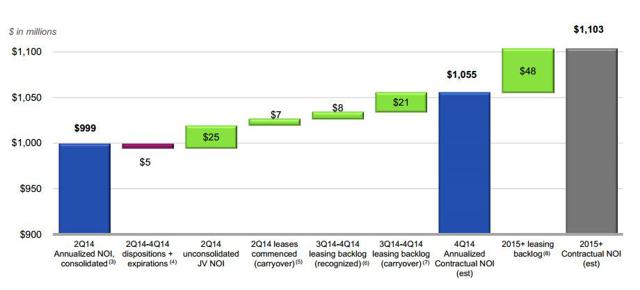 Click to enlarge
Digital is currently trading at $64.82 with a dividend yield of 5.12% -- still the highest dividend yield in the peer group: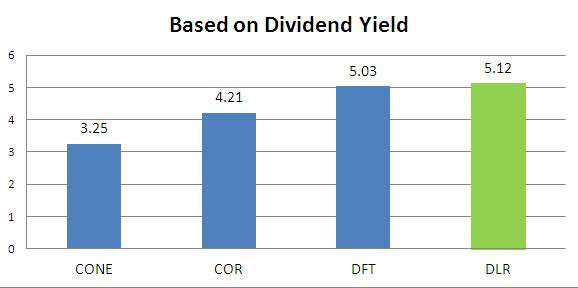 Digital is no longer the "bargain" we saw back in December and based on the current P/FFO of 13.4x, the cheapest valuation award goes to DuPont Fabros (NYSE:DFT) with a P/FFO of 11.6x.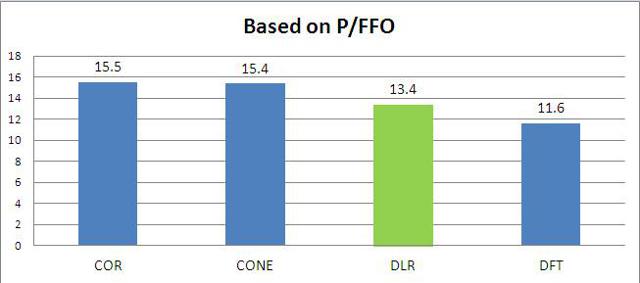 Click to enlarge
So this is the picture that comes to mind when I think about a wide moat - rising dividends, rising share price, and strong competitive business model.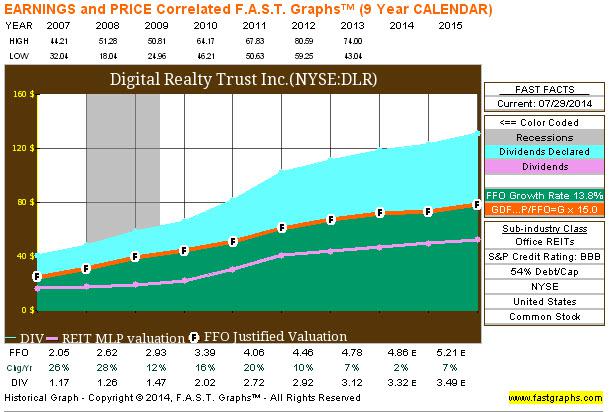 Now, let's see how Mr. Market thinks.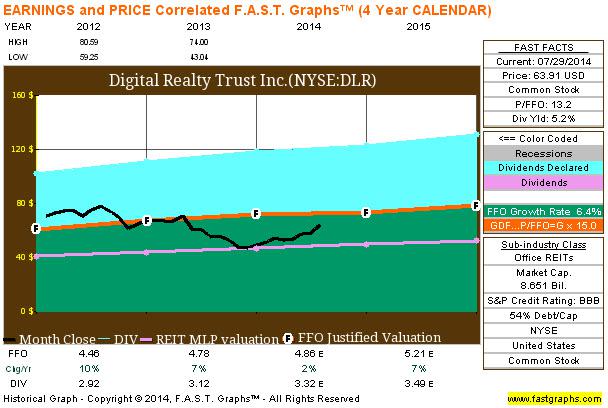 Clearly, the market has responded to Digital's blueprint. The operating fundamentals for Digital have been sound and the "boy who cried wolf" is now a memory. There will always being risks to defend; however, Digital is well-positioned to protect its core treasure that we call DIVIDENDS. I'll summarize this article with some dialogue from Bill Stein, CFO and interim CEO, from the recent earnings call:
The Wide Moat Explained:
Modern cloud providers cater to small and medium-sized businesses, but they all aspire to penetrate the enterprise marketplace. The enterprise segment is our bread-and-butter customer base. They already populate our data centers around the world. Our recent leasing activity has been heavily skewed to cloud service providers, in part because they want access to our enterprise customer base.

Enterprise customers in turn are attracted by the ability to easily and securely connect to multiple areas of their hybrid cloud. Both sets of customers choose to grow on our platform, in part because of the presence of the other. The final catalyst connecting our incredible enterprise customer base to the cloud service providers they now need to grow is the deployment of our global network ecosystem.

This mutual attraction and our interconnected global portfolio essentially act as a wide moat that is extremely difficult for competitors to replicate.

No one else has the footprint and the cost structure to effectively service the enterprise customer on a global basis. The competitive advantage of this network effect is analogous to a network-dense data center, but on a global portfolio scale, rather than a single building.

This premise will be borne out over time by the ability to attract new enterprise logos as well as new cloud service providers; the ability to retain these customers; and the growth of their existing footprints within our portfolio.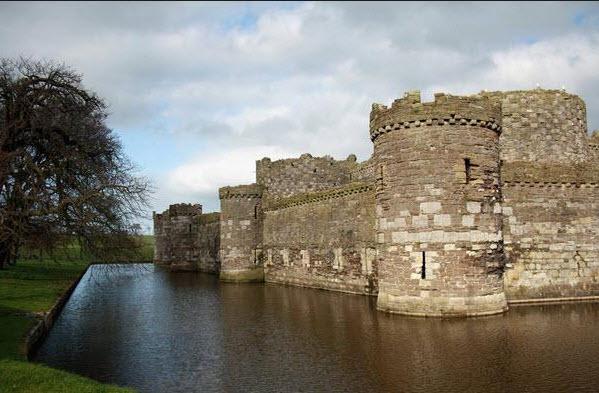 For more information on REIT investing, check out my monthly newsletter HERE.
Sources: SNL Financial, F.A.S.T. Graphs, and Digital Realty Presentation.
Other REITS mentioned: (NYSE:COR), (NASDAQ:CONE), (NYSE:BXP), (NYSE:EQR), (NYSE:KIM), (NYSE:AVB), (NYSE:SPG), and (NYSE:FRT).
Disclaimer: This article is intended to provide information to interested parties. As I have no knowledge of individual investor circumstances, goals, and/or portfolio concentration or diversification, readers are expected to complete their own due diligence before purchasing any stocks mentioned or recommended.
Disclosure: The author is long O, DLR, VTR, HTA, STAG, UMH, CSG, GPT, ARCP, ROIC, HCN, OHI, LXP, KIM, WPC, DOC, UDF, EXR. The author wrote this article themselves, and it expresses their own opinions. The author is not receiving compensation for it (other than from Seeking Alpha). The author has no business relationship with any company whose stock is mentioned in this article.