The U.S. GDP report for the second quarter contained some good news for the housing sector. GDP growth snapped back with a 4% annualized gain. Private residential investment - a combination of construction, improvements, and broker's commissions - increased 7.5% in the second quarter compared to a 5.3% decline in the first quarter of the year. Among the fixed investment components of GDP, private residential investment went from the worst performer of the first quarter to the best performer of this quarter. Of course, part of this volatility has to do with the severity of weather conditions last winter in the U.S. While private residential investment headed back to its post-recession highs, it remains below levels seen at the beginning of the recession. The lack of overall progress over the last three quarters supports the Federal Reserve's monetary policy announcement on the same day in its characterization of a housing recovery that "remains slow."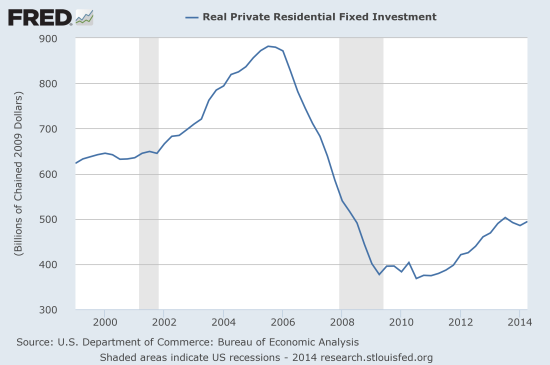 Real Private Residential Fixed Investment remains at depressed levels despite a two-year rebound
Source: St. Louis Federal Reserve
The second quarter resurgence was not enough to lift housing spirits in the stock market as iShares US Home Construction (NYSEARCA:ITB) once again under-performed the S&P 500 (NYSEARCA:SPY) with a 0.75% decline on the day.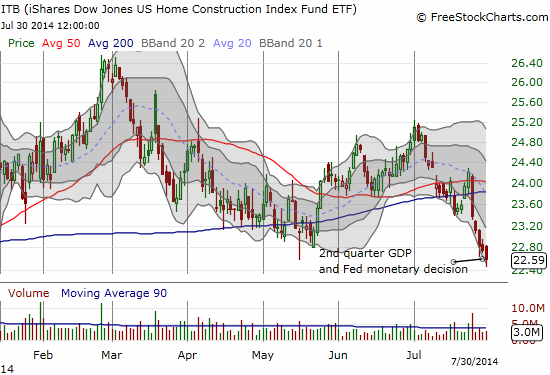 iShares US Home Construction slips again as recent negative momentum continues
Source: FreeStockCharts.com
Ultimately, the GDP data are backward-looking and the market well-anticipates the aggregated data. In particular for this report, the market is likely much more interested in the next round of monthly housing reports that may confirm or contradict a new softening trend for housing. Several home builders are also set to report earnings in the coming week.
Be careful out there!
Disclosure: The author is long ITB. The author wrote this article themselves, and it expresses their own opinions. The author is not receiving compensation for it (other than from Seeking Alpha). The author has no business relationship with any company whose stock is mentioned in this article.
Additional disclosure: Long ITB through call options.