I just read a very compelling case put forward by Iridian Asset Management that I found on the internet as to why they are shorting Bank of America (NYSE:BAC) and other select institutions. The entire article is too long to post but the recap below gets to the crux of their position.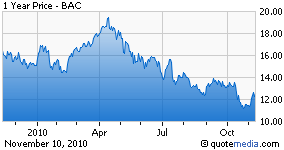 One thing is very clear after reading their analysis: if you are an individual investor buying Bank of America today you are buying simply because it is down, not because you have done enough analysis to outsmart the market. Because there is no way an individual investor can put in the time to understand the hundreds of billions of dollars of assets the BAC has. And I'm quite certain that there aren't very many people at BAC that can understand their true value either.
Putting the Pieces Together
So how do the actions of the three potentially aggrieved parties – the agencies, the monolines, and private label investors – come together to impact the relevant banks? What is the potential scope and impact of this dimension to the MBS crisis of 2010?
Let's look at the potential impact on the most visible target of put back actions thus far – Bank of America – beginning with the Gibbs & Brun case. In this single request, the investor group is presenting a portfolio comprised of delinquent accounts, all originated and securitized by Countrywide, with a par value of $47 billion.
The first question in scoping out the potential impact is to estimate the percentage of loans within this portfolio that fail to meet espoused underwriting standards. We believe that a majority of loans written by Countrywide over the period in question have a high likelihood of being put-able, particularly if that loanis now delinquent. It may take a long time to wade through each account, but we believe that ultimately Bank of America will be forced to take in as many as 80% of these loans. That's $38 billion out the door.
The next question is estimating the losses to Bank of America from this pool of loans brought back onto the balance sheet. There are three possible outcomes for any individual loan in delinquency: it can cure itself, it can be modified, or it can go into foreclosure. By far the most common outcome is the last, but taking an average across the three outcomes you can expect a recovery rate of at best 50% (JP Morgan Chase's (NYSE:JPM) experience).
However, we believe that the recovery rate will be closer to 33% as foreclosures continue to be halted and contested across the country, resulting in a potential pre-tax loss for Bank of America of $25 billion.
How much more in potential losses stands behind the Gibbs & Brun claim? Bank of America has about $450 billion in private label securitizations outstanding. We believe that at least a fourth of that is arguably put-able, which would suggest that there is another $70 billion in potential put back requests above and beyond the $47 billion in this specific case. The monolines intend to make up to $20 billion in put back requests from Bank of America.
We believe that at least one third of the $220 billion agency Big Bang in delinquent loan repurchases can be sourced back to Bank of America or its subsidiaries, which would generate an additional $75 billion in put backs.
In sum that is $165 billion in additional put back claims. Using the same Gibbs & Brun math as above yields an additional pre-tax loss of $88 billion and a total pre-tax loss of $113 billion.
These are incremental losses to what Bank of America has said they are expecting (continued agency put backs at an arithmetic rate of increase), which means that there are zero reserves for the losses projected here.
To be sure, these are worst case scenarios and will take two years or so to play out, over which period of time Bank of America will presumably be earning profits that can be set against these losses. But even with more benign assumptions or estimates based on a blanket settlement it is very difficult for us to imagine an outcome where Bank of America does not suffer at least $50 billion in unanticipated pre-tax losses.
Today, Bank of America's tangible common equity is about $130 billion with a TCE ratio of 5.8%. Basel 3 requires a minimum TCE ratio of 5%, which corresponds to $112 billion in TCE against the current tangible assets. Of course, as all of these mortgage loans are brought onto the balance sheet you are increasing the denominator of the TCE ratio, which means that the capital required to support the numerator must go up.
As a result Bank of America will need all of its current common equity (and probably more) even if there are no losses on the put back loans, just to hit the minimum TCE requirement. Of course, it is very difficult to imagine that Bank of America's credit rating and counterparty risk scores are going to do very well as all this occurs, placing the bank in the unfortunate position of attempting to raise some tens of billions of dollars in fresh equity capital as its CDS spreads blow out.
As we saw in 2008, it is extremely difficult to recapitalize a balance sheet when a vicious cycle of credit downgrades and stock price declines grips the market, but we believe that this is the potential risk for Bank of America and other similarly situated banks. Unlike 2008, however, we do not believe that the Fed and Treasury will spearhead a capital replenishment effort through some sort of TARP 2, which means that the impacted banks are on their own. Not only is there less than zero political appetite for additional government support of bank balance sheets, but also the projected losses across the banking sector as a whole from put backs –while crushing for the balance sheets of the banks involved – are less than half of the $400 billion in 2008 banking sector losses from the first popping of the real estate bubble.
We believe that the MBS crisis of 2010 may not present a systemic risk where the global banking system is in danger of collapsing, but it certainly presents a distinct capitalization risk for specific banks.
Conclusion
The theme that we have laid out in this letter will not be resolved soon. The big banks have reserved billions of dollars for litigation expenses concerning put backs, and we expect this all-out war between the biggest financial institutions in the world to be played out in the courts over a period of two to three years.
The federal and state investigations of servicers and their agents are just now in the subpoena stage and are months away from any court hearing.
That said, the wheels of justice may grind slowly, but they grind extremely well. If we are correct in our analysis, we are not playing for 10% gains here and 5% gains there. We are playing for credit defaults and bankruptcies, for – if not a systemic risk – then at least a mortal threat to important actors within the system. And the current macro-driven investing environment notwithstanding, we believe that the market is still an effective anticipatory mechanism for specific catalysts impacting specific companies … we do not believe that we will have to wait two to three years to get paid on our ideas if we are right.
We are making a substantial investment in this theme because we believe that we have excellent visibility into timely and material catalysts that have an existential impact on a range of publicly traded companies.
Disclosure: No position