History
Global Healthcare REIT (OTCQB:GBCS) was originally organized in 1978 as Global Casinos. The company was a holding company for the purpose of acquiring and operating casinos, gaming properties, and other related interests. However, in September of 2013, Global Casinos split-off and sold its gaming operations to Gemini Gaming, LLC and simultaneously acquired West Places Ferry Healthcare REIT through a reverse acquisition.
The company now invests in real estate related to the long-term healthcare industry. The company was not treated as a real estate investment trust in 2013, but just gained that status in 2014 and will benefit from its favorable tax implications.
In April of 2014, the Board of Directors approved the company's first payment of a cash dividend. The dividend was $0.01 and the CEO Christopher Brogdon announced a positive outlook about the company continuing the dividend:
"We are extremely pleased to be able to declare and pay our first dividend to our common stockholders. It is our hope that this dividend will represent the first of many future dividends to reward our shareholders for their continued support of our expansion and growth plans for the company."
Source: 10Q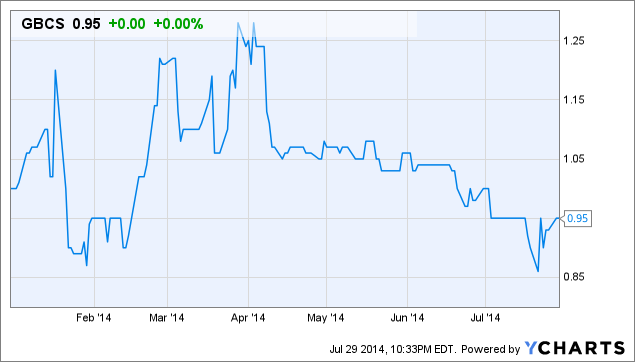 Latest Quarterly Report
In the quarter, GBCS recorded rental revenue of $233,279 and net income of $2.29 million. With a market capitalization of just $18.87 million this seems ludicrous. However, the quarter was temporarily buoyed by a $3 million bargain purchase gain from its Southern Hills Retirement Center. So excluding that gain, the company recorded a loss of $708,329. Although it is operating at a loss, it is positioned to become profitable in the near term. During the quarter it recorded a loss on the sale of property of $381,395, so its true operating loss was just $326,934. Even though it is currently operating at a loss, revenue will increase in the next quarter from a combination of new properties being added to its portfolio and renovations ending.
Recent Acquisition
On July 29th, GBCS announced the acquisition of the Meadowview Nursing Home, located in Seville Ohio. The facility licensed for 100 skilled nursing beds, is 27,500 square feet and located on 5 acres of land. Seville, Ohio is located approximately 25 miles west of Akron, Ohio and 40 miles south of Cleveland, Ohio in an area with attractive population growth in the 65 to 74 year age bracket. Moreover, management has discussed acquiring more properties this quarter.
GBCS paid $3 million for the facility which will close on September 30, 2014 pending a satisfactory completion of a 45-day inspection period. Management intends to lease the facility to a third-party operator.
Christopher Brogdon, President of the Company, stated:
"The forecasted financial metrics on this facility are extremely favorable once we have implemented our planned changes and upgrades. We continue to evaluate properties opportunistically and hope to complete several additional acquisitions currently in the pipeline."
Source: Press Release
Current Holdings
Revenue Soon To Be Recognized
"We recognize no rental revenues related to our Tulsa, Oklahoma property for the three months ended March 31, 2014. Rental revenues for our Tulsa, Oklahoma properties will be recognized once the lessee of the skilled nursing facility becomes properly licensed and after renovations have been completed for the independent living and assisted living facilities."
Source: 10Q
The fair value of the property was independently assessed to be $5 million, or about 1/4 of its entire market capitalization. With 106 licensed beds, and 118 units, the revenue from the properties, which are set to start in the next quarter, will increase total revenue by approximately 25%. The pro forma revenue would have been $295,112, as estimated by management.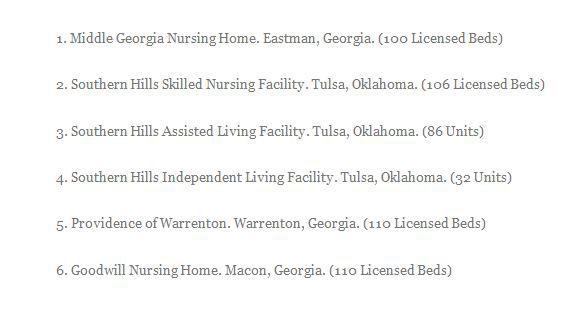 Source: 10Q
The leases from the Dodge (located in Eastman) and Warrenton leases will be $904,448 in 2015 or $226,112 per quarter. This figure represents nearly all of GBCS's revenue in the most recent quarter alone. Although the lease is front-heavy, as the company has only $294,000 coming in 2017, this front-loading will allow GCBS to acquire more properties at discounts.

Click to enlarge
Source: 10Q
Note Receivables - More Cash to Come
The company extended several loans, which will increase income in the next few quarters, as the company has yet to recognize most of this income. As a result of its split-off of gaming assets by Global, the company accepted a note receivable bearing interest at 4%, that will be paid in quarterly installments of $17,495. The original amount was $962,373, but was discounted by 10% at the rate of cash flows.
Moreover, the company extended a loan to Limestone Assisted Living, LLC for $550,000 with an interest rate of 10% per annum. The loan is secured and is to be paid back on or before August 31, 2014, so the next quarter will reflect this repayment.
Finally GBCS extended a loan of $100,000 to GL Investors, LLC, which does not have a maturity date, but earns interest at 13% per annum. The loan is not secured, but GBCS was assigned rights to distributions from GL Investors until the loan is paid in full.

Click to enlarge
Source: 10Q
Strong Insider Buying
Insiders may sell their shares for numerous reasons. However, there is only one reason for them to purchase shares, they believe the shares are undervalued. GBCS has seen significant insider buying from a wide range of insiders, from the CEO, CFO, and even a Secretary. Although insider purchases do not warrant an investment by themselves, when coupled with improving fundamentals and a positive outlook, it paints a bright picture.

Click to enlarge
Deferred Tax Assets
Global Healthcare's history of losses has allowed it to amass significant deferred tax assets. With GBCS's transition to being classified as a REIT, coupled with a tremendous amount of deferred tax assets, GBCS is positioned well. As of March 2014, they had approximately $1.7 million to mitigate upcoming tax obligations.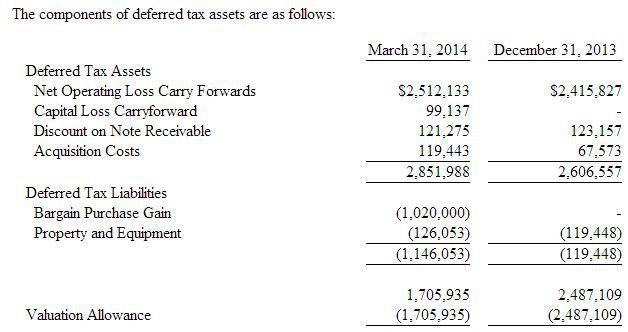 Source: 10Q
Reasons For Undervaluation
There are several reasons for this company being undervalued. First and foremost, there is zero analyst coverage. The information about this opportunity is just not being disseminated. Insiders certainly have been taking advantage of this dearth of knowledge by accumulating shares at this level.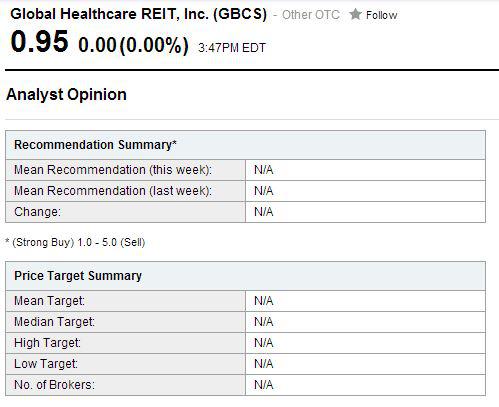 Source: Yahoo Finance
Second, the revenue and earnings potential is certainly understated, as a significant portion of GBCS's properties are being renovated and are thus vacant. Third, REITs as a sector are being ignored, as it has become a foregone conclusion that interest rates will rise shortly. As REITs do not perform well in rising interest rate environments, the sector has been avoided as a whole. However, with the Fed continuing QE until October and with guidance keeping the Fed Funds Rate down for a considerable time, REITs should not be avoided.
Risks On The Horizon
Every investment has an inherent risk, and with GBCS trading under $1 per share, it certainly has more risks than most investments.
Dilution
REITs are known to finance purchases with secondary offerings. An investor in GBCS has to be aware of the fact that a dilution may inevitably happen in several forms. A dilution may result from a secondary offering, its convertible notes, or its convertible preferred shares.
Convertible Notes
In September of 2013, the company had a private placement of 10% yielding convertible notes with an aggregate of 63,750 warrants. The notes are exercisable at $1.00 per share for fifteen months from the date of the issuance. Thus, investors could face a dilution over the next few months. However, with only 63,750 warrants outstanding compared to 19 million shares outstanding, the dilution will be negligible.
Series D Convertible Preferred
The company issued 700,000 shares of 8% yielding preferred stock with a conversion at $1 per share. The conversion rights rest with the company. However, once again, with 700,000 shares possibly being converted, compared to 19 million outstanding shares, this should not cause too much concern to investors.
Secondary Offering Risk
Further, if the company is unable to acquire a loan at a favorable rate, it may be required to have a secondary offering to pay off its payables. In 2015, $4,158,662 will be due, so investors may face a dilution next year.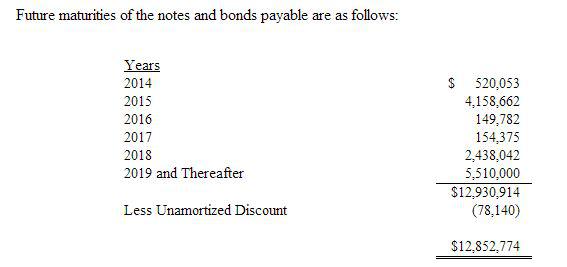 Source: 10Q
Liquidity
GBCS has an inherent liquidity concern for investors, as it has an average volume of just 20,597 shares traded daily. Moreover, with 19.87 million shares outstanding, the company only has 3,744,593 shares available for public trading so bid/ask spreads may be wide as well.
Off-Balance Sheet Risk
As part of the split-off of its casino operations, GBCS may be liable for leases in the event that Gemini Gaming, LLC cannot fulfill them. Although I do not anticipate this becoming a problem, it is worth mentioning.

Click to enlarge
Source: 10Q
Global Healthcare REIT has had an eventful and volatile past, but is positioned to generate alpha. Management has been acquiring properties at severe discounts and is on the verge of returning to profitability. Revenue and earnings are understated, as renovations will end, more properties will generate rent, and other properties are set to generate higher rents. Further, notes receivable will provide more cash in the near term, as some of the notes are due next quarter. Moreover, its recent recognition as a REIT coupled with deferred tax assets will mitigate taxes greatly. The icing on the cake is that the GBCS has seen strong insider buying over the last few months. GBCS is an outstanding investment opportunity and is positioned to outperform.
Disclosure: The author has no positions in any stocks mentioned, but may initiate a long position in GBCS over the next 72 hours. The author wrote this article themselves, and it expresses their own opinions. The author is not receiving compensation for it (other than from Seeking Alpha). The author has no business relationship with any company whose stock is mentioned in this article.
Editor's Note: This article covers one or more stocks trading at less than $1 per share and/or with less than a $100 million market cap. Please be aware of the risks associated with these stocks.