The one picture that might say it all. This is a scatter of daily US storage levels and daily YoY gas production change. The red boxes are the first 10 days of November, assuming builds of 24 and 26 Bcf the next two numbers. As you can see, we're on record storage and quite rare YoY production growth.
Natural gas can trade outside of fundamentals just like any other market. And, as I stated in my article from Friday, the extra-fundamental reasons for NG to go up are quite strong. But, unlike almost every other market, US Natural Gas has physical limitations; after all, the US Natural Gas market is essentially one giant pressurized hydrocarbon chamber. It has limits. Symphonies of physical constraints will begin to surface if you keep prices too wrong for too long and these constraints will drive a contra-fundamental trade in natural gas back to fundamentals. This eventuallity could be delayed until the end of Q1 (or avoided all together with a fantastically long cold winter in places where lots of people live), but discouraging incremental demand and encouraging incremental supply is not how to avoid them. Be careful out there.
click to enlarge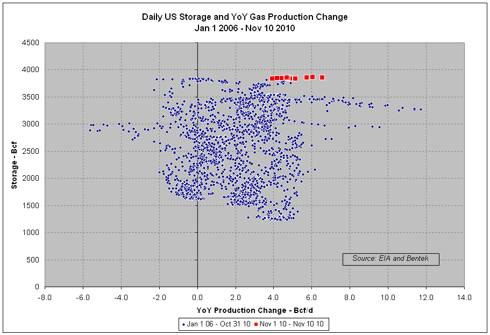 Disclosure: No positions in stocks tagged.