This morning's batch of earnings reports put us over the 1,000-report mark for the current earnings season. So far this season, the average stock that has reported has gained 0.02% on the day of its report, so let's call it a wash for now. (For companies that report in the morning, we're looking at that day's change. For companies that report after the close, we're looking at the next day's change.)
Now that we're 1,000 reports into earnings season, below is an updated look at the biggest winners and losers so far. As shown, there have been six stocks that have gained more than 20% on their report days. ZELTIQ Aesthetics (NASDAQ:ZLTQ) tops the list with a one-day gain of 28.6%, followed by Rubicon (NYSE:RUBI) at 27.3% and Amedisys (NASDAQ:AMED) at 25.5%. Inphi (NYSE:IPHI), Datalink (NASDAQ:DTLK) and NeoGenomics (NASDAQ:NEO) are the three other companies that gained more than 20% on earnings. Other popular companies on the list of earnings season winners include Twitter (NYSE:TWTR), US Steel (NYSE:X), Intuitive Surgical (NASDAQ:ISRG) and Under Armour (NYSE:UA).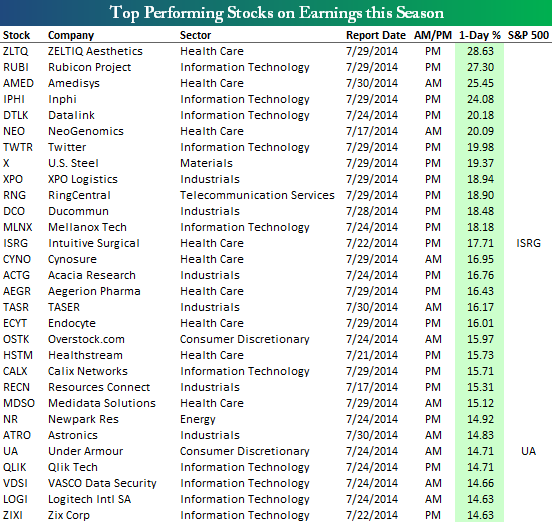 Brightcove (NASDAQ:BCOV) has been the biggest loser thus far with a one-day decline of 37.88% on its report day. Silicom Limited (NASDAQ:SILC) ranks second with a decline of 23.55%, followed by Unisys (NYSE:UIS) and Alliance Fiber Optic (NASDAQ:AFOP). All four of the aforementioned names fell more than 20% on their report days. Some of the other notable losers on earnings this season include WellCare Group (NYSE:WCG), Xilinx (NASDAQ:XLNX), Oshkosh Truck (NYSE:OSK), SanDisk (SNDK) and Buffalo Wild Wings (NASDAQ:BWLD).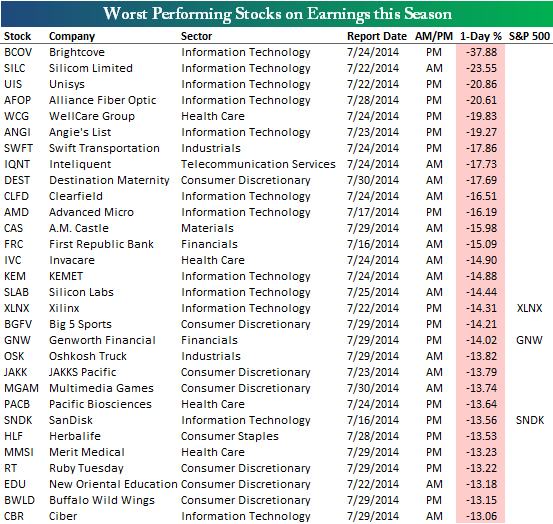 For those that wish to focus solely on largecap names, below are lists of the biggest winners and losers on earnings in just the S&P 500.