Auto manufacturers are not necessarily the sexiest industry to invest in, and, given the flood of bad news out of the automotive sector lately, one probably needs to have both a thick skin and good reasons to invest in a car manufacturer at all.
However, a variety of convincing reasons to invest in automobile companies are in plain sight, all of which make a decision to invest in Ford Motor Company (NYSE:F) a fairly easy one. Ford Motor convinces with a string of confidence-injecting monthly sales updates, a seriously low valuation, and a respectable dividend yield. In addition, Ford Motor might gain from General Motors recall woes.
Benefiting from General Motors' recall disaster?
Ford Motor should be at the top of investors' shopping lists because the company could become a major beneficiary of General Motors' (NYSE:GM) recall disaster as customers lose confidence in the once-mighty brand and migrate over to competitors.
General Motors clearly hasn't had a good year so far, with recalls for a variety of issues ranging from steering issues to faulty ignition switches. Just at the end of last month, General Motors announced another massive recall of 8.4 million cars because of "unintended ignition key rotation." This recall brings General Motors' total global recall number closer to 30 million. A stunning and frightening number.
The recall fiasco certainly has a lot to do with Toyota Motor's (NYSE: TM) $1.2 billion criminal penalty for misleading the public about the safety of its cars.
The Department of Justice under leadership of Attorney General Eric Holder imposed the largest penalty ever on Toyota Motor. An increased sense about the severity of safety issues was certainly a key reason why American car companies stepped up their recall game in 2014.
In another case, General Motors was forced to shell out $35 million as a penalty for not reacting in a timely manner to defective ignition switches.
Recalls are certainly going to be an earnings drag for General Motors. Not only do recalls affect the company's current bottom line (General Motors estimated second-quarter recall costs at $1.2 billion), but probably also its future bottom lines because of an erosion in customer confidence. Who wants to buy a car that's constantly making negative newspaper headlines in terms of safety anyway?
Ford Motor could be one of the companies that swoop in, take advantage of customers' mistrust toward General Motors, and capture market share, which could lead to higher sales and profits down the line.

(Source: Ford Company)
Low valuation based on earnings and sales
Another reason Ford Motor makes an attractive investment proposition is its valuation, which seems to be somewhat disconnected from the strong, underlying fundamentals of the company.
Ford Motor has presented investors with a string of positive sales updates in 2014 ranging from solid sales growth in Europe, where its sales outpaced industry growth for multiple times this year, and strong sales momentum in China.
Furthermore, Ford Motor continues to exhibit a strong balance sheet with a net cash position of $9.5 billion in its Automotive division. Ford Motor's total cash position translates into about $6 in cash per share.
Despite those strong underlying fundamentals, Ford Motor merely trades at nine times earnings, whereas General Motors, thanks to a recall-related valuation discount, trades at eight times forward earnings. Toyota Motor, on the other hand, achieves a forward earnings multiple of 9.5.
From a price to sales perspective, Ford Motor is also cheap and trades at less than 0.5 times forward sales, while Toyota Motor achieves a significantly higher P/S multiple at 0.71.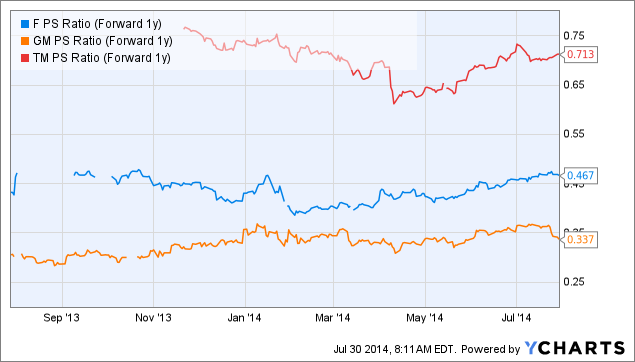 I think the market seriously errs in valuing Ford Motor. A lot obviously has to do with general investor concerns about the current recall situation at home and uncertainty about future recall and associated costs. Other worries relate to the strength of the U.S. recovery and increases in consumer spending.
Since Ford's real sales momentum is happening outside its domestic market, I think macro worries should not determine whether long-term investors bought Ford Motor or not. The company is dirt cheap, well capitalized and is literally a no-brainer.
The Bottom Line
Add all this together: top sales results in a variety of geographies, a strong balance sheet with a high net cash position, a seriously low valuation on both earnings and sales metrics, a solid dividend yield of nearly 3%, and it becomes clear that Mr. Market seriously undervalues the company with an earnings multiple of just nine and a forward sales multiple of less than 0.5x.
Ford Motor could also become a huge beneficiary of General Motors' recall mess and benefit from increased market share in the coming quarters, which could serve as a catalyst for a higher equity valuation. Strong Buy.
Disclosure: The author is long F. The author wrote this article themselves, and it expresses their own opinions. The author is not receiving compensation for it (other than from Seeking Alpha). The author has no business relationship with any company whose stock is mentioned in this article.