Suncor Energy (NYSE:SU) reported negative numbers for Q2 today with a headline miss. Operating EPS of $0.77 missed consensus estimate of $0.93. The cash flow number was also light at $2.4 billion ($1.64 per share). The GAAP EPS of $211 million ($0.14 per share) was heavily impacted by several large asset impairments totaling $1,238 million. Overall, it looked like a big-bath quarter (like Q4/2012 or Q2/2013).
I will re-evaluate my investment thesis in Suncor. Although it is easy to panic after seeing very negative headline numbers, I will explain why I still intend to hold a position in Suncor in my portfolio.
What New Data Points Are Available in the Report?
There is actually a lot of noise in the report. To break it down in more detail, investors should consider the negatives and positives.
Let's start with the negatives. I already highlighted the several metrics that missed analysts' expectations. Upstream production, as shown in figure 2, was also somewhat disappointing with total upstream production falling 5% quarter-over-quarter, although production was up 4% year-over-year due to lower maintenance activities at its main upgrader.
Impairments (after-tax) made in the quarter including:
$718 million against Suncor's interest in the Joslyn mining project. This shouldn't come as a surprise after Total (NYSE:TOT) announced a halt on the development due to high costs. However, Suncor's relatively upbeat outlook on Joslyn in the past sharply contrast today's decision to write it down, which implies management did not like the economics of the project after receiving new data from Total. I think this impairment will be a hot topic on the conference call tomorrow at 9:30am EST.
$297 million against Suncor's Libyan.
$223 million related to other assets.
Figure 1: Quarterly Financial Numbers (Trailing 5 Quarters)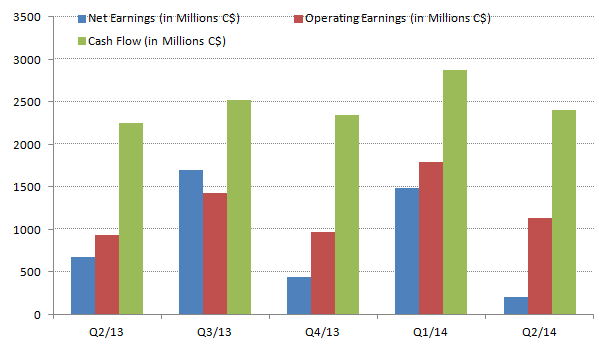 Source: Suncor Q2 Report
Figure 2: Quarter Upstream Production (Trailing 8 Quarters)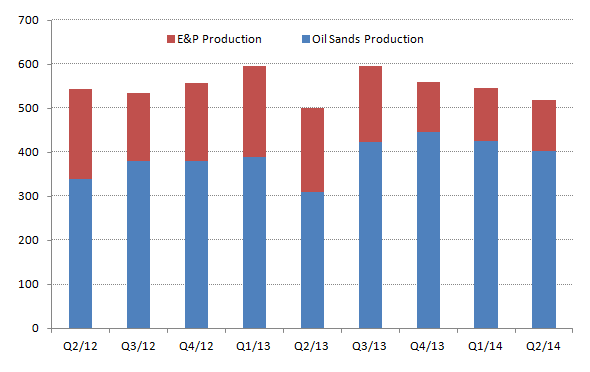 Source: Suncor Q2 Report
There are a couple positives. One main positive is Suncor's guidance, which was unchanged even after a very weak Q2. The weak Q2 overshadowed the stellar Q1 numbers, which resulted in lackluster performance, financially and operationally, in the first half 2014 compared to its April annual guidance. Hence, the guidance should have been lowered if the underlying operation was weak. But it remained the same! Thus, management is guiding for very strong results in the second of 2014.
Looking at figure 3 more closely, the weakness in oil sands production was key to the weakness in Q2. Suncor's base operations only produced 378,800 barrels per day ((bpd)) and its Syncrude JV saw a 30% decline in Q2 production vs. Q1. Since Suncor's guidance was left unchanged, management is implicitly guiding for oil sand production of near 450,000 bpd (mid-point of guidance) and 38,000 bpd at its Syncrude JV. Although its E&P operations will be slightly weaker, the large incremental production from its oil sands operations and oil sands JV will contribute meaningfully to operating earnings and cash flow. Moreover, the increase in SCO sales (an upgraded light product) and lower cash costs (mid-point imply cost will be lower to $31.50 per barrel vs. current $34.10) will contribute to higher margins and profits.
For the full guidance, please see the link I provided below.
Figure 3: Suncor's Guidance and What is Telling Investors For the Second Half of 2014

Source: Suncor Guidance
Core return on capital employed or ROCE, excluding major projects in progress and asset impairments, continue to improve and reached a high of 13.1% in Q2 compared to 12.6% in the prior quarter and the prior peak at 12.9% in Q3/2013. This shows Suncor's management team has been successfully improved capital efficiency and improved returns on capital.
With costs escalating, I completely agree with management's decision to cut capex from $7.8 billion to $6.8 billion, freeing up $1 billion of cash and demonstrating good capital discipline. The $1 billion cut comprise of $600 million from its oil sands segment, $250 million in its E&P segment and $150 million in the corporate segment. There is no capex change for its refining division.
With $1 billion of extra cash, the company can use a portion of the freed-up cash on share buybacks. The company renewed its $1.1 billion share buyback program in June. Over the last 12 month, Suncor has retired 3% of its outstanding shares at an average cost of C$37.85 (total cost $1.7 billion), which is extremely accretive to value given market price is well above C$40. If the share price declines, I expect the company to be an active purchaser of its shares.
Overall, the positives do outweigh the negative. The asset impairments are large but in terms of intrinsic value, it is not material. I seen many NAV models (Discounted Cash Flow models on its reserves) on Suncor, which placed the value of Joslyn at only $1 or so and its Libyan assets at near $0. Thus, the writedown is purely a bookkeeping item. ROCE is improving and management is expecting stellar performance in the second half of 2014.
Valuation:
In my April article, I valued the shares at C$45.00-C$48.00. Despite the disappointing Q2 numbers, I am raising my estimates to C$49-$50.50 (US$45.00-US$46.33 if translated at the current USDCAD rate of 1.09). The lower bound is calculated by multiplying my estimated FY2014 EPS of $3.90 by a multiply of 12.5, which is slightly lower than peers that trade between 13-14x. The upper bound is calculated by multiplying my estimated cash flow per share of $7.50 by 6.75, slightly lower than peers that trade at 7 times cash flow.
It may be awkward to raise my valuation after a bad quarter but I think there are enough positives that points to a better Q3 and Q4 despite a disappointing Q2. Suncor has a history of having bad Q2 releases. Since management made zero changes to the 2014 guidance, similar to previous years when it had a bad Q2, I am fairly confident that the company will follow the prior playbook and deliver great results for Q3.
Conclusion:
"Suncor is a compelling energy name to own because its CEO has implemented a shrewd strategy of focusing on capital discipline, operational excellence and profitable growth. While Suncor's three strategic pillars may sound obvious, many CEOs in the energy business are poor capital allocators and focus exclusively on absolute growth, not profitable growth. In addition to Suncor's intelligent strategy, the company also has a rock solid balance sheet (debt to capitalization of 20% and net debt to cash flow of only 0.7) and a value adding integrated model."

My April 29, 2014 Article on Suncor
Suncor is still a good name to own and I would not change a single word in the paragraph I wrote in my April article. Similar to the Q2 report last year, the results looked extremely weak but the guidance for the second half of the year remains strong. The $1 billion reduction in capex demonstrates Suncor's objective of maintaining "capital discipline" and the extra cash could be used to repurchase shares, especially if they fall after the negative Q2 report. The weak Q2 results could trigger a sell-off tomorrow morning but should be limited given the positives points I highlighted in the article.
Disclosure: The author is long SU. The author wrote this article themselves, and it expresses their own opinions. The author is not receiving compensation for it (other than from Seeking Alpha). The author has no business relationship with any company whose stock is mentioned in this article.
Additional disclosure: This article is for informational purposes only and does not constitute an offer to buy or sell any securities discussed in the article. The stock mentioned in this article does not represent financial advice. The target price presented in this article is based on current information and is subject to change without further notice. Investors are recommended to conduct further due diligence before committing capital to any investment.