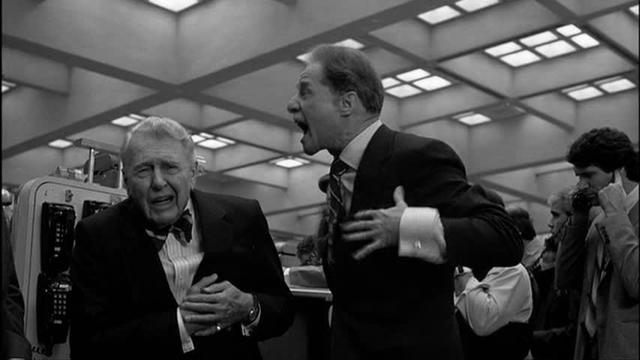 Picture from the movie "Trading Places"
Molycorp, Inc. (MCP) is set to announce its Q2 earnings next week and the report will answer a lot of questions on earnings, cash burn, backdoor takeovers, patent expirations, etc. Below are the company's historical financial results.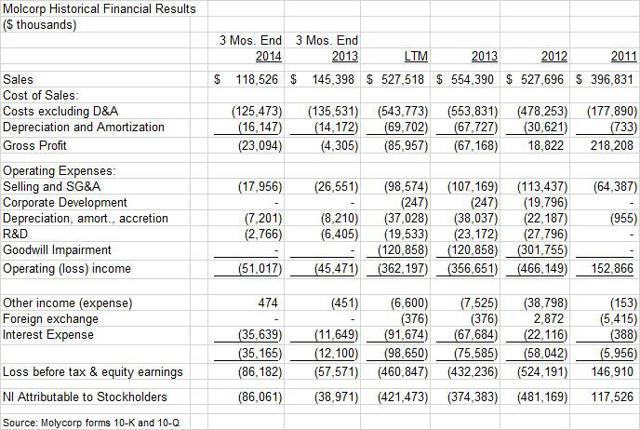 Revenue
Wall Street Case
Average analyst estimates call for revenue of $130.97 million, a 10% increase sequentially.
Upside Case
My Upside Case projects revenue of $160.62 million.
For Q1 2014 Molycorp's volume increased 10% annually to 4,389 mt. However, the average selling price ("asp") for its product suite declined 26% annually from $36.60kg to $27.01kg. It would have been a pretty decent quarter had it not been for the asp hit.
The Upside Case assumed Q1 2014 volume and muted the asp decline year-over-year. That said, volume of 4,389 mt x asp of $36.60kg generates sales of $160.62 million.
Loss Before Tax
I kept Q1 2014 loss before tax of $86.2 million as a baseline.
I assumed the incremental sales of $42.1 million above Q1 2014 actual sales ([i] sales of $160.62 million less [ii] Q1 2014 actual sales of $118.53 million) was brought on at a 50% contribution margin, or $21.0 million.
The $86.2 million pretax loss and $21.0 additional contribution nets out to a $65.1 million net loss.
Net Income
Wall Street Case
Analysts estimate Molycorp will achieve a net loss of $0.28 per share. With 221.4 million diluted shares (same as Q1 2014), that equates to a net loss of $61.2 million. I assumed the company did not record a tax shield on the pretax loss, being that its consistent operating losses call into question whether Molycorp would ever utilize such tax shield.
Upside Case
The Upside Case assumes no tax shield on the $65.1 million pretax loss. At Molycorp's diluted share count, that equates to a loss of $0.29 per share. Built into the Upside Case is interest expense of $35 million (same as Q1 2014) which may be a little high. The following table shows the losses under both cases.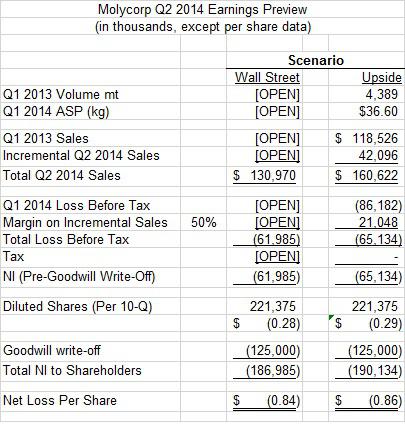 Goodwill Write-off
At Q1 2014 Molycorp had goodwill and intangible assets totaling over $550 million. We are not sure which operating segments the intangibles are allocated to. However, we do know that of the $229 million in goodwill, $126 million is allocated to the Chemical and Oxides ($125 million) and Rare Metals ($1 million) segments which, [i] are not profitable and [ii] have not been profitable for a while. That said, consistent operating losses would imply that Molycorp as a whole and at least its Chemical & Oxides and Rare Metals segments have been impaired. On my previous article I made the case for writing off $126 million in goodwill (and maybe more):
Outside of consistent operating losses, other signs that Molycorp's operations are impaired are [i] reports that Leon Black's hedge fund Apollo Global (NYSE:APO) is contemplating a backdoor takeover of Molycorp via a distressed debt restructuring, [ii] a cash burn rate that could leave Molycorp with cash on hand of less than $100 million by the end of the year, and [iii] debt downgrades by Moody's and Standard & Poor's. That said, there are three reasons the company should take a $126 million goodwill write-off now.
After including a $125 million goodwill write-off, Molycorp loses $187.0 million under the Wall Street Case and $190.1 million under the Upside Case. And for those who think I am simply making up numbers, Molycorp delayed its 2012 10k for two weeks the last time I suggested its intangible assets were impaired. The company eventually recorded a goodwill impairment charge of $264 million.
Conclusion
In two scenarios, one pitting analyst estimates against an Upside Case, Molycorp reports a quarterly loss in Q2 2014. After layering on a potential goodwill impairment of $125 million, the Q2 loss estimates range from $180 million to $200 million - well below market expectations. For longs hoping for an earnings beat and a rally in the shares, the Q2 report could destroy the bull case for good.
Disclosure: The author is short MCP. The author wrote this article themselves, and it expresses their own opinions. The author is not receiving compensation for it (other than from Seeking Alpha). The author has no business relationship with any company whose stock is mentioned in this article.