By Brandon Matthews
After an article I wrote here at Seeking Alpha was selected by the Wall Street Journal as a must read article for the coming week, it's time for me to show a little humility and get back to work.
For the last two years or so, I have compiled auto sales data and reported on its potential impact to Sirius XM (NASDAQ:SIRI), on a monthly basis. Last week, Sirius XM reported its third quarter results (see earnings report here and earnings call transcript here), and the auto sales news from October 2010 was pushed aside. I had thought to revisit the issue, and had decided that it made little sense to report news that is already widely available, a week after the fact. That is, until I happened upon Certified Preowned sales data to complement the heavily requested report.
Certified Preowned vehicle sales are expected to be the next opportunistic area of growth for Sirius XM, as more and more used cars will have factory installed satellite radios, that do not carry subsidies. Until now, we could only guess as to what the Certified Preowned market represented in terms of numbers, as Sirius XM has been mum on the subject. Well, that's all about to change, because the certified preowned numbers are in. The numbers are not all that impressive, but they are supporting a slight four month decline in overall new car sales. CPO sales in contrast, have risen for four consecutive months, supporting Sirius XM's subscriber growth.
click to enlarge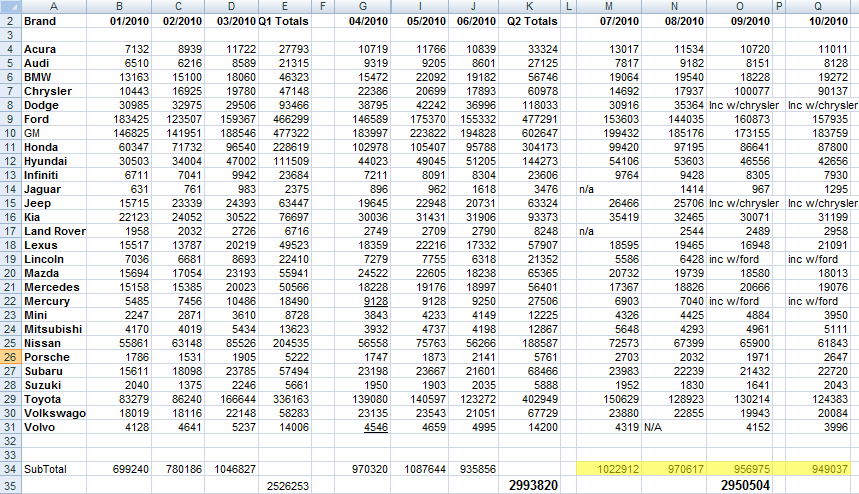 In a nutshell, just under one million units were sold in October 2010, which bodes well for Sirius XM. Clearly, new car sales remain in a year-over-year uptrend, and October's SAAR was the highest selling rate on a seasonally adjusted basis, since last year's cash for clunkers program. The Certified Preowned market is growing also, and it represents a fraction of overall used car sales.
With a double-digit improvement from October 2009, the certified segment made its eighth consecutive month of year-over-year gains, and year-to-date sales showed upward movement for the fourth straight month. Specifically, there were 141,651 CPO units sold, a gain of 23 percent year-over-year, Autodata noted. This marked a 4.7-percent month-over-month rise. - autoremarketing.com.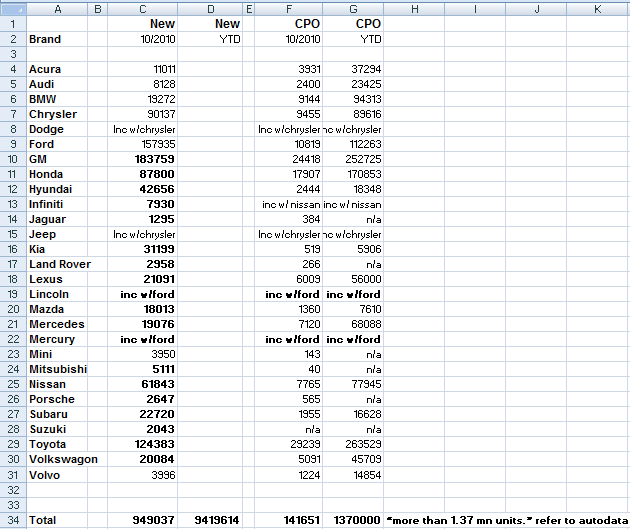 Toyota (NYSE:TM), BMW and Mercedes stand out to me as being three of the more important data pieces. Toyota reported a new car sales decline, but certified preowned sales set a company record for October. Mercedes and BMW which are among the highest penetration and conversion rate vehicles for Satellite Radio, realize a higher percentage of overall sales from the CPO market.
Disclosure: Long SIRI