The stock price of Delta Air Lines Inc. (DAL) has been in uptrend since 2013, and it is expected to witness a similar progression as the airline industry ranks to be one of the top performers in terms of stock price appreciation. The NYSE Arca Airline Index (XAL) and Delta's stock price rose more than 50% and 125%, respectively.
Recently, the airline industry has been affected by numerous factors, such as higher oil prices from the conflict in Iraq, downward demand of business travel to Central and South America, European operators' lowered profit estimates, and the Malaysian Airline crash near eastern Ukraine. After the Malaysian flight incident, Delta announced an 85% reduction in its services to Venezuela which is embroiled in a trapped cash dispute.
In the midst of these difficulties, Delta Airlines Inc., a market leader in the industry with a 7% share, recently signed a contract with Addison to supply more domestic crude oil to its Pennsylvania-based refinery. This will allow Delta to take advantage of cheaper and more stable sources of oil, as US-produced oil will be less subject to price fluctuations compared to foreign oil. Additionally, the oil supply will be in closer proximity to Delta's hangars. This demonstrates Delta's continued effort to hedge risks associated with rising oil prices.
Oil vs. Airline Stock: Positive Correlation Since 2008
While the rising cost of oil has burdened airline carriers, Delta stock prices have remained robust with respect to oil prices over the past six months. The below charts display a similar growth pattern for both Delta stock and oil prices.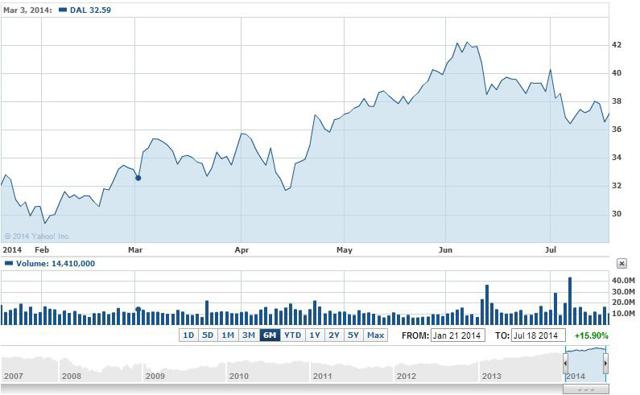 Click to enlarge
(Source: Yahoo Finance)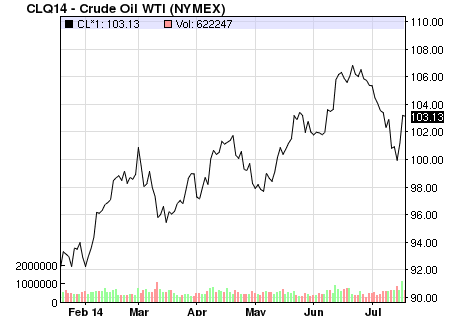 (Source: Nasdaq)
Research conducted by Hunter Keay and Jared Shojaian of Wolfe Research LLC suggests a positive correlation between oil prices and airline stock prices since 2008.
High oil prices are good for airlines, for those that have forgotten. Since 2008 airline stocks and oil prices have moved with each other to the tune of +0.68, a reversal from the trend in 1995-2008 where they had an inverse correlation of -0.64. Buying opportunities arise when supply driven disruptions in oil prices cause selloffs…
There is no news out there that we've seen that changes our bull case on airlines. They can't go up forever, and they remain high beta stocks. Valuations suggest investors still aren't treating airline stocks like anything other than low-quality industrial names, so pullbacks like this should be expected. We view this as a buying opportunity for Delta Air Lines, who has shown the best pricing power on a consistent basis over the last year.
(Source: "Higher Oil Prices: Good For Airlines?" Stocks to Watch RSS)
A Leading Company within a Growing Industry:
The airline sector used to be called "dead money" in the past when over 20 airline carriers confronted fierce competitions. In recent years, however, an array of mergers and acquisition activities propelled profit margins and share prices throughout the industry. Mergers such as Delta and Northwest Airlines in 2009, United and Continental in 2010, and Southwest and AirTran in 2012, have fueled the growth in the industry.
As shown from the chart below, the industry is expected to continue its growth with higher demand from emerging markets and US economic recovery. According to Dow Jones, US Airline Index ranked #2 out of the 10 best performing industries, followed by US Aluminum Index.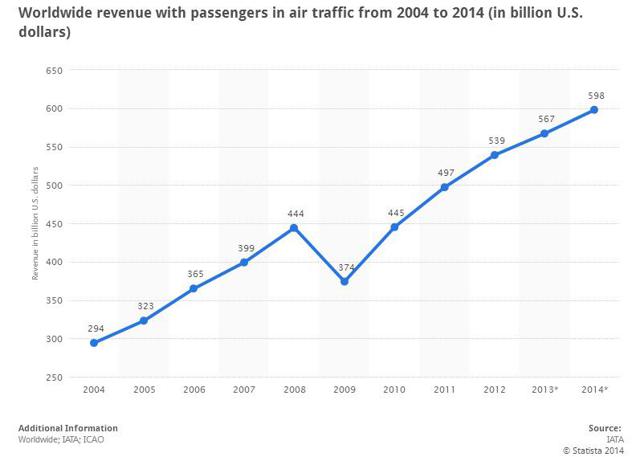 Click to enlarge
(Source: Statista)
Within this promising industry, DAL is indeed a market leader.
Though the brutal winter weather, which resulted in over 17,000 flight cancellation and $90 million revenue loss, Delta's quarterly earnings report delivered positive news. The operating revenue recorded $8.9 billion, which was up by 5% since previous year. Net income rose by $196 million, reaching $281 million in total. This number was much higher than analysts' estimate of $243 million.
Other financial figures reinforce Delta's strong financial capacity. Its ROE growth exceeds the industry average and that of the S&P 500. In terms of transportation industry metrics, Delta remains on the front. Delta places second after United Airline (NYSE:UAL) in Revenue Passenger Miles (RPM) --number of miles traveled by passengers-and in Available Seat Miles (ASM)-number of available seat miles for purchase on an airline. DAL also leads in other metrics, such as total enplaned passengers and departed seats.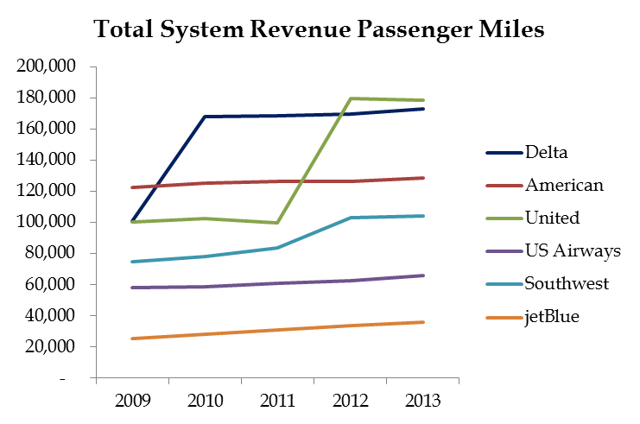 Click to enlarge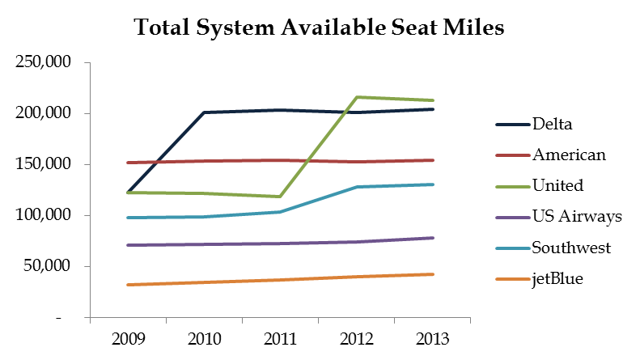 Click to enlarge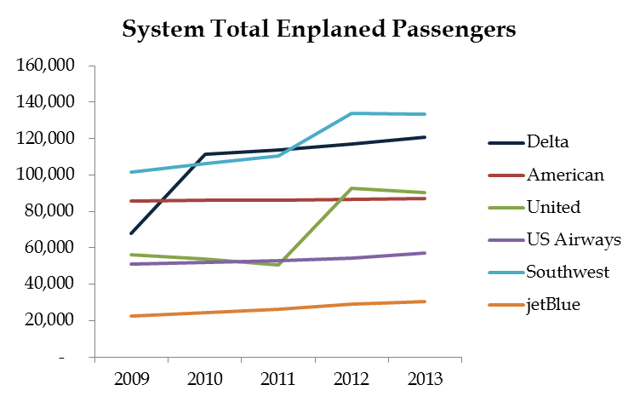 Click to enlarge
(Source: Airline Data Project)

While United and Southwest Airlines (NYSE:LUV) placed before Delta in some of the metrics above, comparison of major valuation ratios illustrates Delta's lead.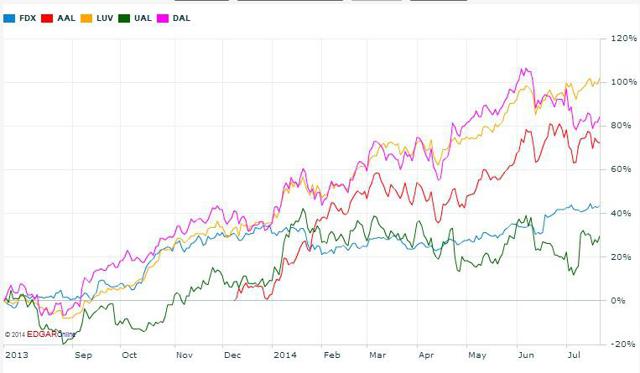 Click to enlarge
(Source: Nasdaq)
| | | | |
| --- | --- | --- | --- |
| | DAL | UAL | LUV |
| EV | 39.40B | 23.46B | 18.49B |
| P/E | 3.01 | 44.42 | 23.47 |
| Price/Book (mrq) | 2.69 | 6.34 | 2.66 |
| Profit Margin (TTM) | 28.14% | 0.99% | 4.76% |
| Operating Margin | 10.14% | 4.53% | 8.52% |
| Return on Equity | 221.61% | 28.36% | 11.97% |
| Qtrly Revenue Growth (yoy) | 4.90% | -0.30% | 2.00% |
| Qtrly Earnings Growth (yoy) | 2942.90% | N/A | 157.60% |
| EPS | $ 12.53 | $ 0.90 | $ 1.20 |
| Operating Cash Flow | 4.45B | 1.74B | 2.61B |
(Source: Yahoo Finance)
Delta ranks the highest in almost every category listed, yet its P/E is significantly low compared to its competitors. This presents Delta with greater potential for growth.
As a result, DAL stock has outperformed major indices, such as the S&P 500, Nasdaq, Dow, and NYSE Arca Airline Index (XAL)-an equal-dollar weighted index that tracks the price performance of major U.S. and foreign airlines.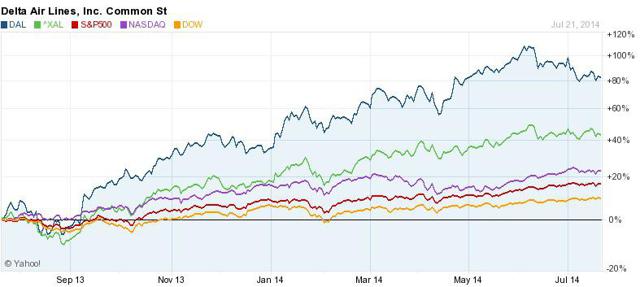 Click to enlarge
(Source: Yahoo Finance)
Investments in Technology and Network:
Delta's core competency also lies in its commitment to invest in technology and airline alliance. In the competitive environment of the airline industry, strategic alliances enable individual carriers to expand their footprint, and Delta has consistently formed those alliances. It has formed relationships with Virgin Atlantic to boost presence in London; with LaGuardia Airport for greater domestic operations share; and with Seattle to attract international travelers. Furthermore, Delta announced its purchase of 40 new aircrafts for domestic and overseas travels. These new, fuel-efficient fleets will enhance capacity and profitability.
Culture of Meritocracy Resulting In Operational Efficiency:
Delta's meritocratic culture and dedication to its employees have successfully led to high customer satisfaction. Delta was nominated 2014 Airline of the Year from Air Transport World's and Most Admired Airline from Fortune's. Its brand name is ranked number 2 after Emirates Airlines, according to the graph below.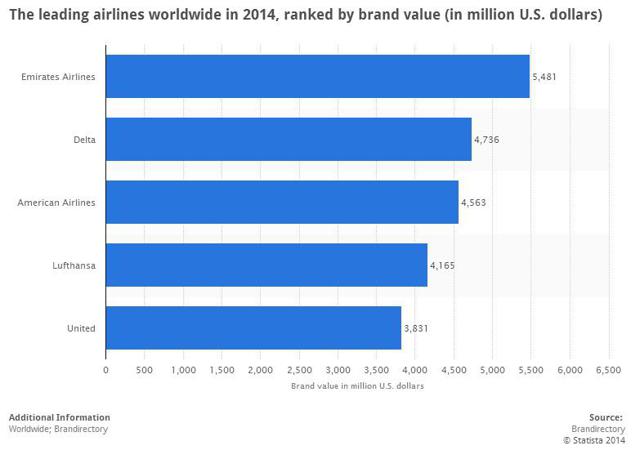 Click to enlarge
Under its "Shared Rewards Program" that rewards employees meeting on time arrival and flight completion factor performance, the company posted completion factor of 99.9% and on-time arrival rate of 80.8% in the beginning of July, 2014. Based on these measurements, Delta is at the forefront of the airline sector in operational efficiency and customer service.
Conclusion:
Delta Airline has been promptly positioning itself to the highly cyclical airline industry. It has proven its potential for success in intense competition within in the sector exposed to tremendous volatility. Its adaptability has demonstrated excellent management and operational efficiencies. With heavy investments in its infrastructure and continued effort to build affinities with other airlines, Delta is equipped to deliver even higher earnings in the upcoming quarter.
Disclosure: The author has no positions in any stocks mentioned, and no plans to initiate any positions within the next 72 hours. The author wrote this article themselves, and it expresses their own opinions. The author is not receiving compensation for it (other than from Seeking Alpha). The author has no business relationship with any company whose stock is mentioned in this article.
Additional disclosure: This article was written by Ashelly Suh, one of our members. We did not receive compensation for this article (other than from Seeking Alpha), and we have no business relationship with any company whose stock is mentioned in this article.