It's been quite some time since my last article on Monster Beverage Corp. (NASDAQ:MNST) so I'd like to take another look. The stock hasn't performed very well so far this year, with a YTD drop of 3.95%.
Let's start by taking a look at the company's recent performance. The table below lists the increase in EPS and revenue for the past 4 quarters. As we can see, Monster Beverage has had double digit YoY EPS growth for three out of the 4 most recent quarters.
| | | |
| --- | --- | --- |
| | YoY EPS change | Yoy Revenue change |
| | +49.0% | +10.7% |
| | +13.7% | +14.7% |
| | +13.1% | +8.9% |
| | +4.6% | +6.5% |
Monster's EPS grows at a much higher pace than its revenue, with a 5 year EPS growth rate of 28.25% and a 5 year revenue growth rate of 16.79%. This is due to the fact Monster buys back a huge amount of its own shares. Share repurchases are good news for investors as they increase earnings per share. Moreover, a lower number of shares means each share represents a larger percentage of the company.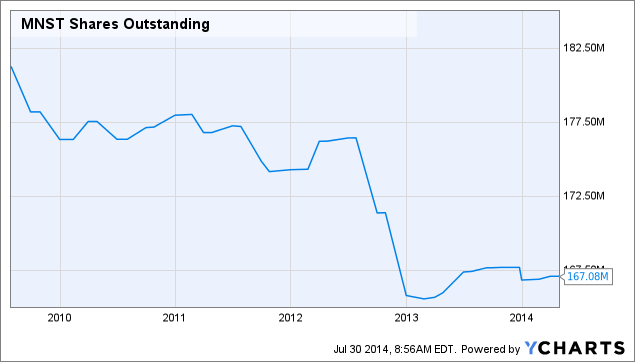 MNST Shares Outstanding data by YCharts
For the current fiscal year, analysts expect Monster Beverage to have earnings per share of $2.51, putting Monster's forward price-to-earnings ratio at 25.9, which is quite high compared to its competitors (the industry average p/e ratio stands at 20.6). However, Monster is not your average beverage stock, as EPS is expected to grow even further, to $2.92, next year. This means Monster is now trading at 22.3 times next year's expected earnings, which I believe to be very reasonable for a company with such monstrous growth rates.
Monster's price-to-sales ratio is also quite a bit higher than the industry average, as the company is currently trading at 4.4 times this year's expected sales. The industry average p/s ratio stands at 2.5. However, I feel this can be justified by Monster's growth rates.
There's one more thing that puts Monster apart from its peers: its balance sheet. The company has no long-term debt, and a very healthy current ratio of 3.56. The quick ratio, which is the same as the current ratio but excludes inventories, stands at 3.02.
Monster Beverage's cash and short-term investments total $751 million, which is 7.4% of the company's market cap, or $4.50 per share.
Conclusion
At first glance, Monster Beverage appears incredibly expensive in terms of price-to-earnings and price-to-sales ratios. However, the company has 5-year EPS and revenue growth rates that are nothing short of amazing, with analysts forecasting continuing growth in fiscal year 2015. The lack of long-term debt is very impressive, as it means there is no threat of rising interest rates. Furthermore, high current and quick ratios indicate short-term financial health.
Disclaimer: I am not a registered investment advisor and do not provide specific investment advice. The information contained herein is for informational purposes only. Nothing in this article should be taken as a solicitation to purchase or sell securities. Before buying or selling any stock you should do your own research and reach your own conclusion. It is up to investors to make the correct decision after necessary research. Investing includes risks, including loss of principal.
Disclosure: The author has no positions in any stocks mentioned, and no plans to initiate any positions within the next 72 hours. The author wrote this article themselves, and it expresses their own opinions. The author is not receiving compensation for it (other than from Seeking Alpha). The author has no business relationship with any company whose stock is mentioned in this article.