The "smart money" has been investing in emerging markets since the big turnaround in the markets in March 2009. Many now say that the stocks in these countries are fairly priced, which means that there is no longer any easy money to be made investing overseas in BRIC countries and other rapidly emerging markets. This is despite the rapid increased flow of money into ETFs and Mutual Funds.
Before forming E5A Funds LLC, I categorized stocks in buckets based on where they are domiciled. Many institutional investors also divide the world of equities into value and growth, and then sub-divide it further by market cap. I learned to play that game. Our team more often than not (measured in quarters) won; meaning, beat the appropriate benchmark. That set of definitions has always seemed a bit odd and short sighted to me. Now, managing a global portfolio, we have replaced market cap with strict liquidity screens and also additional screens for political stability.
I feel like the constraints have been lifted and discipline installed aimed at superior returns. I am also a student of history and am confident when the institutional world divided equities into its current structure; they too felt liberated, disciplined and deliberate.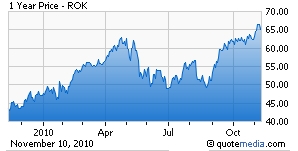 Case in point is Milwaukee, WI based Rockwell Automation (NYSE: ROK). When I first bought this stock for our investors, it was early 2009. It has remained a core holding. It is the poster child for firms domiciled here and doing a material amount of its business outside the US. Its stunning stock price growth is attributed to its taking advantage of the confluence of several factors: markets recovering and expanding faster than the US, US Government stimulus, a falling dollar and regional offices on the ground from Mexico to Mozambique to Malaysia. The firm also sells to several industries broadening its opportunities and hedging its bets, broadly describing itself as helping factories run more smoothly.
Earnings were last week and revenue increased year-over-year and sequentially as did earnings (see Q4 results here and earnings call transcript here). Compared to last year, sales in the US increased 33% and Asia was also up 33% while Latin America increased 31%. My point is that this quarter's growth can be summed up beyond the stimulus in the US. These facts help cloud and illustrate in our new global society how out of touch our definitions are for domiciled-based investing. ROK has currency exposure doing business in so many countries. One can argue that because the company manages currency as a non-core business that investing in ROK is actually more risky than investing in companies domiciled within the client countries. In those cases we actively manage the currency risk ourselves. The stock's volatility as measured by beta on a trailing 12 month basis is 1.8 reflecting multiple outside forces. Its P/E is a hefty 26.29 as of Monday's close and its Price to Sales is slightly over 2. These numbers are high but since the market's recovery, ROK has outpaced its sector and the S&P 500 year-to-date and since the market's low point March 9, 2009.
On Tuesday, I sat with a great investor who has put client money to work longer than me. He asked me our criteria to sell this stock. I outlined our sell discipline and then got specific on ROK. My answer: when its price gets ahead of fundamentals or true headwinds are encountered in the markets its revenue is derived. Until then, we continue to measure and balance fundamentals to price, examine cost structures and of course, where and with whom the firm does business and its prospects for growth. We ignore where they are domiciled, although as citizens, we are pleased to see them in Milwaukee.
Disclosure: Mr. Corn is Chief Investment Officer of E5A Funds LLC. Through various strategies under his supervision he is currently long ROK.