Company Description
Mattel (NASDAQ:MAT) is the world's largest toy company, designing, manufacturing, and distributing such toys and brands as Barbie, American Girl, Hot Wheels and Matchbox, Fisher-Price, and Thomas and Friends. The company also has licensing agreements with such entertainment providers as Disney and Marvel. Morningstar pegs MAT's share of the U.S. domestic toy market (which constitutes 26% of the global market) at 17%.
The company was founded in 1945, and has a market cap of $12 billion, nearly twice that of its rival (and #2 U.S. toymaker) Hasbro (NASDAQ:HAS) at $6.6 billion.
Mattel's Terrible Quarter
Despite its storied history and past successes, MAT is clearly not a company that's currently firing on all cylinders.
Back on July 17th, the company delivered a disastrous earnings report, and the stock quickly sold off by more than 6% (shares are also down approximately 26% from their 52-week high, as well as YTD).
Year over year, sales were down a whopping 9%, and the company's $0.08/share in earnings didn't even come close to the $0.18/share consensus.
Additionally, Needham & Company downgraded the stock from a buy to a hold, and were particularly harsh in their criticism, calling it "a disappointing quarter that missed on nearly every operating metric and showed further deterioration in fashion dolls," and adding that "weakness in Monster High leaves a gaping hole in both sales and margins that we believe will be difficult to fill... We lower our rating to Hold, as we believe that even with the sharp price drop following the report, the stock is fully valued."
Ouch. It's never pleasant when people are talking about your "gaping hole" in the press.
Needham also slashed annual earnings per share estimates from $2.33 to $1.75 (2014) and $2.80 to $2.15 (2015).
Two Headwinds
The company is basically facing two significant headwinds.
#1 - Kids simply aren't playing with toys as much. Or rather, they're "aging out" of them earlier as they graduate to more digital-oriented entertainment such as video games.
I can attest to that trend at least on an anecdotal basis - we've been having to dust our eight-year old son's toys for more than two years now, and the majority of his discretionary income is wasted, I mean spent, at GameStop or downloading apps (read: games) for his Kindle.
Changing consumer tastes are also apparent in Barbie's painful fall from grace (Barbie sales were down for yet another quarter, this time to the tune of a 15% YOY decline - she could seriously use a stint on Dancing with the Stars).
After 55 years of the non-stop partying lifestyle, the anorexia and constant plastic surgery, the endless career changes, and the long, troubled, and deeply complicated relationship with Ken, the (once?) iconic Barbie is definitely showing her age - and possibly her irrelevance.
#2 - Another issue is that MAT's dominance in, or over-reliance on, traditional brick-and-mortar retailing has made the company vulnerable to the trend of growing e-commerce sales.
In addition to the pressure that puts on sales, there's a related concern that margins could contract as the company is forced to increase promotional efforts to drive more consumers back into the stores.
And - per Morningstar - three retailers (Toys 'R' Us, Wal-Mart, and Target) represent 36% of the company's consolidated sales, which raises concerns about the company's pricing power.
The Opportunity
So given all the bad news, problems, and headwinds here, why do I believe that MAT currently presents an attractive opportunity?
There are basically three reasons - the dividend, the technicals, and the structural nature and durable competitive advantages of the company itself.
The Dividend
Let's start with the dividend.
The $0.38/share quarterly dividend represents a 4.29% current yield, based on the stock's closing price of $35.42 on Monday, July 28th, 2014.
Even with the Needham earnings reduction, the dividend is easily covered - although the payout ratio is likely to rise in the near term and put pressure on the company's future dividend growth - but despite the company's struggles, a stable 4.29% yield is still likely to attract attention from value- and income-oriented investors.
An outsized but sustainable dividend can definitely support the price of a stock, as Target (NYSE:TGT) recently demonstrated when the stock found key longer-term technical support at $55/share at roughly the same time the company announced a huge 21% increase in the dividend (at a $55/share cost basis, TGT would be paying a 3.78% yield).
Not surprisingly, TGT stock stabilized after the dividend announcement and quickly entered an uptrend, and now trades around $61/share.
Regarding the MAT dividend, at $35/share, MAT would be yielding 4.34%.
The Technicals
Let's look at the MAT chart - which shows both the carnage and the opportunity: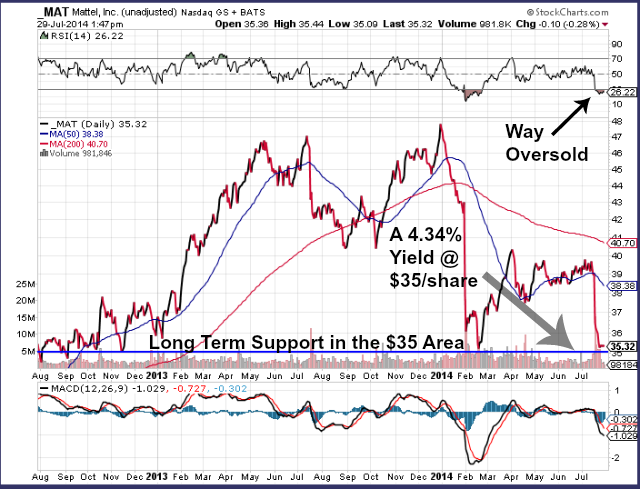 The above is a two-year chart which indicates key long-term support at the $35 area. It was taken intraday on Tuesday, July 29th.
Additionally, based on the sub-30 RSI reading, the stock is currently in way oversold territory.
As an options-based value investor, my favorite situations are not those where a stock continually makes new 52-week highs and the consensus is all sunny skies and smooth sailing for as far as the eye can see.
I much prefer looking for what I call "limited downside situations" - situations where I can identify multiple reasons why a stock is unlikely to trade lower, or lower by much, in the near term.
That often equates to beaten down stocks that are resting at key technical support levels and attractive, or simply reasonable valuations.
I'm not looking for upside potential as much as I'm looking for downside unlikelihood.
It's like that old Ben Graham principle - the essence of investing is the management of risk, not the management of returns. Or, you limit the downside, and the upside tends to take care of itself.
Because if you're correct and a stock doesn't trade lower in the near term, then by definition, it can only do one of two things - trade flat, or trade higher.
High Quality (Durable Competitive Advantages)
The third factor that gives me confidence in this situation is my belief in MAT as a "high-quality company."
Now, while I don't have a rigid or quantitative definition of what constitutes a high-quality company, that doesn't mean I use the phrase lightly or underestimate the importance of this factor.
In fact, I believe that Quality should be the foundational factor of all trades and investments.
I also believe the quality factor to be one of the most underappreciated and underutilized risk management tools available to individual investors and traders. In my view, quality is a far more effective antidote to risk than conventional diversification.
So how do I (loosely) define a high-quality company?
Largely via the concept of durable competitive advantages.
I would much rather own, trade, or deal with a company with serious structural advantages, even though that company is currently struggling to execute or perform up to its potential, than a perfectly run business where there really are no durable competitive advantages.
A high-quality company is one that's difficult, if not impossible, to kill, and one with the financial resources and infrastructure to adapt to changes in its market.
I'm convinced that MAT has the tangible and intangible infrastructure - the scale, balance sheet, cash flow, distribution relationships, brand strength, ability to secure license agreements, etc. - to evolve in the wake of changing consumer behavior.
Parents spend a lot of money on their kids, and that's not something that's going to change anytime soon. Children are like pets who can vocalize with great specificity and frequency and without inhibitions exactly what they want.
Yes, MAT is not firing on all cylinders and the company is struggling with some important traditional product lines, but seriously, which company is better positioned to respond to and provide the entertainment needs of children than the largest toy manufacturer in the world?
Valuation
Assuming the revised (i.e. slashed) Needham & Company's earnings estimates are correct, the P/E multiple on MAT at $35/share is 20 times 2014 earnings and 16.28 times 2015 earnings.
That obviously doesn't sound like a screaming bargain at face value, but again, I come back to the dividend. With a 4.34% yield at $35/share, how much lower is this stock likely to trade?
When I find these kind of situations, I don't agonize over the numbers or try to identify what the exact catalyst will be to push the shares higher.
I simply apply as much pragmatic common sense as I can and note that the stock is running out of sellers and is increasingly attractive to buyers, and when I invest or trade, I always want to do so when the wind is at my back rather than blowing in my face.
Trading vs. Investing
So now we come to the crux of the situation - what is the best way to exploit this situation to our advantage?
In the interest of full disclosure, this is the same situation and trade idea I discussed on Sunday, July 20th, with premium members of The Leveraged Investing Club.
The stock was still trading above $36 at that point, but I identified $35 (or thereabouts - the closer the better) as an attractive spot at which to write (at-the-money) puts.
When the stock showed continued weakness the following day, I wrote a single put expiring in September at the $35 put in the Club's model portfolio (I would have initiated a larger position, but much of the portfolio's cash-secured capital was tied up in another position).
It's important to note that this situation does not have to be limited to an option trade.
As I referenced earlier, the same "limited downside" type situations that I find to be attractive put writing opportunities are often just as attractive entry points for stock investors and traders.
I mentioned the TGT situation earlier. In that case, I actually employed both options and shares in the model portfolio.
I wrote a single cash-secured put at the $57.50 strike and held it for 21 days as the underlying shares rose from $57.21 to $59.35, and netted a 30.20% annualized gain over those 21 days on my cash-secured capital.
But during the same time period, I also purchased 50 shares of TGT for the long-term equity portion of the portfolio, locked in a 3.63% forward yield, and have since enjoyed nearly $4/share of capital appreciation in the roughly six weeks that followed.
What Can Go Wrong?
Whenever I initiate a trade or enter a long-term investment, I always ask myself what's the realistic worst-case scenario, what can I do in response, and am I comfortable with that outcome?
One of the main reasons why I write puts as my primary trading vehicle (and, by extension, an entry tool into long-term investments via options-reduced cost bases) is that the strategy can be pretty forgiving, especially if you go to great lengths trying to identify these kind of "limited downside situations."
Put writing does not necessarily have to be (and I would argue should not be) seen as one-time events. If I write a put at the $35 strike, and the stock is trading below that level as expiration nears, theoretically I'm on the hook to buy those shares at the previously agreed upon strike price.
In actuality, however, there are many opportunities to avoid assignment, continue generating additional net premium, and systematically improve and repair the trade.
And from a stock investor's perspective, the question I would ask myself is whether I was comfortable owning MAT at a 4.34% dividend yield with - my view of the realistic worst-case scenario - minimal to no capital appreciation and only nominal dividend growth going forward.
If I'm not, or if I were concerned that MAT will be unable to adapt to changing kiddo tastes, or if I doubt its ability to execute on its strategies in the future, then I would pass on this opportunity and wait for one I was more comfortable with.
Obviously, that's not how I feel in this case, since I already entered the trade back on July 21st.
Disclosure: The author is long MAT. The author wrote this article themselves, and it expresses their own opinions. The author is not receiving compensation for it (other than from Seeking Alpha). The author has no business relationship with any company whose stock is mentioned in this article.