Whole Foods Market (NASDAQ:WFM) stock is down about 36% since the beginning of 2014, and recent earnings once again disappointed analysts and investors. Is this once-astonishing growth story starting to plateau? Here are two reasons I believe Whole Foods will soon be trending upwards and showing signs of future growth.
Best margins by a long shot
First, Whole Foods' gross profit margin is unmatched in retail. Its gross profit margin beats out major competitors such as Wal-Mart (NYSE:WMT), Target (NYSE:TGT), Kroger's (NYSE:KR), Safeway (NYSE:SWY), Dollar General (NYSE:DG), Family Dollar (NYSE:FDO), The Fresh Market (NASDAQ:TFM), and Sprouts Farmers Market (NASDAQ:SFM). A notably higher gross profit margin means Whole Foods is making comparably more money every time a sale is made.
Not only is Whole Foods' gross profit margin better than its competitors, but it beats those stores' margins handily. Its 35.72% gross profit margin is at least 4.8% higher than any other competitor's similar margin, except for The Fresh Market. Additionally, Whole Food's margin continues to increase since at least 2010, unlike all aforementioned competitors except The Fresh Market.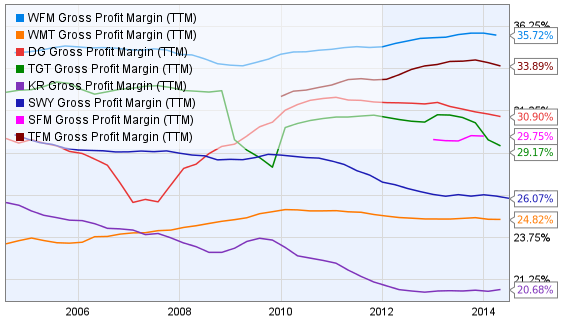 Critics might point out that this high margin does not stem from cutting the Costs of Goods Sold, but from keeping prices higher than every other competitor. While this is true, the high prices shouldn't worry investors.
Some consumers search for the lowest price, while other consumers search for high-quality or ingredient-specific food. Whole Foods is the leading curator of the widest selection of all-natural and organic products in the country (as claimed by its CEO); therefore, it caters to a very different set of consumers than a company like Wal-Mart.
Retailers like Wal-Mart will certainly continue to attract mass amounts of low-income customers, but Whole Foods consistently boasts a growing revenue stream due to increasing customer traffic. While Whole Foods' Q3 revenue did not meet analyst expectations, the company still exhibited 10% revenue growth. Revenue is still growing, which means customers are still buying.
Whole Foods' consistent base of customers should stomach high prices as long as they are able to purchase unique, high-quality products.
Putting money into development
Whole Foods' high gross profit margin enables the company to actively prepare for, and invest in, the future of its business.
Most notably, it is developing exclusive partnerships with 176 unique local suppliers. Through this program, about $12 million in loans were disbursed to these suppliers in order to develop an exclusive relationship.
As a result, Whole Foods is cultivating its reputation as the leading curator of unique natural and organic products. This is the company's calling card, and its justification for high prices. Investing in a larger array of unique product selections, as well as reinforcing the already vast product selection, ensures that Whole Foods will remain the most popular destination for all-natural and organic food in the future.
Also, Whole Foods continues to invest in new stores. This initiative is encouraging because these new stores are being opened in new markets, representing a search for untapped revenue. The national market is not even close to being saturated with Whole Foods stores, as the company only has 380 locations, compared to nearly 11,000 Wal-Mart stores. This year, Whole Foods plans to open 38 new stores, with 116 stores waiting in the development pipeline. In the long-term, Whole Foods is looking to operate about 1,200 stores. Continued expansion of store locations should lead to increases in traffic and revenue, especially as new stores are estimated to reel in $1 billion worth of revenue next year.
Finally, Whole Foods is following the trend of the retail industry towards digital e-commerce. Several projects in progress include direct delivery, a mobile app, and increased access to the e-store. An online subscription plan should launch by the end of the year, as will home delivery, which will take place in 12-15 large markets. Other retailers, such as Wal-Mart and Target, are heavily invested in e-commerce as an area for future growth. Whole Foods' investment in this area shows the company is ready to compete with cheaper competition well into the future.
These areas of investment should propel Whole Foods towards future earnings growth.
Future outlook
In the short-term, Whole Foods' stock might continue to drop. Disappointing Q3 earnings, specifically revenue and comparable sales, means the Whole Foods bears will continue to implore you to sell.
Take a step back and look at the bigger picture. Whole Foods is still highly differentiated from the competition, and global grocery trends are skewed towards their business model.
Those who point to Whole Foods' PE ratio of 25.1 need only take a look at its direct competitors. Sprouts Farmers Market has an ugly trailing PE ratio of 70, and The Fresh Market comes in at 32.2. Wal-Mart boasts the most impressive PE ratio of 15.5, but, as mentioned, Whole Foods and Wal-Mart are not dealing with the same customer base at this point in time.
As of now, hold onto Whole Foods and expect a future rebound followed by steady long-term growth.
Whole Foods' earnings may be estimated to grow at a slower pace over the next five years in comparison to the last five years. However, the last five years revealed Whole Foods as one of the fastest growing companies in recent memory.
A slower growth rate still represents overall increases in earnings, albeit on a smaller scale than previously experienced. Whole Foods is still a singular entity in the grocery retail business. If the stock keeps dropping, then there's no reason you should stay away.
Disclosure: The author has no positions in any stocks mentioned, and no plans to initiate any positions within the next 72 hours. The author wrote this article themselves, and it expresses their own opinions. The author is not receiving compensation for it (other than from Seeking Alpha). The author has no business relationship with any company whose stock is mentioned in this article.