Author's Note: This article discusses a microcap stock. Please be advised of the risks associated with microcap stocks. Research for this article is based in part on a conversation between Lazarus Investment Partners LLLP and Silver Bull Resources, Inc. Silver Bull had no input into the selection of the title of this article nor into the content of this article. Lazarus is a shareholder of Silver Bull and received no compensation for this article.
Introduction
Legendary oilman T. Boone Pickens has said that his rationale for some of his takeovers of energy companies was that it was cheaper to buy oil on Wall Street than to drill for it. We think this investment approach applies to Silver Bull Resources (NYSEMKT:SVBL). Relative to the amount of silver in the ground and relative to the NPV of the company's project, this stock is dirt cheap. On top of the company's silver resource, there are also over 2 billion pounds of zinc, which we think the market has largely failed to notice. We wrote about Silver Bull previously, but with silver and zinc prices climbing this year and the company progressing nicely towards production, we thought it would be a good time to revisit the story and check in with management.
For background on Silver Bull and our reason for owning it, see our earlier article. As a refresher, the company has one of the world's largest and most attractive independent silver assets, based in a mining-friendly jurisdiction in northern Mexico. The project is estimated to have 164 million ounces of silver and 2.2 billion pounds of zinc. The last Preliminary Economic Assessment indicated an after tax net present value of $464 million with an after tax IRR of 23.1%. The market cap today is around $40 million. The company has no debt and cash to last into 2017, if needed. Management has no intention of mining the asset themselves. They are setting the table so a larger company can walk up to a turnkey operation. Brian Edgar, the company's chairman, sold a prior company to Kinross (NYSE:KGC) for $7 billion.
Progress this year
Silver Bull has reported significant advances in its flagship Sierra Mojada project this year. In February the company announced that it received permits to access up to 3.5 million cubic meters of water annually. This is important because it's about 1 million cubic meters more than the company needs at this point, which will make it easier should Silver Bull decide to expand to some of the very promising but lesser studied surrounding parcels. In addition, Mexico has since changed the water permitting process, making new permits more difficult to obtain.
With M&A in the silver market having slowed down dramatically, Silver Bull cut back its own exploration efforts and has brought down the burn rate to about $450,000 a quarter. The sale of the company's non-core Ndjole property in West Africa may close as early as August and bring up to $1.5 million in additional cash, on top of the $3.5 million the company already has. Silver Bull has no near-term financing needs.
As part of the cost cutting, Silver Bull has been very successful in renegotiating options on adjacent parcels, at times for pennies on the dollar. These efforts enhance Sierra Mojada's optionality and speak well to management's cost-consciousness.
Looking ahead, over the next year Silver Bull expects to make additional permitting progress, especially with regard to power upgrades and surface rights. It will also advance its metallurgy and bring the company close to a feasibility study. We don't see a feasibility study as a requirement for an acquirer to sink their teeth into Silver Bull.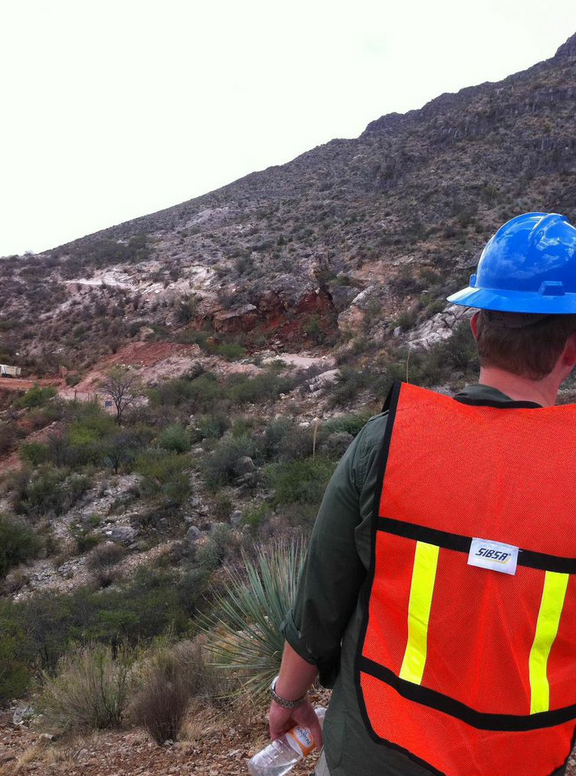 As part of our research, we took a visit to Silver Bull's mine in Mexico. This picture is from our trip.
Metal prices and the Mystery of Silver Bull
On top of the company's permitting progress this year, silver and zinc prices have been quietly advancing. Year to date, silver is up around 8% and zinc is at or near a 3-year high. With significant zinc mines coming offline, including Century (Australia) and Lisheen (Ireland) there's a bull case to be made for zinc's continued strength.
The market has noticed the upturn in these metals' prices and awarded many companies this year. Here is a look at some of the relevant ETFs for silver companies. Perhaps the most relevant one, the junior silver ETF, is up over 45% year-to-date. In contrast, Silver Bull - that has reported only positive corporate progress and has no near-term financing needs - is down over 25%. If Silver Bull shares performed only in line with the average ETF quoted below, they would be up 33% this year. Silver Bull's current price should be 78% higher just to keep the stock's performance in line with the ETF this year.
| | | |
| --- | --- | --- |
| Security | Ticker | YTD |
| Global X Silver Miners | (NYSE: SIL) | 25.0% |
| iShares MSCI Global Silver Miners | (NYSE: SLVP) | 24.0% |
| PureFunds ISE Junior Silver ETF | (NYSE: SILJ) | 45.6% |
| Market Vectors Junior Gold Miners ETF (includes many silver assets) | (NYSE: GDXJ) | 35.6% |
| Average |   | 32.6% |
| Silver Bull Resources |   | -25.5% |
| iShares Silver Trust (physical silver) | (NYSE: SLV) | 5.5% |
Of course all this begs the question of why Silver Bull is down when news from the company and on silver and zinc pricing is positive. We heard that a large investor in Silver Bull had to liquidate their position to fund redemptions this year. Beyond that, we don't have a great answer, other than to say therein lies the opportunity. Microcaps are often priced inefficiently and we think Silver Bull is one such example.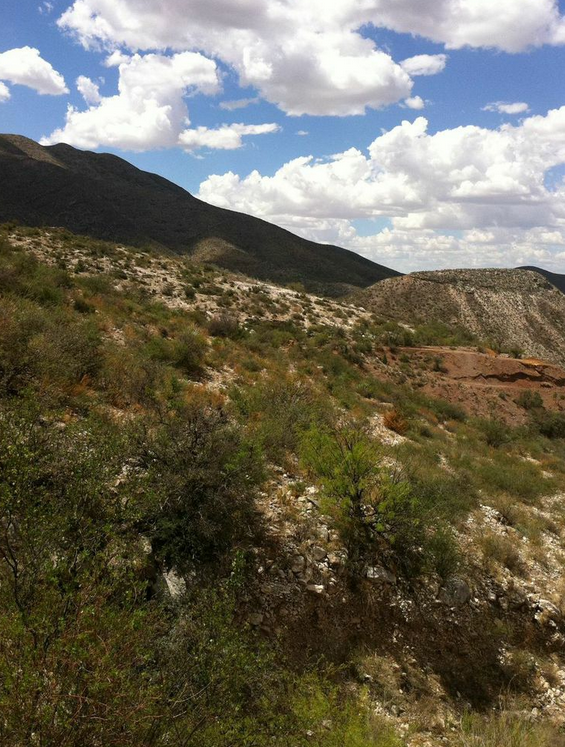 From our mine visit. No Starbucks in sight, but lots of natural beauty. (And silver!)
Significant optionality
True to its name, Silver Bull offers significant optionality on the price of silver. At $25 silver, the Sierra Mojada project's NPV rises to $529 million. At $30 silver, the NPV is $745 million. These are after tax NPVs. Just 2 years ago, silver was near $35. Within the past 5 years, silver made a run towards $50. Of course, sentiment has since turned, but we think that part of investing is buying assets that are out of favor. Silver is down and out, yet the economics of Silver Bull's project still work. Even at $20 silver - below the current price - the project has an NPV of over $300 million, which is 7.5x today's market cap. If silver gets back into the low 30s, we are looking at an NPV that's 20-something times today's market cap. One need not be precise here to make money - but more about that in a moment.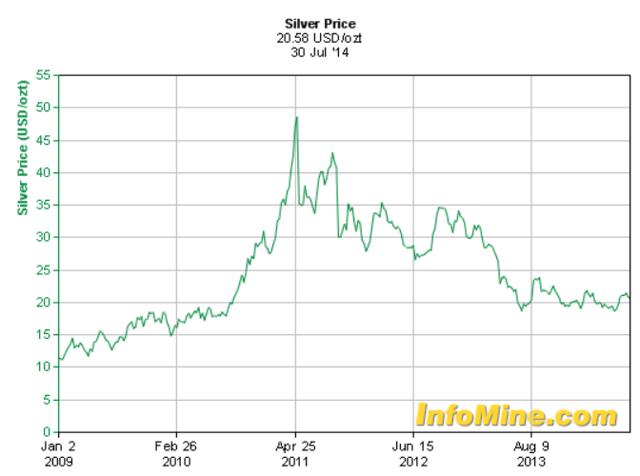 Click to enlarge
One aspect of the Silver Bull story that few appreciate is that the company also has over 2 billion pounds of zinc. (There are hundreds of millions of pounds of lead and copper as well, but we'll save that for a different time). With zinc prices now at multi-year highs, this part of the resource becomes more interesting. Earlier in its life when zinc was even higher than it is today, Sierra Mojada was looked at as a potential zinc mine. Management has said that they plan to be more proactive about communicating the attractive zinc component to the story. We love the optionality in this company; whether it's silver or zinc or both, there are multiple ways to win, and to win big.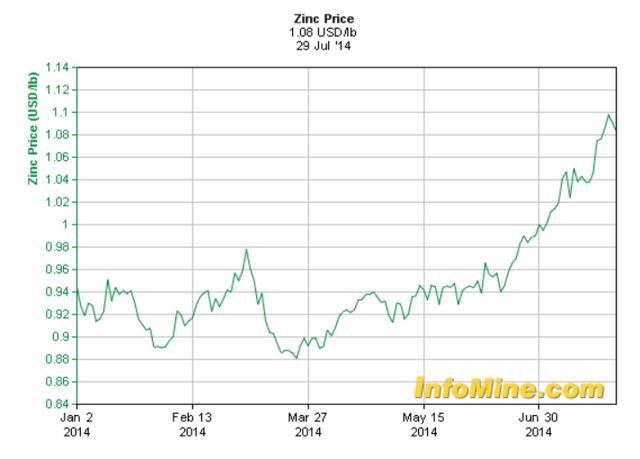 Click to enlarge
We are not the only one who sees this optionality. At least thirteen companies have signed confidentiality agreements with Silver Bull so they can review the resource, as a step towards an acquisition. Coeur Mining (NYSE: CDE) is the company's largest shareholder and invested at share prices of $0.50 and $0.68 -- more than twice today's price. Silver M&A is in go-slow mode for the moment, but we see signs of life. Silver prices have been ticking up this year and we saw Agnico (NYSE: AEM) and Yamana (NYSE: AUY) close on their Osisko Mining acquisition for $3.5 billion.
Yes, some suitors won't do more than kick tires until they see $30 silver, but we think the forward thinking ones understand that the time to buy assets is when they are cheap and out of favor - especially if there are hints of an upturn. In fact, one of the key risks we see with Silver Bull is that someone buys the company here, when it's so cheap. Yes, we'd make a tidy profit, but that's not why we have millions of dollars invested in Silver Bull - we are in it for a big win.
Risks
On the topic of risks, we remind you that there's no shortage of ways for things to go wrong with a junior exploration company. Silver and zinc prices can stay flat or turn down. Mexico can pass new, unfriendly rules. There can be a holdup in permitting. Mine preparation and construction can go wrong. Meanwhile, the company is not cashflow positive. We are dependent on management to execute and to realize Sierra Mojada's true value. To do that, they are dependent on metal prices and mining M&A sentiment which is outside of their control.
Horseshoes, Hand Grenades, and Silver Bull
Here's why we think that "almost" counts for this company. Anyone with an engineering bent can look at our analysis or the company's 345-page Preliminary Economic Assessment and play the what-if game. What if silver goes down by 10%? What if taxes go up by a few percentage points? What if it costs a bit more than expected to build or operate the mine? Our response: it doesn't really matter.
In 2006 and 2007 Silver Bull traded at over $4 a share. That's sixteen times the current stock price. The Sierra Mojada project is forecasted to have an average annual cashflow of $92 million. That's more than twice the company's market cap today - and that's one year of cashflow. The project's net cash cost per ounce of silver is $6.58. Pick the discount rate you want, pick the silver price you want, you still make money. On top of the silver, the company has zinc worth about $2.4 billion today. Management wants to sell the company, so there's no need to worry about how to finance it all.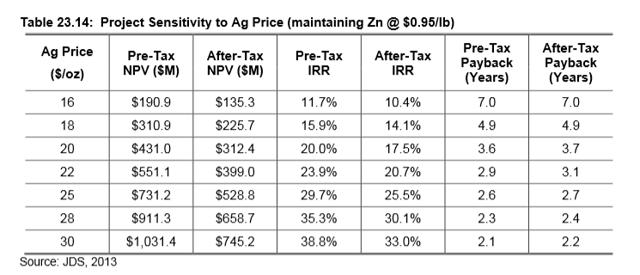 Click to enlarge
Look only at today's metal prices and take all the discounts you want, the company is still worth multiples of where it's priced today. Now keep your discounts and ask: what happens if silver or zinc advance to levels seen just a couple of years ago? Or what if your discounts are too conservative and the engineering reports just happen to be right? We are talking about a company that could be worth 10-20x the current share price. Maybe more. We don't think the exact upside target is predictable, or that it matters. What matters is that the true value of the company is much, much higher than the current stock price, which is what we believe.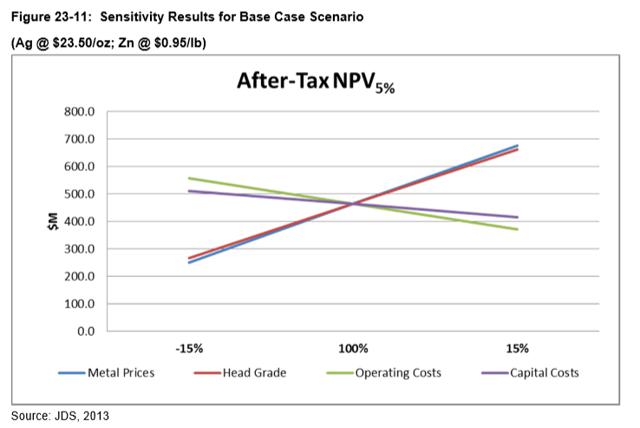 Click to enlarge
CEO Acknowledgement
In preparing for this article, Tim Barry, Silver Bull's CEO, generously agreed to allow us to interview him. We expect to publish a transcript of the interview shortly in a follow-up article. We thank Tim for participating in this interview.
Disclosure: The author is long SVBL. The author wrote this article themselves, and it expresses their own opinions. The author is not receiving compensation for it. The author has no business relationship with any company whose stock is mentioned in this article.
Additional disclosure: I voluntarily restrict myself from selling shares of SVBL beginning with submission of this article through 5 days following publication, or until notified that this article will not be published. My transactions in the securities of SVBL are reported to the Securities and Exchange Commission. This article and the interview herein may contain historical information and forward-looking statements within the meaning of applicable securities laws with respect to the business, financial conditions, and operational results of the interviewed company (the "Company"). Such statements reflect the current beliefs, views, assumptions, and expectations of the Company with respect to future events and are subject to uncertainties and risks. Many factors could cause the actual results, performance, or achievements of the Company to be materially different from those expressed or implied by such forward-looking statements. Some of these factors may include changes in the markets in which the Company operates and in the general business environment and economic conditions, the loss or gain of customers, unpredictable sales cycles, competitive pressures, market acceptance of new products, inability to meet efficiency and cost reduction objectives, changes in business strategy, and various other factors, both referenced and not referenced in this article. In addition, various risks and uncertainties, including but not limited to those described in reports filed by the Company with the Securities and Exchange Commission or other regulatory organizations, as applicable, may affect the Company's operational results. No obligation is assumed to update any forward-looking statements.
Editor's Note: This article covers one or more stocks trading at less than $1 per share and/or with less than a $100 million market cap. Please be aware of the risks associated with these stocks.