by Jack Sparrow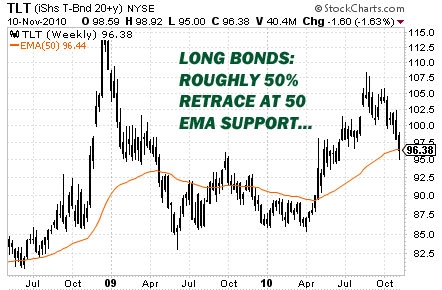 If only from a chart perspective, long-dated treasuries are at an interesting juncture here.
As you can see from the weekly chart, TLT has retraced approximately 50% of its upward thrust for 2010, finding support at the 50 week EMA (exponential moving average).
In further note, TLT saw a big reversal on Wednesday, closing higher on strong volume after fighting off a sharp decline. This reversal, and the price / volume action in the days preceding, offers a possible hint of exhaustion selling.
Long bonds had sold off heavily in multiple sessions over the past week, no doubt in response to "QE2″ and the prospect of inflation's return. But is the return of inflation (and higher interest rates to go with it) really such a lock?
Maybe not…
Long bonds have been in a bull market for quite a long time — arguably for decades. An extended monthly chart shows steady uptrend as far as the eye can see.
To declare the death of the long bond bull, then, is to go against that powerful trend. Falling USTs imply a rise in long term interest rates, which in turn imply the return of inflation.
But how do sustained inflation and rising interest rates come about? How do we get there from here?
Basically one of three ways:
Through

inflation born of accelerated economic activity

, with monetary velocity picking up faster than the Federal Reserve can withdraw liquidity from the system.
Through

a gradual withdrawal of the "safe haven" bid for government securities,

coupled with a desire to put that cash to work in the real economy (thus lowering the price of bonds and causing interest rates to rise).
Or, the hard way: Through

a panic-fueled shedding of dollar-denominated assets

(including bonds), as investors foreign and domestic lose faith in U.S. government securities.
The first two scenarios are more or less "economic recovery" scenarios. The third might be called the "Fed gone mad" scenario, in which bond vigilantes agree that monetization risks have gone beyond the pale.
If you believe in either economic recovery or Fed armageddon, then you are probably expecting interest rates to rise (and bonds to decline).
But, with the above said, there are reasons to stay bullish on long bonds…
The Bullish Case For Long Bonds
The main case for staying bullish USTs is the persistent threat of deflation — a threat that remains every bit as real as the debt on household balance sheets.
The idea of deflation may sound ludicrous at this point, what with food inflation heating up and commodities going wild. But keep in mind that inflation and deflation show up in different places — they are not uniform phenomena — and the most powerful deflationary forces still carry great weight:
Stagnating wages and persistent unemployment
Stagnating and declining home values
Heavy consumer debt burdens
The Fed can pump up the stock market and give hard assets a rocket boost, but it cannot truly counteract these powerful deflationary forces. Neither Ben Bernanke nor Barack Obama can willfully create jobs (other than government jobs). Nor can they fix the serious and systemic issues with the housing market. Nor can they counteract the long-inevitable consumer deleveraging process that has yet to begin in earnest.
And at the same time, on the rising commodity price front, one can view the escalating cost of living inputs as a net deflationary (not inflationary) force, because of the way such cost hikes act like a regressive tax on vulnerable consumers and businesses.
As gas and grocery costs rise, available discretionary income is reduced. As material input costs rise, corporate profit margins are compressed. Thus, in a weird way, the Federal Reserve is contributing to deflationary forces, even as it tries to create 'good' inflation by juicing asset prices with QE.
Will Housing Double Dip?
Another very important question in respect to the bond market — and to the U.S. economy on the whole — is whether or not we see a full blown housing "double dip."
If we do see a double dip, and home prices resume their downward trajectory, a surge to new highs in safe haven USTs, and a renewed slump in equities, are all but guaranteed.
If the housing market continues to recover, on the other hand, that would create healthy underpinnings for the broader economy and strengthen the case for selling USTs (calling the bond bull market dead).
The short and sweet summary, then, is something like this:
If you believe in the recovery, stay away from USTs (or look for spots to short).
If you think the recovery is a sham, or see significant odds of a housing double dip, then a bullish bond trade could be interesting around these levels – especially given the lopsided QE2 inflation expectations so popular at moment. (What if QE2 fails? What if the Republicans constrain the Fed? What if stimulus is a wash and the real economy goes back to 'stall and crawl' as the Ben Bernanke show winds down?)
The Gray Swan Kicker
Then, too, don't forget about the Gray Swans — the top down macro-level risk factors with the potential to violently disrupt the peace and tranquility of the market.
Europe is one to watch closely on this front. In but one example, as the UK Telegraph reported this week:
Ireland's cost of borrowing has rocketed to its highest level since the launch of the euro in 1999 after a dramatic sell-off by bondholders and banks.

The move increased concerns that the Irish government will be forced to seek external aid to help it bail out the country's banks…
Truth be told, the eurozone has done nothing meaningful to solve its 'periphery' troubles. The name of the game has been 'extend and pretend', just as it has been in the United States.
And so if Europe slips back into crisis, or a protectionist trade fight breaks out, or the China growth engine hits a wall, bonds could once again surge.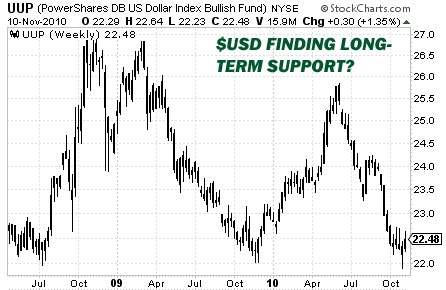 In light of the Gray Swan possibilities, the dollar (a classic "risk off" safe haven) also looks interesting here. From a weekly chart perspective, the heavily traded dollar bullish ETF (UUP) recently bounced off well-established support.
We thus initiated a bullish $USD position on Tuesday, keying off a surge in volume and volatility as Europe sovereign debt fears came back to the fore.
Also in its favor, the $USD has the benefit of putting QE2 behind it now, with much of the "dollar goes down forever" opinion mostly expressed in the marketplace.
On September 8th of this year, we published a piece titled Bullish Dollar, Bearish Euro as "Risk Off" Looms Large. That was obviously a premature assessment, and our bullish $USD positions of the time were exited at breakeven on stop loss retracements.
The thrust of the piece still applies, though, as Europe's general backdrop has not changed. As is frequently the case with top down themes, it is the timing, rather than the fundamentals, where the greatest flexibility is called for.
The most effective contrarians are nimble as a matter of habit — trained to spot out-of-consensus opportunities with the potential to catch many by surprsise. At the present moment, a bullish bond stance might qualify.
Disclosure: As active traders, authors may have positions long or short in any securities mentioned. Full disclaimer can be found here.