Hot Topic Inc. (NASDAQ:HOTT) a shopping mall-based specialty retailer, remained in the red with same-store sales sliding 8.5% in October 2010. This marked the 18th consecutive month of falling same-store sales. The drop in same-store sales widened from a decline of 2.6% witnessed in the prior-year month.
It should be noted that the company had last registered same-store sales growth of 3.1% in April 2009.
Hot Topic recorded a 7.4% drop in total sales, for the month, grossing $58.9 million. The company operates the Hot Topic and Torrid store concepts across the U.S. as well as the e-space music discovery concept, ShockHound.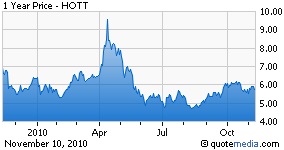 Segment Results

Hot Topic: Segment same-store sales had declined 7.5%, 12.5% and 9.6% in the months of March, April and May, respectively. However, numbers improved somewhat in June with a decline of 1.6%, but again plunged 9.4% in July.
After experiencing a fall of 3.3% in August, same-store sales showed a marginal improvement declining 3.1% in September. However, the improvement was offset by a fall of 10.7% in October. Segment sales declined 10.1% to $46.9 million.
Torrid: Torrid registered a growth of 2.9% in same-store sales in October with total sales of $12.0 million, a rise of 3.9% year over year.
Same-store sales of the company have been continuously reporting negative results attributable to the sluggish economic conditions.
Guidance
Hot Topic expects to earn at the low end of the guidance range of 5-8 cents a share in the third quarter of fiscal 2010. The Zacks Consensus Estimate of 5 cents a share for the quarter also lies at the bottom of the guided range.
Hot Topic's shares maintain a Zacks #4 Rank, which translates into a short-term Sell rating. Our long-term recommendation for the stock remains Neutral.