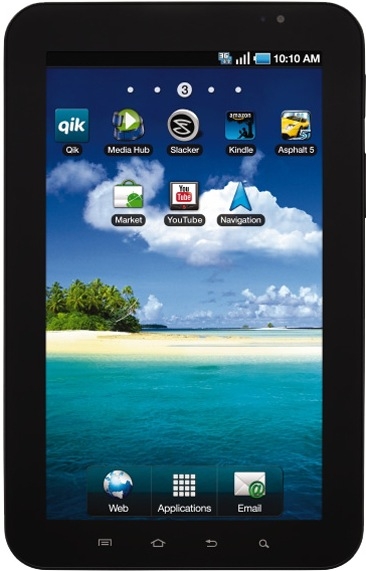 T-Mobile launched the Samsung (OTC:SSNLF) Galaxy Tablet today, and I've got a stream of emails sitting in my inbox asking what we think of it. I'm not our primary consumer devices analyst, and consumer devices analyst Dmitriy Molchanov has a US tablet forecast coming soon, so I won't steal any of his thunder.
What I will do though, is simply note four reasons that the Galaxy Tablet needs better positioning to get consumers to choose it instead of Apple's (NASDAQ:AAPL) iPad which currently dominates the tablet market:
The low prices seen from T-Mobile ($399) are only available if you sign a 2-year contract, which requires signing up for pricey data ($25 a month for 200 MB, $35 a month for 5 GB). There is no prepaid option such as that offered by Apple/AT&T (NYSE:T), meaning you have a bigger financial commitment up front. Further, if your data needs are greater than 200 MB per month (and I would argue most tablet users are), you'll pay more with your Galaxy Tab than you will on AT&T's $25 for 2GB prepaid plan.
The $599 price without a connection subsidy is $100 higher than an iPad that has a larger screen and more apps available, so you pay a premium for Android openness over Apple's more proven product.
The lack of tablet-aware Android apps means you can't do much in the short term with your tablet that you can't do on your Galaxy S phone. That's not much of a selling point, given your tablet doesn't make phone calls.
Connected tablets haven't sold as well as WiFi-only ones, yet there isn't yet a WiFi-only Galaxy Tab for sale currently (although it's likely coming).
The bottom line: it's hard to attack an entrenched market leader with a product that is smaller, costs more, and does less. To illustrate that point, I just got out of a meeting in which a vendor had recently seen one of their financial services clients just do a company-wide buy of iPads. That is pretty surprising for a consumer device, and it took more than six months for them to get there. It will take the Galaxy Tab at least that long to gain that same level of acceptance and viability, even if prices were comparable, which they aren't yet.
Lest you think I'm not impressed with the Galaxy Tab, I am. And truth be told, I think that Samsung's Galaxy Tab has the best shot at being a viable iPad competitor because of Samsung's manufacturing and distribution prowess and its ability to work on all networks. My main point is that it needs to be priced and positioned competitively for it to live up to that potential. As it stands now, it's positioned to be a runner-up instead of a real competitor.