By Steven Carroll
BP owns 19.75% of Russia's predominantly state-owned oil company, Rosneft (ROSN.MM). Russia is potentially facing even tougher sanctions over the Ukraine crisis and BP's share price is down almost 6% MTD as of July 29, with observers cautious about whether market expectations fully reflect the likelihood of downgrades as the Russian market is frozen out of global capital markets. On July 29, BP said stronger sanctions could "adversely impact" its business.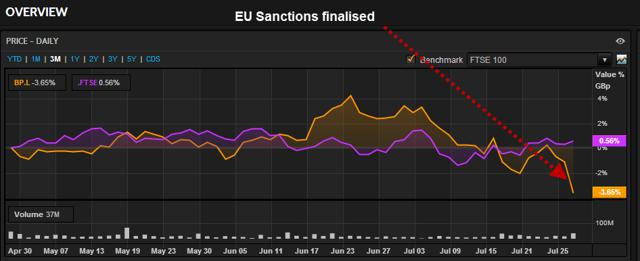 Exploring for value
The following sentence (my emphasis) from CEO Bob Dudley certainly highlights the attention investors are paying to BP's investment in Rosneft:
"As you've seen, Rosneft had a good quarter. In June, it held its annual shareholder's meeting in which I was re-elected to the board, and the Rosneft dividend for 2013 was approved by shareholders. As expected, the dividend was announced as 25% of Rosneft's IFRS reported earnings and represented an increase upon net pay for 2012. We received our share of the net dividend in the bank last week at just under $700 million after tax."
When was the last time a CEO mentioned that the quarterly dividend from a minority stake was in the bank? These are certainly difficult times for the energy conglomerate.
Markets hate uncertainty, but therein normally lies opportunity for the investor with an eye to the longer game. BP already looks quite attractive from a relative valuation perspective; the 15 year median P/E for BP is a modest 10.5; and the current valuation (almost certainly to compress over the coming weeks) is an already interesting 10x.

The oil and gas gang
ENI S.p.A. (E.N) and Total S.A. (TOT.N) already trade at a modest valuation premium, as can be seen in the above chart - though markets will be torn if geopolitical tensions rise further (in either Gaza or Ukraine). On the one hand we will no doubt see a rise in the price of oil and therefore the value of company reserves, but the counterweight is the selloff we'll see broadly in equity markets if geopolitics do finally succeed in destroying the fragile equilibrium we have today.
In terms of implied growth levels, at the current market valuation it appears BP's EPS growth each year over the next five years will be negative 1.6%, whereas StarMine forecasts the company will achieve a CAGR of positive 6.6%. Whatever forecast you assume - one only needs flat earnings for the company to make some significant capital gains. If the water isn't too rough, you should also expect a 4.9% dividend yield over the next 12 months.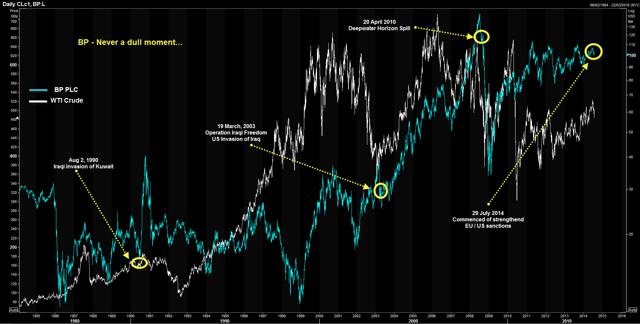 A choppy ride?
The company is certainly no stranger to geopolitical or self-induced turmoil, having survived two recent Gulf wars, Deepwater Horizon, the lethal 2005 Texas City refinery explosion and fights with its Russian shareholders. One thing is for certain - whatever happens to BP shareholders, it's unlikely to be dull.
Disclosure: The author has no positions in any stocks mentioned, and no plans to initiate any positions within the next 72 hours.
Business relationship disclosure: Alpha Now at Thomson Reuters is a team of expert analysts that are constantly looking at the financial landscape in order to keep you up to date on the latest movements. This article was written by Steven Carroll, independent commentator and analyst. We did not receive compensation for this article, and we have no business relationship with any company whose stock is mentioned in this article.