In August of this year I wrote about The Washington Post Company (WPO), arguing that despite its problems with its education division it was selling at a large discount to intrinsic value. I placed the following values on each of its divisions:
Newspaper Publishing: $203.8 million
Broadcasting: $881.38 million
Cable Television: $2,197.66 million
Education: $1,031.51 million
Cash, Marketable Securities, and Investments in Affiliates Net of Debt and Deferred Taxes: $635.062 million
Total: $4,949.412 million
With 9,216,626 shares outstanding, the value of the company was around $537 per share and was trading at the time at about $327 per share. Because I felt that the company was easy to understand, mired in horrible publicity, and trading with a large margin of safety the shares were extremely attractive relative to the market. Since that time the shares have been volatile but currently trade at $383.46 (as of the market close on 11/10/10). With the recent release of third quarter earnings, I wanted to briefly review this thesis.
Operating Performance
Most of the divisions of the Post performed as expected. Newspaper publishing achieved revenue gains on extremely easy comparisons and roughly broke even. It should produce moderate fourth quarter profits. Broadcasting gained due to political advertising and will have a down year next year because of the absence of the Olympics and national political campaigns. Cable continued to steadily and profitably grow. Here are the numbers for these units, which can easily be found in the Post's press release or its 10-Q.
click to enlarge images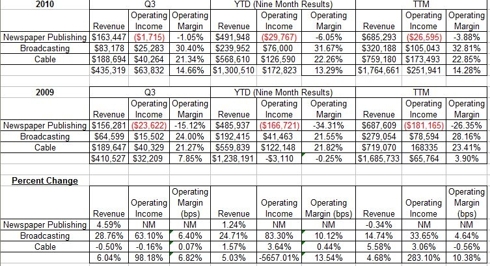 Click to enlarge
No significant developments or surprises have occurred this quarter that have caused me to view these businesses differently. Therefore, even though the results were strong, I have not changed my opinion regarding valuation.
Kaplan
Kaplan continues to generate headlines and uncertainty. Notwithstanding the future, which continues to be murky, Kaplan had a good quarter with 9% revenue growth and expanding margins. Here is the recap of Kaplan's results.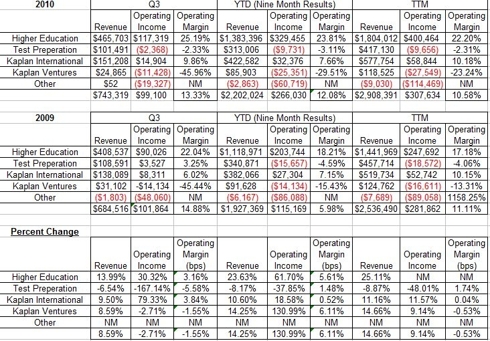 Click to enlarge
Kaplan will begin offering students the option of enrolling in classes for a period of time and receive a refund if they find it does not suit them. The annual lost revenues from this program are about $100 million, which is only about 3% of Kaplan's sales. The effect on profits will be a larger percentage. Otherwise there is not much that is tangible that has changed in regards to Kaplan. Since Kaplan derives revenues internationally and through other non higher education businesses they may prove to be more resilient than other higher education companies.
Thus far it seems that the key metric is the cohort default rate. Unfortunately, Kaplan has a relatively high default rate even when compared to other for profit schools. As it stands, the result will be that Kaplan will be forced to take action to lower the default rate which can be done through programs such as the one just created or through a greater degree of selectivity enrolling students. The scenario is similar to a lender who decides he must tighten lending standards. The lender would prefer to loan as much money as possible as long as people are able to service the debt. For too long for profit schools have had no incentive to lower default rates because they are not the one owning the loan. Much of the current legislation is aimed at internalizing this incentive.
My previous value for Kaplan was $1,031.51 million which was 5 times 2009 operating income. Since operating profits have risen, a multiple of 5 times operating income is now $1,536.8 million and the original valuation represents a multiple to operating income of 3.36. In order to maintain a conservative estimate I now value Kaplan at only 4 times operating income, which is in line with current education companies valuations even though Kaplan is a better business than many of them. As a result I will place a value on Kaplan of $1,229.57 million.
Cash, Marketable Securities, and Debt
Gross debt was unchanged at $399.5 million while cash and equivalents are now $577.9 million. Marketable securities have a value of $311.1 million once deferred taxes are accounted for.
Listed as an investment in an affiliate, Bowater Mersey Paper Company is now being carried for $44.9 million.
Adding up these values gets us to $534.4 million.
Share Repurchases
The biggest thing that happened in the quarter was that the company bought back a lot of shares. Year to date $277 million worth of stock has been repurchased at an average price of $374.43 per share. This quarter's activity was $234 million at an average price of $364.95. Shares outstanding in the quarter averaged 8,904,453, but at quarter end diluted shares were only 8,511,631.
It is important to note that The Washington Post frequently repurchases shares but has also gone through long periods when it has had no activity. It is obvious that management (Donald Graham) thinks the stock is substantially undervalued. With fourth quarter cash flow in the range of $200 million and surplus cash on the balance sheet there will certainly be further repurchases in the fourth quarter.
Current Valuation
Newspaper Publishing: $203.8 million
Broadcasting: $881.4 million
Cable Television: $2,197.7 million
Education: $1,229.6 million
Cash, Marketable Securities, and Investments in Affiliates Net of Debt and Deferred Taxes: $534.4 million
Total: $5,040.9 million
Shares Outstanding: 8,511,631
Intrinsic Value per Share: $592.24
Buffett
I have seen many articles indicating that Berkshire Hathaway (BRK.A, BRK.B) should sell its stake. Some are speculating that Berkshire could already be selling. This is certainly not true. Both Buffett and Munger have said in the past that they could have sold stakes such as the Post and have decided not to for reasons not entirely financial. At about $700 million, Berkshire's stake is roughly .35% of its market cap, so selling it would not extremely relevant to Berkshire's performance.
The major issue here, though, is that the argument that Kaplan is in trouble therefore Buffett should sell the stock is an extremely ignorant point of view. Kaplan's prospects should be taken into account in assigning an estimate of value, but the decision Buffett makes will be motivated on the value of the business versus the value the stock market is assigning. Why would he sell shares at these levels?
An additional point of interest is that Berkshire's 1,727,765 shares now represent 20.3% of the company compared to about 18.7% before. Very likely Washington Post will now receive equity method accounting from Berkshire.
Although hurdles still remain, The Washington Post Company, continues to remain deeply undervalued and shrewd capital allocation continues to increase its per share value as stock is repurchased for a fraction of its underlying worth.
Disclosure: The author is long WPO