eBay a Short opportunity
eBay's (NASDAQ:EBAY) poor stock performance in the last 18 months has led many investors to assess a long position. As far as we are concerned, we are assessing the situation to recommend... a short position. We are indeed much less constructive than many on the stock's valuation and equity story. Contrary to what many think, the stock's performance has not been dismal, as it's roughly flat in absolute terms vs. early 2013 levels. And more importantly, PayPal, eBay's arm in online payments, is about to face a much tougher competitive environment.
As a reminder, PayPal is the group's most valuable asset. It accounts for more than 40% of eBay's revenue, is the main growth driver (20% revenue growth in Q2 vs. 13% growth at group level) and is valued by analysts around $40bn (60% of eBay's market cap).
Cash isn't king anymore
The online payment industry is growing fast, as we are gradually moving towards a cashless economy. What once started with Internet purchases made on a computer is set to encompass everyday purchases made on a smartphone or a tablet.
Juniper research estimates that the number of consumers making contactless payments via their mobile handsets will reach 300m by 2017, up from 110m last year thanks to the accelerated rollout of NFC-enabled payment cards and Point-Of-Sale (POS) terminals. There could be significant upside on these forecasts, as several countries around the world are now trying to limit the use of cash and to foster digital payments.
Italy, for instance, is now forcing retailers to have Point-Of-Sale terminals and to accept electronic payments (debit cards, contactless payments) for purchases of EUR30 and above.
And in Israel, the head of the Prime Minister's Office recently recommended the implementation of major restrictions on the use of cash: all cash transactions over NIS15,000 between individuals and NIS7,500 between businesses would be banned.
The goals are quite obvious: reducing tax evasion, criminal activities and money laundering. In our view, most countries will follow these examples soon, suggesting that the digitalization of payments is a secular trend.
Increased competition is not a question of if, but when
While PayPal is a high-quality business and is still in a near-monopoly situation, the competitive landscape evolution is a major threat, in our view. Indeed, promising growth prospects and comfortable take rates (3.5% at PayPal in Q2) have been attracting the attention of many companies such as Amazon (NASDAQ:AMZN), Google (NASDAQ:GOOG) (NASDAQ:GOOGL), Facebook (NASDAQ:FB) and Apple (NASDAQ:AAPL), not to mention start-ups such as Square.
Expansion into online payments is not a question of if, but when, as several clues suggest that these companies will be part of the game soon:
Potential new entrants have everything needed to succeed
The threat is real. Even if the ramp-up of mobile/online payment processing services will obviously take a few years, these new entrants have everything needed to succeed: a strong brand, technology know-how and large user bases. Large user bases will obviously be key when these companies offer their payment services to merchants and negotiate take rates with them.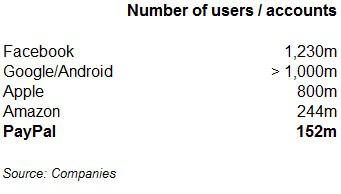 And worryingly, all these new entrants already store some credit card information.
The eBay bulls will probably argue that PayPal has a huge credibility and security track record in the payment space. That's right, but we should not forget that Apple, Amazon and Google already handle large numbers of transactions on their respective sites and app stores... and that eBay, PayPal's parent, suffered a security breach very recently.
PayPal/eBay's earnings growth likely to stall in coming years, valuation at risk
Product and competitive disruptions in the tech space can have dramatic consequences on valuations, as illustrated by the Nokia (NYSE:NOK) example. Nokia was worth around $100bn in 2007 before the introduction of the iPhone, and was sold to Microsoft (NASDAQ:MSFT) earlier this year for $7bn.
We believe that PayPal could suffer a similar fate. Assuming a 40% market share loss within 3 years in a market growing at a 25%-30% pace, PayPal's volumes would grow around 5% a year, which is far from being impressive.
Importantly, increased competition will put pressure on take rates and margins, suggesting that revenue and earnings growth will stall.
It's quite difficult to figure out a bear case valuation for PayPal, as we don't have full details about the company's financials. But in our view, PayPal's valuation could easily be halved to reflect a much tougher outlook and increased beta. Such a scenario would have a -30% impact on eBay's stock price.
The news flow in the coming months around mobile/online payments initiatives from Apple, Facebook and peers will probably act as a catalyst.
Disclosure: The author is long AAPL. The author wrote this article themselves, and it expresses their own opinions. The author is not receiving compensation for it (other than from Seeking Alpha). The author has no business relationship with any company whose stock is mentioned in this article.